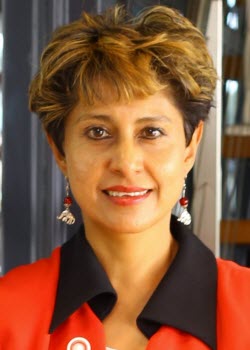 Candidate's Office: International Director
Region Number: 11
Toastmasters member since: 2005
Education: Doctorate in Business Administration (PhD), MBA, B.Ed(Hons)
Employer and/or position: Dormans Coffee LImited/Managing Director
Served as District Director of District number: 114
Term of service: 2018-2019
In term as District Director, District achieved: Smedley Distinguished
Website: rozyrana.com
Toastmasters offices held and terms of service (international and regional level):
2019-2020 Immediate Past District Director
2019-2020 District Candidate Showcase Chair
2019-2020 District Leadership Committee Chair
2018-2019 Territorial Council Chair
2017-2018 Territorial Council Chair
Toastmasters honors and recognition (international level):
2019-2020 Presidential Citation
2018-2020 Pathways VC5
2018-2019 Smedley Distinguished Director
2010-2011 International Taped Speech Contest Winner
2006-2014 DTM (Distinguished Toastmaster)
Relevant work experience and how it relates to Toastmasters and your role as a Board Member:
I am the Managing Director of Dormans Coffee Limited, East Africa's most reputable coffee roaster. We have a wide customer base across Africa and export to discerning clients globally. I am also a Director of C. Dorman Limited, a coffee trading company. In association with our farmer facing company, Coffee Management Services Limited, we have several sustainability projects with investment partners Starbucks, Nestlé, Paulig, Tchibo, DEG, Hivos, Solidaridad and Bill & Melinda Gates Foundation with the objective of securing the livelihood of farmers and the future of coffee production in East Africa.
My key responsibilities include the development and implementation of strategic plans and policies. I work with diverse and multicultural teams to drive the company's strategic growth, oversee business operations, anticipate and mitigate risk, and deliver positive and sustained performance. I have worked with the group for over 25 years and held senior management positions in administration, operations, finance and human resource management. I have learnt to be strategic and launch innovative projects that can drive business success. These roles have made me attentive to detail and equipped me with a multitude of skill sets and competencies.
I successfully applied these skills and competencies to my role as the founding Chair of the Toastmasters Territorial Council of East Africa. The execution of our 3-year strategy led to the trebling of the number of clubs in East Africa from 17 to 51, institutionalizing best practices, building sufficient capacity for sustainability, and ranking among the top in the world, thereby enabling the transition to a Provisional District in just 2 years and a full District in 3 years.
I am confident that my experience in leading the growth of Toastmasters in East Africa from a handful of clubs to Territorial Council and to full District status can help the organization lead growth in other territories. My diverse experience and skills will also enable me to make valuable contributions as a Board member.
What experience do you have in strategic planning?
My work-life revolves around strategies. In addition to my daily role as Managing Director of Dormans, I hold Directorships in associated and vertically integrated group companies with activities like trading, milling and provision of agronomy services to growers. I constantly engage with the top team, with fellow board members, as well as with third party consultants to develop strategy for the different lines of the business.
I was a founding member of my Business School Alumni Association and an Executive Committee member of the Alumni Council, where we conducted very elaborate strategy planning sessions to develop the first 5 year plan for the Association which is in the process of implementation. Right now, the Association is thriving.
What experience do you have in the area of finance?
Just before my promotion to the position of Managing Director, I was the Chief Financial Officer (CFO) of the Dorman Group of Companies. For 5 years, I was charged with the consolidation of the Group financials and putting together monthly management narratives to explain the performance of the different group entities for the enhanced understanding of shareholders. Other responsibilities in this role included the monitoring of counter-party and country risk exposures and ensuring compliance with the Group's minimum standards as well as maintaining company secretarial documents. As CFO, I also served as a liaison point for all secretarial and legal matters.
What experience do you have in developing policies?
A key responsibility under my docket is the development of policies and procedures to ensure smooth operations and security of our business. Our company was the first coffee roaster in East Africa to get ISO 22000 certification, wherefore our policies and procedures are constantly audited by high level experts to verify compliance with actual practices observed by the staff on the ground. We have a solid track record, and as a matter of course, it is my responsibility to continually evaluate and modify existing policies to meet emerging and changing needs in the business.
As the Territorial Council Chair, we deliberated upon the need for, and formulated, localized policies that we deemed necessary to support and guide the District team, borrowing from those of Toastmasters International.
What lessons did you learn from previous leadership positions?
Leaders need to earn the trust of their teams if they are to have influence upon them. In this regard, sincerity and integrity are vital attributes in every leader. The leader must constantly engage, communicate with, and empower the team. And most importantly, leaders must display generous and sincere recognition and appreciation of the input and achievements of individual team members. As a leader I must be receptive to surprise discoveries of new skills and competencies in my team members, and help them to grow by entrusting them with new challenges and responsibilities. The leader must at all times avoid being perceived as a micro manager or a control freak.
What experience and key strengths would you bring to the Board of Directors?
I joined Toastmasters 15 years ago when my club was only one of two clubs in the country. Over the years, I have mentored and sponsored several members and clubs. In 2017 I played a crucial role in the formation of the East Africa Territorial Council encompassing 5 countries. I became the founding Chair and held the position for 2 terms. During this time, I guided the teams and we put in place structures and built capacity. During the first term (2017-2018), clubs in TCs were under 'District U' on the dashboard and did not participate in the Distinguished District program. Our performance stood out as we registered 100% growth in the number of clubs (17 to 34), over 100% membership payments growth and over 50% of our base clubs were distinguished. It was during my second term (2018-2019) as the Chair that TC's were allowed to participate in the Distinguished District program and our TC attained Smedley Distinguished status recognition and ranked fourth globally. This experience has grounded my knowledge and given me an understanding of Toastmasters' direction and purpose.
I also have 28 years of senior corporate and board level experience and have learnt to be strategic, agile and innovative in all my undertakings. I am confident that these attributes, coupled with my passion for Toastmasters, will enable me to make meaningful and valuable contributions to the Board of Directors.
Why do you want to serve as an International Officer/Director?
Toastmasters has had a huge impact on my personal and professional lives. Success in each was accelerated by the skills, competences and confidence I gained from my Toastmasters journey. Many of the opportunities that opened up to me were, in one way or another, an outcome of my membership. International directorship will give me a greater opportunity of giving back on a larger scale to the organization that I feel so indebted to.
I am convinced that my senior corporate background of 28 years and the achievements I have made have broadened my vision and outlook, and position me favorably to offer valuable contributions and insights at Board level.
Secondly, I was born and raised in East Africa where the potential for growth of Toastmasters clubs is phenomenal. Thus far, we have only just scratched the surface. Being an African of Asian descent, I have considerable exposure to the 2 continents which are expected to account for a substantial part of our organization's international growth. In view of my experience and knowledge of these 2 cultures, and having spent my life in a former British colony, I believe I am well placed to add value to the International Board of Directors as I can view the needs, expectations and aspirations of the members from many different perspectives.
My passion for Toastmasters is evident from my attendance of 6 international conventions and 4 conferences in South Africa prior to our attaining District status.
Finally, as I have been through the leadership ranks at District level where I had to establish structures, systems and best practices for long term sustainability, I interacted with several Board officers and World Headquarters staff thereby gaining valuable insights on the envisioned future of Toastmasters International. I have more to contribute and offer myself to furthering the Toastmasters mission. In summary, I am passionate about Toastmasters and am willing to work hard and dedicate my time to the mission and values of Toastmasters International.
What volunteer experience do you have outside of Toastmasters?
I was a founding member of my Business School Alumni Association and an Executive Committee member of Alumni Council.
I have been active with the Aga Khan Ismaili community, serving as a volunteer in different capacities in committees constituted by the Kenya National Council. The committees I have served include the Community Counseling Services (CCS) Committee and the Ismaili Women's Committee (IWC). The latter position placed me on the National Advisory Board with a mandate to formulate a policy for the guidance and governance of the activities of the Ismaili Women's Committee.
Have you worked with other Boards of Directors outside of Toastmasters? If so, describe your experience.
I am currently the Managing Director of Dormans Coffee Limited. I also sit on the boards of 2 associated group companies across East Africa (Gourmet Coffee Ltd, Tanzania and C. Dorman Limited. The former deals with the milling of coffee, and the latter with the trading of green coffee and is the region's preeminent exporter of coffee to roasters and importers around the world.)
Facilitator – I am a facilitator with the Federation of Kenya Employers for the 'Female Future Program' (FFP) which prepares women in senior management positions for Board Positions. The program was launched in Kenya in the year 2014, and I played a pivotal role in customizing its content to our local context. FFP is gradually gaining traction and acceptance by corporations for their vital talent management and succession planning programs.
In your opinion, what are Toastmasters International's major objectives and how would you work to achieve them?
The major objective of Toastmasters International is to realize our envisioned future of being the first choice provider of dynamic, high value, experiential communication and leadership skills development. The program works through a global network of clubs. The Board of Toastmasters is responsible for realizing this vision. I would dedicate my time and resources to collaborate, engage and work with other board members to create the best future for the organization. I believe the combination of my senior corporate experience, Toastmasters leadership experience, community leadership experience and multi-cultural background enable me bring to the Board, new dimensions and unique perspectives which can significantly impact on the strategies adopted by the board for the future of our organization. I have been and will always be an ambassador of Toastmasters and there is no better way to add more value now than for me to take the next step and serve the organization as an International Director.
Additional information about candidate:
Personal Global Perspective – I am an African of Asian descent and am married to a Canadian citizen. My son is currently studying in York University in Toronto.
Multi-lingual – I speak English, French (reasonable), Kiswahili and Gujarati.
Other roles outside of Toastmasters & Work: I am a member of the Institute of Directors of Kenya and a volunteer leader within the Aga Khan Ismaili community.
---