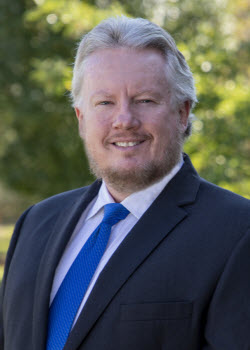 Candidate's Office: International Director
Region Number: 7
Toastmasters member since: 2012
Education: Associate's in Applied Science
Employer and/or position: Electric Motors & Contracting Company / Software Developer
Served as District Director of District number: 66
Term of service: 2018-2019
In term as District Director, District achieved: Not Distinguished
Website: perry4id.com
Toastmasters offices held and terms of service (international and regional level):
Toastmasters honors and recognition (international level):
2017-2018 Excellence in Program Quality Award
2015-2016 President's Distinguished Division Director
2015-2016 Division Director of the Year
2014-2015 Distinguished Area Governor
Relevant work experience and how it relates to Toastmasters and your role as a Board Member:
Working as a software developer, creating databases, creating reports, data mining, debugging and troubleshooting programs and reports, etc. has taught me to think logically and critically. While not work experience, I am a graduate of a 13-week, award-winning, board governance training program. As part of this annual training program, each class puts on a public forum on diversity and inclusion. My classmates elected me President to oversee this project. I am also currently serving on the board of directors of a regional diversity and inclusion consortium.
What experience do you have in strategic planning?
As a software and database developer, my projects are usually in development for days, weeks, and occasionally months. They're in actual use for years. I have to be able to think strategically and plan for how technology, or my employer's business and information needs may change during that time. I then have to construct my projects to allow for that change over the life of my projects. During the pandemic I have also been taking online courses in strategic planning.
What experience do you have in the area of finance?
I oversaw the Club budget for my clubs. I also had input into the District's budget as Division, Club Growth, and Program Quality Directors. As District Director I had oversight of the District budget. I've also had college-level courses in financial and managerial accounting.
What experience do you have in developing policies?
At work I have been involved in developing various policies such as cell phone and computer usage. As District Director I led the effort to update our District Operating Procedures.
What lessons did you learn from previous leadership positions?
I've learned so much from my leadership positions. I've learned that "leadership" isn't about being in charge, it's about taking care of the people IN your charge. I've learned, when responding to confrontational emails, to ask myself if what I'm about to type helps resolve the situation or only serves to make me feel better. I've learned effective delegation. I've learned to say "no" without feeling guilty if I just don't have the time or if what's being asked isn't in the best interests of the organization. I've learned that you can't build leaders without giving them a chance to lead. I've learned that, as a leader, you're ALWAYS being watched so be careful about what you say or do. I've learned that integrity is the key to be a leader. Lose that and you're done. And I've learned that while leadership requires sacrifices, what you gain from the experience VASTLY over-compensates for any sacrifices.
What experience and key strengths would you bring to the Board of Directors?
As mentioned earlier, I've been through actual formal board training and now I'm serving on a board. I think critically and make decisions based on facts and logic – while tempering that, where necessary, with compassion. And I'm focused on the member. Does the decision we're about to make ultimately benefit the member?
Why do you want to serve as an International Officer/Director?
Like most candidates, I've experienced incredible growth from my experience in Toastmasters leadership and I want to give back to the organization. I also don't believe that my leadership journey is over; I still have plenty of room to grow. While it may be a little arrogant, I believe I have something to offer the board. Ultimately, though, I want to ensure that our focus is on the interests of the members.
What volunteer experience do you have outside of Toastmasters?
Before I got into Toastmasters, I used to help run a software development user group. We would put on conferences and other events. Because of my experience with the board governance training program, I've volunteered at several diversity and inclusion panel programs they've conducted.
Have you worked with other Boards of Directors outside of Toastmasters? If so, describe your experience.
I am on the board of the Hampton Roads Diversity and Inclusion Consortium.
In your opinion, what are Toastmasters International's major objectives and how would you work to achieve them?
If, by "major objectives", we're talking about the strategic plan then I would suggest, as it relates to "Club Excellence" that we try to figure out if there are any metrics, beyond the Distinguished Club Program, that we can use to let District leadership know if a club is excellent and conducting quality meetings or not.
In "Member Achievement" I would encourage using, and integrating into club recognition, the percentage of unique members in a club earning education goals. Too often we see clubs with 9 or 10 education awards that were submitted by 2, 3, or 4 members. The more members in a club that are earning education awards, the higher the retention rate should be. And, if it's possible, track the time since the member last presented and encourage members to present at least every two months. If a member goes longer than that, especially new members, they're essentially doing their Ice Breaker project over and over.
For "Awareness and Engagement", perhaps one of the "tools" we could develop are turnkey marketing solutions for each media a club (or District) wishes to pursue. One for FaceBook, one for print, etc. As we see results (or not), we can just adjust the solution, not reinvent the wheel. Also, provide District Leader-level training for the Public Relations Manager (along with the Finance Manager – think more in terms of a quintuple instead of a "trio"). I would encourage the Board, when announcing decisions and policy changes, to spend more time explaining why the change was thought necessary and what the benefits of changing it will be. Implement a 30-day public comment period for all proposed changes (unless operational issues necessitate an immediate change). All of us together are more intelligent than any one of us.
And, finally, for "Operational Effectiveness", let's implement a "ticketing" platform for member and District support requests. It would track when a request for support was turned into an actual support incident and would allow WHQ staff to respond via the system without having to call or email the member directly. This would make the WHQ staff more productive.
Additional information about candidate:
Towards the end of my District Director year, I was telling my wife about a decision I had to make regarding something in the District. I was discussing the pros and cons of various approaches as well as other considerations that affected the decision. When I stopped talking, she just looked at me for a moment and then gave me the biggest compliment I've received during my leadership journey. She said, "I can't believe how MUCH you've grown over the past 5 years." 
I'm looking forward to continuing that growth as International Director.
---