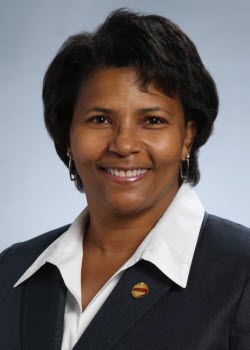 Candidate's Office: International Director
Region Number: 5
Toastmasters member since: 2006
Education: B.S. Mechanical Engineering Technology – Cum Laude, Advanced Certified Paralegal, continued education through National Association of Legal Assistants (NALA)
Employer and/or position: L3Harris Technologies - Senior Specialist
Served as District Director of District number: 50
Term of service: 2011-2012
In term as District Director, District achieved: Not Distinguished
Website: monnica4id.com
Toastmasters offices held and terms of service (international and regional level):
2016-2017 Region Advisor
2015-2016 Region Advisor
Toastmasters honors and recognition (international level):
2010-2011 Excellence in Marketing
2008-2009 Area Governor of the Year
2008-2009 President's Distinguished Area Governor
Relevant work experience and how it relates to Toastmasters and your role as a Board Member:
With more than 35 years' experience in the engineering field I lead, mentor and project-manage a team that supports Ground Station systems at L3Harris. I input to budgets of more than 24 million and perform monthly work force forecasts. Our goals are to understand our customer needs; effectively present ideas and designs, problem solve, and deliver a quality product. As Chief Operating Officer for Women of Visionary Influence, I lead the day-to-day operations and participate in setting the direction of the organization based on bylaws, business issues, societal factors, economic determinants and the needs of its members. I have the skill set and experience in professional and nonprofit organizations that are necessary for an International Director.
What experience do you have in strategic planning?
At L3, I lead ongoing strategic planning to meet customer goals and complete engineering tasks on time and under budget. In 2017, our team achieved the Top Star Award for Exceptional Performance for our efforts. I learned that effective forecasting of the work force and resources required were vital to meeting engineering release dates on a compressed schedule. In Women of Visionary Influence, I develop strategic plans for monthly programs, special training and leader development to achieve the mission of the organization. Although we experienced a loss in membership during this time of sheltering in place, our programs met members and interested guests' satisfaction. Consequently, we were able to attract new members. The key indicators were attractive programs and the growth of the organization through the launch of the exclusive online chapter.
What experience do you have in the area of finance?
At L3, I input budgets for my engineering segment over multiple projects. I lead bids and production estimates for both mechanical and manufacturing teams, as well as monitor and report project status to senior management. As District Governor, the district budget was created collectively as a team. This method provided an inclusive opportunity for district leaders to gain a better understanding of the process and be better equipped for future use. In the nonprofit arena, I monitor the signature Women of Visionary Influence events and ensure they meet members' needs while staying within budget.
What experience do you have in developing policies?
To remain agile in these changing times and support the growth of our Women of Visionary Influence organization, I oversaw policy updates and set guidelines for allowing existing chapters to meet online and to form an exclusive online chapter. In September 2020, the initial online chapter for Women of Visionary Influence was launched. As a member of the Policies and Procedures Committee for Delta Sigma Theta; a community service organization, I review and recommend changes to the chapter's policies and procedures and the Grand Chapter Constitution and Bylaws. The committee works with the Regional and National Scholarship and Standards Committee to ensure compliance with appropriate guidelines.
What lessons did you learn from previous leadership positions?
In addition to our Toastmaster core values, teamwork, consensus and collaboration are foundational truths I live by. During my term as district governor, I applied these values while leading through challenging times in the loss of leaders, including our Lieutenant Governor Marketing.
I learned that loss is hard on individuals and the district as a whole, but it can be overcome when the team comes together to support one another.  Additionally, I learned the value of telling people exactly what is needed in order to enlist their help. The final lesson garnered from this situation was that when everyone understands the goal being pursued, people come together to make it a reality.
What experience and key strengths would you bring to the Board of Directors?
I bring my diverse engineering background as an analyzer, critical thinker, and problem solver. Experience with engineering contracts with international customers enhanced my global perspective. As committee chair, member on several international committees and a two-term region advisor, I bring a unique experience in understanding member needs. I am a team player and team builder. My StrengthsFinder assessment show my top five most dominant themes are Learner, Harmony, Context, Analytical, and Responsibility.
Why do you want to serve as an International Officer/Director?
I want to be a part of the innovation that propels our organization into the next 100 years of providing programs that change lives! Serving on the board would provide an opportunity to review and revise existing policies as necessary to keep up to date with technology and best practices or improve the direction of the organization. We need to continue technologic advances in real-time connection with members having a singular message delivered over multiple platforms. This ensures our members see, hear and feel the transformations that inspire us all to keep our Toastmasters promise. My skill, ability and strong teamwork ethic will allow me to immediately contribute to the work of the board.
What volunteer experience do you have outside of Toastmasters?
It is an incredible feeling to experience the joy in volunteering. I am thrilled to share some of my experiences - spoke to young women on careers in Science, Technology, Engineering and Math (STEM), taught at-risk youth through Junior Achievement, caroler for Project Christmas Spirit, high school science fair judge, presented to middle-school students during National Engineers Week, provided Thanksgiving baskets for families and provided clothing, toys through the "Delta Love for Families" event. Awarded the honor of Excellence in Community Service Award.
Have you worked with other Boards of Directors outside of Toastmasters? If so, describe your experience.
In Women of Visionary Influence, I plan and lead scheduled and ad hoc board meetings. During these challenging times, we held more meetings than normal. We will continue to hold as many meetings as needed further the mission of the organization and meet the needs of our members. In September 2020, I led a successful Leadership Summit and awards presentations. It was a first for our organization to host the event online. Members embraced this new normal as evidence by their attendance and participation.
In your opinion, what are Toastmasters International's major objectives and how would you work to achieve them?
Leadership development, member retention and organizational growth are three areas of opportunity for which we must find solutions. These are critical to the quality of our clubs, attractiveness (member engagement) and sustainability of our programs and to the longevity of Toastmasters International. I will work collaboratively, with double the dedication on the board of directors to research, gain member feedback, and benchmark solutions that are applicable for our members worldwide.
Additional information about candidate:
Driven toward opportunities to engage my mind in disciplined activities, I earned a black belt in Tae Kwon Do. I also enjoy scuba diving, completing 5K, 10K and half marathon distance races, solving Sudoku puzzles, traveling and exploring other cultures, embracing differences and enjoy learning new things. After attending a Toastmasters event outside of my home club, I was hooked on all the exciting opportunities the Toastmasters program had to offer. I am overly excited to have met my husband Edward, right here… in Toastmasters. A priceless opportunity!
---