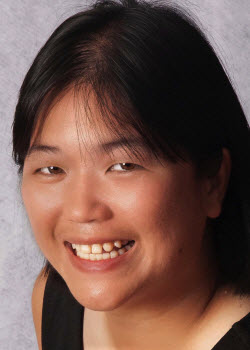 Candidate's Office: International Director
Region Number: 9
Toastmasters member since: 2002
Education: B.A. - Business Administration, Skidmore College; M.B.A. Information Systems Management, Dowling College; Verizon Leadership Development Program
Employer and/or position: Omnicom – Diversified Agency Services, Financial Systems Specialist
Served as District Director of District number: 46
Term of service: 2015-2016
In term as District Director, District achieved: Distinguished
Website:
jennifer4id.com
Toastmasters offices held and terms of service (international and regional level):
2018-2019 Reformation Committee
2016-2017 DLC Chair
2015-2016 District Director
2014-2015 Lieutenant Governor of Education and Training
2013-2014 Lieutenant Governor of Marketing
2011-2012 Division Governor
2010-2011 Area Governor
Toastmasters honors and recognition (international level):
2015-2016 Distinguished District
2014-2015 Excellence in Education
2013-2014 Excellence in Marketing
2010-2011 Area Governor of the Year
Relevant work experience and how it relates to Toastmasters and your role as a Board Member:
My work enables my company to identify efficiencies & costs savings. I analyze current financial processes, utilize forecasting tools and automate whenever possible to ensure users can submit information quickly and reduce manual input. Additionally, my Financial IT experience with Sarbanes–Oxley Section 404, the Assessment of internal controls, can be transferable to TI's policies and procedures.
What experience do you have in strategic planning?
I work with Senior management on the annual strategic plan and in preparing financial statements on a monthly, quarterly, and annual basis (i.e. balance sheets, income statements, and cash flows).
What experience do you have in the area of finance?
Most of my professional experience has been in Corporate Finance reporting Income Statements, Balance Sheets and Budgets. I have worked in Regulatory Accounting, Sales & Use Taxation and currently Financial Systems.
What experience do you have in developing policies?
My project work on Sarbanes–Oxley Section 404 allowed me to develop many of the policies and procedures in the Corporate Systems department.
What lessons did you learn from previous leadership positions?
Lessons I've learned from previous leadership positions include: 1)Assist others with the processes so that they do the right thing and will have the tools to become strong leaders too. 2) When creating teams, it is important to find people who are committed to the task and want to do a good job. They will learn something new and find the experience rewarding too.
What experience and key strengths would you bring to the Board of Directors?
My strengths include being a visionary planner and a good listener. I look at the current situation and see if we can incorporate technology, people skills or ways to make projects more efficient and better. Working on different teams and committees has allowed me to interact with many diverse backgrounds and utilize my experience in Business, Information Systems, and Internal controls.
Why do you want to serve as an International Officer/Director?
Toastmasters has changed my life and given the opportunity I want to contribute to the growth of this organization and help its members continue with their leadership journey.
What volunteer experience do you have outside of Toastmasters?
Perform concerts as First Clarinetist in Brooklyn Community Wind Ensemble; Lead pacer of Gotham Thunder Dragonboat team; Mentored a student for NYC Board of Education High School program; Career panelist for ASPIRA (a nonprofit organization that has been devoted to the education and leadership development of Latino youth); NY Cares – painted schools, cleaned park grounds; DAS Cares – built playgrounds; served meals at food pantries, donated school supplies for children, designed and created greeting cards for the elderly.
Have you worked with other Boards of Directors outside of Toastmasters? If so, describe your experience.
Currently I am working with the Board of Directors on the Rockfort Management Building Façade Committee which entails interviewing Engineers and Contractors, understanding the budget and negotiating costs involved, working on teams and providing the best possible building structure for the residents of the building.
I have worked with the Gotham Thunder Board as Secretary in providing detailed information for all practice sessions and away races. The members of the Board are responsible for logistics, planning, budgets and meet regularly to coordinate and ensure everything ran smoothly at all events.
As Vice President of WAVE NY Chapter, I planned and hosted Executive speaker events about leadership opportunities within the company and participated on monthly Regional calls.
In your opinion, what are Toastmasters International's major objectives and how would you work to achieve them?
Toastmasters International's major objective is to be the number one provider for communication and leadership skills. To achieve this, I would work as a member of the Board to apply the core values, listen to what the needs of the members are and incorporate it into future discussions.
Additional information about candidate:
I strongly believe in exercising both the mind and body. I participated in a Sudoku competition hosted by Will Shortz, ran 10 marathons (NYC, Philadelphia, NJ, Disney) and completed the NYC 5 Boro Bike Tour (40 miles). If I commit to something, I will take the time to prepare for it and give it my all!
---