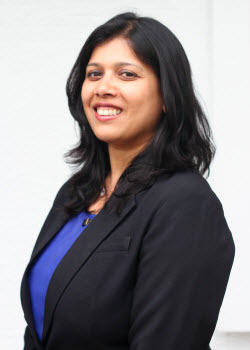 Candidate's Office: International Director
Region Number: 13
Toastmasters member since: 2005
Education: M.S., Chemical Engineering – University of Utah; B.E., Chemical Engineering – BMS College of Engineering, Bangalore University
Employer and/or position: Head of Social Media & Digital Content Strategy, The Bumblebee Branding Company; Owner, Sesh Consultants
Served as District Director of District number: 92
Term of service: 2015-2016
In term as District Director, District achieved: Presidents Distinguished
Toastmasters offices held and terms of service (international and regional level):
2019-2020 Region Advisor, Region 14
2018-2019 Region Advisor, Region 13
Toastmasters honors and recognition (international level):
2020 Presidential Citation
2015-2016 President's Distinguished District Director (#1 District)
2015-2016 President's 20+ Award (#1 District)
2015-2016 Excellence in Leadership
2014-2015 Excellence in Education & Training
2013-2014 Excellence in Marketing
Relevant work experience and how it relates to Toastmasters and your role as a Board Member:
In my 18 years of work experience as a strategy consultant across various industries and different geographies (US and India), I have developed insights into data analytics and forecasting, identifying innovative solutions, and building client and vendor relationships. Embracing work cultures of different geographical locations has enabled me to think globally and act locally when it comes to customization of products and services.
My current role involves digital marketing and focuses on understanding evolving customer needs and lead generation. I believe I can leverage my professional expertise and experiences to work collaboratively with the board to achieve the goals of the new interim and long-term strategic plans in building a stronger Toastmasters experience.
What experience do you have in strategic planning?
As a strategy consultant, I help small and medium companies, across different business sectors, to identify needs and develop strategic plans. I have participated in projects ranging from handling environmental regulatory changes to entering new markets.
I currently work with a digital marketing company as the Head of Social Media & Digital Content Strategy. My responsibilities include working with the leadership team to evaluate, manage, and execute initiatives that best support the company's short-term and long-term strategies. I also assist the company's clients in developing strategic plans for digital marketing, lead generation, and scalability.
What experience do you have in the area of finance?
I have managed multi-million dollar budgets for numerous projects. This included preparing, reviewing, and providing oversight of the budgets and monthly financial reports.
I have learned the importance of how to prioritize certain projects, leverage assets to scale the business, and help the company better manage its cash flow. Having managed the P&L for several projects and companies has also helped me understand the necessity of balancing fiscal prudence with the company's growth strategy.
What experience do you have in developing policies?
In my previous role as an environmental consultant, I had to actively research, review, and adopt policies published by federal and state environmental agencies. I have been part of public hearings and feedback on these policies. I was instrumental in drafting company policies and procedures to ensure regulatory and environmental compliance.
In addition, I have worked with a nonprofit board committee in reviewing and updating their policies and procedures to better serve their membership. Currently, I help businesses develop policies on human resources, workplace security, and customer credit.
What lessons did you learn from previous leadership positions?
One important lesson I have learned in leadership is to listen more, learn more, and connect more to be effective and impactful. When we are willing to listen and learn, we can make informed decisions and build better relationships with our teams. To truly earn respect as a leader, I have realized that I need to be authentic in my communication and leadership interactions.
I have also learned that a leader must be willing to embrace and drive change and not avoid it. Especially in these uncertain times, leaders need to project hope and positivity by sharing a strong sense of purpose to keep their teams focused, motivated, and productive.
Finally, the most valuable lesson I have learned is that in order to successfully lead others, we must learn to effectively lead ourselves.
What experience and key strengths would you bring to the Board of Directors?
With 18 years of professional experience, some of the key strengths I bring to the Board of Directors are – developing and implementing strategies, data insights and analytics, planning and forecasting, and identifying solutions for potential problems while maintaining high-quality standards. I also have a successful track record of building and maintaining client relationships as I collaborate with relevant stakeholders, build consensus, and formalize roadmaps that lead to value creation with a focused strategic objective.
Working across several industries has equipped me with the ability to quickly assimilate and apply new information and skills. Each of these skills and experiences would add to board discussions or dialogues that cater to help our organization meet the immediate and future needs of our members' experience.
I have gained deep insights and a global perspective about Toastmasters International's operations while serving as Region Advisor for two different regions.
Why do you want to serve as an International Officer/Director?
Toastmasters has been instrumental in transforming my professional and personal life in a positive way, by building not just my confidence but also my thinking and decision-making capabilities. I firmly believe our organization has tremendous potential to grow even further and empower people worldwide.
I would like to actively contribute to the strategic direction set by the board and help navigate our organization in a more agile manner through this highly disruptive period. Given the opportunity, I am confident that I have the necessary skills to bring significant value to the board's deliberations.
What volunteer experience do you have outside of Toastmasters?
The most significant volunteer experience I have had was with the American Red Cross as part of their Disaster Action Team. As the Red Cross' first responders at the site of a local disaster such as home fires and traffic accidents, I helped conduct damage assessment, provide emotional support, and offer financial information to help families begin the process of recovery.
With my global experiences over the years, I have volunteered my time in training postgraduate students on cultural sensitization, including training for one of India's largest health equity conferences.
I currently volunteer with my city government as part of their COVID Citizen Quarantine Squad. My responsibilities include supporting people who have been quarantined, conducting contact tracing, and organizing free COVID testing camps.
Have you worked with other Boards of Directors outside of Toastmasters? If so, describe your experience.
I have worked with multiple boards across various industries, including environmental compliance, travel and tourism, and digital marketing. This work involved providing information to the board, including recommendations for action, to help the board create short-term and long-term strategic plans.
Furthermore, I have been responsible for developing operational initiatives that align with the company's mission and vision. I have also assisted the board in analyzing federal compliance regulations and policies, leading to the development and implementation of new policies in the company. Working with various boards has taught me the importance of creating, implementing, and monitoring business strategies in line with financial targets.
In your opinion, what are Toastmasters International's major objectives and how would you work to achieve them?
Toastmasters International's major objective is to progress towards our envisioned future of being the first-choice provider of communication and leadership training worldwide. Our new interim strategic plan, focusing on Club Excellence, Member Achievement, Awareness and Engagement, and Operational Effectiveness, will help get us there.
To achieve this objective, I believe that we need a renewed focus on the following:
Leadership Development – We have an opportunity to develop a strong pool of well-trained and competent leaders at all levels in the organization. I initiated a Leadership Development Program while serving in district leadership, which included both training and practical assignments, along with mentoring and evaluation. This program is now in its sixth year of inception and has gone on to produce many competent district leaders.
Building a Global Brand – We could better understand and strengthen our region-focused marketing activities in order to increase and improve our brand awareness. Moreover, we need to continue working towards providing equitable service to all members across the globe.
Becoming Both a Sustainable and Resilient Organization – In these disruptive times, we should not only be sustainable but also respond quickly to change. Being agile to the changing needs of our various stakeholders and understanding the evolving market trends will help the organization stay relevant.
Additional information about candidate:
Growing up as the child of a military officer, I have spent my childhood in Russia and various cities in India. This constant change in geographies gave me a deeper understanding of inclusion and diversity and a passion for traveling. I have visited over 30 countries across Asia, Europe, and North America, and I am always planning my next big adventure.
Travel has also instilled in me a love and appreciation for different cultures. I have a beginner's language certification in Japanese, understand and speak basic Korean, and have recently signed up for a course on Mandarin. Having lived, studied, and worked in many cities across the world, has opened my eyes and heart to the values and cultures of a global community.
---