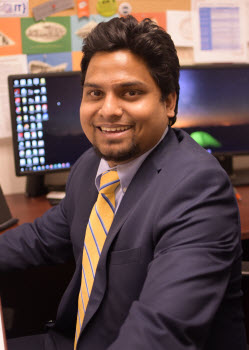 Candidate's Office: International Director
Region Number: 5
Toastmasters member since: 2013
Education: MS in IT and Management, PhD Candidate in Public Policy and Political Economy
Employer and/or position: Program Director and Assistant Professor of Instruction, The University of Texas at Dallas
Served as District District Director of District number: 50
Term of service: 2019-2020
In term as District Director, District achieved: Not Distinguished
Website: gaurav4id.info
Toastmasters offices held and terms of service (international and regional level):
2019-2020 District Director
2018-2019 Program Quality Director
2017-2018 Club Growth Director
2016-2017 Division V Director
Toastmasters honors and recognition (international level):
2018-2019 Excellence in Program Quality
2017-2018 Excellence in Club Growth
Relevant work experience and how it relates to Toastmasters and your role as a Board Member:
I have over 11 years of experience working for Fortune 500 companies as a Solution Expert or Practice Lead. The last 3 years I have spent in Academia, working as an Assistant Professor at The University of Texas at Dallas. My career move from the IT industry into Academia is a gift that I attribute to Toastmasters. The fervor to serve members, turned into service to students. I believe that if we want to make our world a better place, we need to invest in our students, who are our future. My role at the University saw me lead some of the biggest graduate programs in the world. At present, I am the leading the largest Graduate program in the School of Management at UT Dallas, the Business Analytics program. Working with students, staff, faculty from all backgrounds has given me the ability to understand people and processes in a better way. I believe my experience with managing entire verticals, coupled with my interest and passion for Technology, which help the organization move into the future and grow in the right direction.
What experience do you have in strategic planning?
I have been blessed to work in different capacities where I was entrusted to work on the short- and long-term goals of my department and organization. In my current role as the Program Director for the Graduate Business Analytics program, I am responsible for charting the strategy for growing the program, increasing alumni engagement, adding industry support and forging programs with other academic institutions, professional associations, members of the industry and non profit organizations that help build an overall experience for our students.
What experience do you have in the area of finance?
I am responsible for charting the budget for my program at the University of Texas at Dallas, which is a 20+ million revenue stream. I develop Program budgets, research budgets and also conduct regular ROI analysis to provide projections to the University leadership. I am also intensively involved in several fundraising initiatives that engages our community partners, industry and alums of the University.
What experience do you have in developing policies?
Continuous improvement is critical to the success of my Program. While serving one of the biggest student bodies, it is important to create policies that set our students for success. I work on policies that focus on aspects such as Student Success, Academic Integrity, and Communication. I also serve on several University committees that are responsible for creating policies for students, staff and faculty.
What lessons did you learn from previous leadership positions?
The most important thing that I have learned is how every member has a unique school of thought and in the broader success of an organization, how each of these schools of thought are important. I value the importance of giving everyone a place for their thoughts. I mentor hundreds of students every year and the greatest gift I have received from this is patience. Servant Leadership knows no bounds and once you are invested in people, success is a guarantee. I have learnt how to remain humble in times of successes and how to learn from the times when things didn't go well.
What experience and key strengths would you bring to the Board of Directors?
One of my key strengths is my ability to read into historical trends and make data based decisions. At the same time, as a teacher, I have learnt how to remain empathetic towards people. This intersection of empathy and making informed decisions is one of my biggest strengths that I would bring to the board. I am driven by goals and have the ability to sketch out a success path based on the situation we are in. I am brave enough to make a tough call and at the same time I don't hesitate in rolling up my sleeves to get things done. My ability to connect with a variety of audiences is one of my strengths that I shall bring to the Board.
Why do you want to serve as an International Officer/Director?
Leadership is an endless journey, one which starts with discovering your purpose and dedicating yourself to the service of people. I was mentored by some of the most humble people who taught me the value of immersing yourself in the service of others. On the board, I would have the opportunity to serve the members at a global level, and help shape the future of our organization. I believe in the ability to make a change in the world by working with people and the opportunity to work on the board will help connect with more members, with whom we can achieve more together.
What volunteer experience do you have outside of Toastmasters?
I serve as a Minitrack Chair for the Association of Information Systems, and actively involved in several non-profit student organizations at UT Dallas. Others include the Indian Students Association and the Lions Club. This helps me work closely with hundreds of students every year. I am also an active member of the US India Chamber of Commerce and volunteer my time with the North Texas Food Bank.
Have you worked with other Boards of Directors outside of Toastmasters? If so, describe your experience.
I have served on the Executive Committee for the Special Interest Group for IT Project Management for the Association of Information Systems. AIS is the premier professional association for individuals and organizations who lead the research, teaching, practice, and study of information systems worldwide.
In your opinion, what are Toastmasters International's major objectives and how would you work to achieve them?
In my opinion, the major objectives include working to achieve the envisioned future, which is to be the first-choice provider of dynamic, high-value, experiential communication and leadership skills development. I would work with the members of the Board to ensure the required resources and tools are available to mitigate risk and ensure consistent delivery of our product.
Additional information about candidate:
I am an avid traveler, having travelled extensively in India, UK and the United States. I also like playing Basketball and Cricket. I love painting and equally love singing and theatre. You will find me working on a variety of tech projects, something I work on with my students. I have a passion for technology and want to use it to create a positive impact in the world.
---