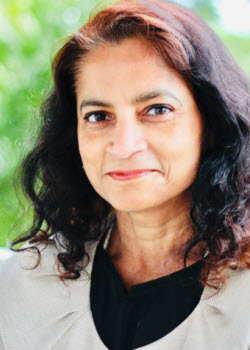 Candidate's Office: International Director
Region Number: 5
Toastmasters member since: 2010
Education: Doctor of Management, Masters of Architecture & Urban Design, Bachelor of Architecture
Employer and/or position: Founder, CEO
Served as District Director of District number: 8
Term of service: 2015-2016
In term as District Director, District achieved: Select Distinguished
Website: farzana4id.com/
Toastmasters offices held and terms of service (international and regional level):
2019-2020 Region Advisor, Region 05
2018-2019 Region Advisor, Region 05
Toastmasters honors and recognition (international level):
2017 Presidential Citation
2015-2016 Select Distinguished District Director
2015-2016 Excellence in Leadership
2014-2015 Excellence in Education & Training
Relevant work experience and how it relates to Toastmasters and your role as a Board Member:
A Toastmasters International (TI) Board Member must have a strategic focus on the larger picture of developing and implementing strategies that will work for every member of TI. As an Architectural project leader of multi-million-dollar projects in the Healthcare industry for over 15 years, I have focused on the critical component of providing a healing environment to all the stakeholders engaged in the process. The complexity of healthcare projects has provided me with the excellent experience of focusing on the larger picture of a master plan while ensuring that smallest of detail is taken into account to save the life of each patient. As a multidisciplinary leader and practitioner in architecture and management, I managed the master planning, design, finances and onsite execution within the scope of financial budget and to the user satisfaction. This strategic experience will be invaluable to the TI Board in the development and implementation of the strategic plan.
What experience do you have in strategic planning?
An integral part of my professional experience has been in strategic planning, involving the masterplan, design and execution of user-friendly projects. This has enhanced my higher degree of acumen in managing human and financial resources. Designing Healthcare projects (Hospitals and Labs) has also trained me to integrate all the puzzle pieces together as the life of people depends on efficiently designed spaces for them to receive appropriate care. I have over 15 years of experience in different project types, each one of which required both strategic and tactical solutions.
My significant strategic planning strength comes from my experience working on projects and initiatives of high complexity, like cardio-thoracic unit, kidney center, neo-natal unit, cancer center and micro-photonics labs. As a project leader, I led and managed the diverse and virtual high-performance teams, building collaborative relationships with all stakeholders.
What experience do you have in the area of finance?
As a project leader I have managed the finances of multi-million-dollar architectural projects. Every project and initiatives ongoing cost were carefully monitored and controlled throughout the life cycle of the project to ensure the financial feasibility and stability thus avoiding any unforeseen situations. Meaning, I understand the project financial statements, including cash flow, balance sheets, expenses as they are imperative for the financial health of organization. I am very aware of the fact that Budget plays an important role for the viability of project and I have developed and monitor the project budgets on an ongoing basis. Monitoring "Change orders" were always part of my responsibility to keep an eye on any potential negative financial impact and to minimize the cost escalation.
What experience do you have in developing policies?
As a member of several boards and being on numerous committees, I have worked on educational, financial, mentoring and community development policies and processes. I am currently working on developing the policy for mentoring program for an organization at a national level.
What lessons did you learn from previous leadership positions?
I have learned that regardless of our titles in profession, business or volunteer work, I (and we) have to be Human-Centric. Being a leader is a profound responsibility. Meaning through leadership, we must add value to the life of our fellow human being, to make their life better, as that is the only way we succeed as a leader. I also learned that it is an honor and privilege to serve as a leader. Serving with excellence required me to enhance my skills in areas of emotional intelligence, empathy and relatability. I have learned that these are the key components of an authentic-humble leader.
What experience and key strengths would you bring to the Board of Directors?
The integrative professional, academic, advocacy and entrepreneurial experience in the field of Architecture and Business Management is what I will bring to Board of Directors. I have more than 20 years of international work and academic experience. I have worked on the innovative design and leadership initiatives based on human experiences.
My key strengths and experience are:
Working on projects of high complexity, like healthcare, hospitals, research labs, leading global teams and being mindful of global sensitivities and cross-cultural contexts.
Result-oriented, collaborative and relationship cultivating team leader. This strength will contribute to the Board's identification, design, development and execution of the strategic plan in a highly collaborative manner.
Fostering communication and relationship management with stakeholders.
Strong background in research, focusing on the human experiences and how decisions are made. Hence, my capability in developing research and piloting them will be beneficial to the Board.
Worked with diverse teams in diverse sectors (private and not for profit), focusing on defining, developing a strategic vision.
Why do you want to serve as an International Officer/Director?
My aspiration to serve as an international director emanates from my objective in life, which is to "Make this world a thriving place for all humans." After joining Toastmasters, I realized the life-changing impact of Toastmasters not only on my life, but thousands of others. Therefore, I want this transformative opportunity to be extended to millions of people around the world. As a working ambassador of Toastmasters International Director, I want to spread the value of the program in every part of the world. As a Board member, I will participate in exploring innovative ideas to add value for our members and in strategic strengthening of TI's envisioned future of providing high-value, communication and leadership skills development.
What volunteer experience do you have outside of Toastmasters?
I continually volunteer and collect donations and clothing for local organizations. As an alumnus, I also volunteer in orientation of new students at my university. As a board member of Women in Healthcare, I am on a mentoring committee on national board and an Advisory Board member of newly launched international chapter in Canada. Objective of organization is to provide a collaborative support platform to inspire women working in various fields of healthcare.
Have you worked with other Boards of Directors outside of Toastmasters? If so, describe your experience.
I have been a Board member of; "Institute of Architects", "Human Development Foundation, (HDF)" and "Women in Healthcare (WIH)". These boards have strategic objectives with a strong vision and mission. For example, HDF provides educational, financial, medical and community development services to under-privileged population in South-Asia. As a board member, I worked on a committee to strategically advance the programs. I was also chairperson for local chapter fundraising events and raised USD 150,000 to ensure the continual funding of the projects.
As mentioned earlier, I am on board of Women in Healthcare. My experience include the ongoing work on mentoring committee on national board. Also, for WIH, I am an Advisory Board member of newly launched international chapter in Canada. Working with fellow Board members across the chapters, our objective is to provide a collaborative support platform to inspiring women in multiple fields of healthcare.
In your opinion, what are Toastmasters International's major objectives and how would you work to achieve them?
Built on what I gained as a member, I think Toastmasters International's major objectives are in helping human beings develop their individual potential to a maximum level. As an organization, we call it a program developing leadership and communication skills. However, I think it is much greater than just a program, as it factually transforms the lives of people all around the world. It impacts every aspect of life, including individual, professional, business and community building. I will work with fellow board members to strengthen TI's objectives. First, we will identify the components which are working well and what can be added to take them to the next level. We will assess the gaps, specifically related to the pandemic and will work on improving them. One of our critical tasks under this global pandemic crisis is to evolve in the best possible way to keep the core essence of Toastmasters intact for members and move forward with this new life at the same time. We will strive to find suitable solutions, by working on multiple strategic scenarios as a board, representing the voice of members of Toastmasters International.
Additional information about candidate:
The experiential Life and Mentoring research through my Doctor of Management studies have Transformed my work into advocacy for developing human potential around the world. My current work blurs the lines between architecture, leadership and stereotypical roles. I have Founded a platform for women in STEM professions, to advance their leadership journey. As a published author and researcher, my focus is on human-centric processes, specifically the impact of mentoring in developing leaders. The extensive combination of professional and leadership work, qualifications in architecture, urban design and management have prepared me to be an integral part of the Toastmasters International Board of Directors, during this unprecedented time of evolution due to the pandemic.
About Myself:
I am a global nomad, who loves global travel and capture the beauty of world through the lens of a camera and now through iPhone camera.
I love photography and have been taking photos since I was in 7th grade and my father gave me his old-fashioned Yashica camera (google will tell you more about Yashica 😊 ). I have learned the Black and White print-development in traditional darkroom settings. I used to own serious Canon Rebel cameras and had been the "First Place winner of, International Photo Competition, Webster University, 2015.
I have written a poetry book.
I am a published author on the topic of Leadership, highlighting distinctive women.
Speak and understand multiple languages.
Learned Japanese Language for 3 levels. The most fascinating part is writing with brush which in itself is an art-form.
Learned French Language for 2 years.
You must have realized by now that, I am a life-long learner. Therefore, I went to 3 universities in the world and earned 3 degrees.
The most valuable research I have done is an onsite research on existing "Leprosy Center" providing the treatment and rehabilitation of humans impacted by the disease of leprosy. This life-changing experience molded my vision to be part of human-centric initiatives.
---