Dunstanette Lucille Macauley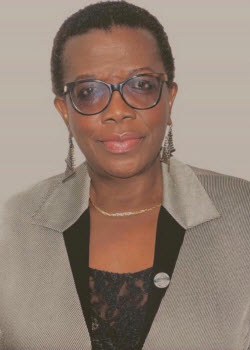 Toastmasters offices held and terms of service (international and regional level):
2018-2019 Region Advisor
2014-2015 District Governor
2013-2014 TC Lt. Governor Education and Training
2012-2013 TC Lt. Governor Marketing
Toastmasters honors and recognition (international level):
2017-2018 Pathways Guide and Ambassador
2015-2016 Presidential Citation
2014-2015 Excellence in Education and Training
2014-2015 President Distinguished Governor
2014 As LGET District was Number 1 in the World
Relevant work experience and how it relates to Toastmasters and your role as a Board Member:
I am a self-employed businesswoman and entrepreneur. As CEO of my own events management company I am responsible for planning and budgeting, financial management and leading the operations team.
As Head of Conferences and Public Relations at the ECOWAS Fund (Economic Community of West African States - an International Organization of 15 West African States)for 18 years, I have been in charge of organizing Board of Directors meetings preparing and distributing documents to the States before the meeting and coordinating the production of reports with the State rapporteurs. I served as a career diplomat in the Foreign Ministry and in the Embassy in Rome. In these roles I have gained the experience and ability needed to be successful on an international board.
My work in Toastmasters has given me the opportunity to use my entrepreneurial skills to charter clubs across 5 countries in West and Central Africa. I was able to use my leadership skills to motivate and train leaders to deliver the Toastmasters District Mission and to lead my team to be a President's Distinguished District.
What experience do you have in strategic planning?
While serving on the board of Zonta International I was required to use my strategic planning skills to help the organization plan for the future. I was also asked to conduct training workshops for their district leaders on the topic of strategic planning.
As a member of the FEMNET leadership team (Sister-to-Sister International- Inc) I worked with others to develop the 3 year strategic plan for the organization.
I also Chaired the District 94 strategic Planning Committee in 2017.
What experience do you have in the area of finance?
As a Division Head in ECOWAS where I worked for 18 years , I prepared our annual budget and defended it for approval with the Administration and Finance Commission of the Organization.
I develop the budget for my own company and competently oversee all aspects of financial management.
What experience do you have in developing policies?
I was International Director on the Zonta International Board 1996-98, I participated in developing policies in the organization. We developed a policy to implement staggered terms for Directors to ensure a smooth transition on the board. On the District level (Zonta) we implemented a major policy change in succession planning. Currently as a member of the Government/Private Sector Commission in Togo, we are developing a policy on private sector involvement in infrastructure investment.
What lessons did you learn from previous leadership positions?
Serving as a leader needs a lot of patience, empathy, trust and most of all the ability to listen. Did I possess all those skills? No! Did I develop them? Very much so. Understanding cultural diversity and inclusion is the cement to long lasting team cohesion and success. My greatest take away is managing conflicts. When I think of those times, I realize that most of those lessons learnt helped me to empower and motivate district teams when I later served as Region Advisor.
What experience and key strengths would you bring to the Board of Directors?
I am result oriented with extraordinary capacity for workload, and I never give up! I have global perspective and knowledge of world affairs, with experience on strategic thinking, corporate social responsibility and international working environment. My positive attitude easily creates enthusiasm in others and makes them work towards common goals. I place high demands on myself and on others. Having traveled widely I have deep knowledge of multiculturalism and I am multi-lingual. I bring these attributes to the Board.
Being a member in D46 as well as in D94 gives me a wider perspective of Toastmasters in different settings.
Experience of working with diverse teams from across the world in Zonta International where i have been a member for 32 years.
Why do you want to serve as an International Officer/Director?
I believe in moving up life's ladder one step at a time, be it in the professional or volunteer field. I have moved up the ladder in Toastmasters. I want to serve our organization by giving back what I have learned and benefited from since being a member. I am very passionate about Toastmasters and I have a global experience and view that I want to bring to the Board.
What volunteer experience do you have outside of Toastmasters?
I grew up in a volunteer environment.
Since very young I have been volunteering. As an adult I served as a company leader in the Girl Guides Movement and today I am involved in Zonta at the District and club level where we are now constructing bore-holes for villages; equipping the dispensary at the female prison and doing advocacy to eliminate VAW (Violence Against Women), the main focus of Zonta International.
In FEMNET, I help with and organizing members' annual visit to New York to participate in the United Nations Commission on the Status of Women. .
As President of AFCET (Women Entrepreneurs of Togo) I obtained financing to help 500 women obtain birth certificates and identity card with the project "Every Woman, An Identity"
Have you worked with other Boards of Directors outside of Toastmasters? If so, describe your experience.
I was International Director on the Zonta International Board 1996-98, where I worked on the Task Force to propose a policy change resulting in a major change in Board structure which was positively received.
As a member of the STSI Inc (Sister-to-Sister International), International Advisory Board, (New York) I have been involved in developing programs for the association to implement the United Nations SDG, Sustainable Development Goals by promoting the STEM programs (science, technology, engineering and mathematics) for young girls of color.
I am a member of the Board of Directors of the Duke of Edinburgh Award, in Togo, and involved in budgeting and fundraising for this scheme which fosters the development of young people as they serve their communities.
In your opinion, what are Toastmasters International's major objectives and how would you work to achieve them?
As Toastmasters International moves towards its centennial anniversary and in the words of the International President, "Toastmasters is about making a positive, life-changing impact on individuals throughout the world".
With this is mind, our organization's major objectives are to continue to improve the member experience and adapt the education program to members' needs while working towards increasing membership and its diversity. We need to continue adapting to changes that have occurred due to the global pandemic.
As a Board member I will bring my experience in these fields to work towards achieving goals that have been set out and commit to their success.
Additional information about candidate:
I have always told myself that I will not go further than being a Region Advisor. During the COVID crisis, I was in New York, the epicenter. I was anxious, I was scared. Then I turned to attending Toastmasters meetings online, in many countries and taking up roles. I experienced a re-birth of hope. I obtained my third DTM. I wanted to do more. I wanted to serve. I decided, I will continue serving the organization.
---