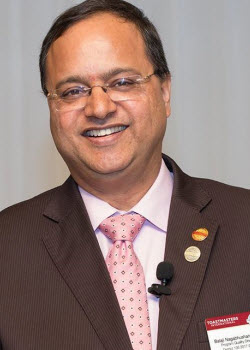 Candidate's Office: International Director
Region Number: 11
Toastmasters member since: 1998
Education: (i) Bachelor of Science (ii) Certified Independent Corporate Director (iii) Certified Anti Money Laundering Specialist (iv) Certified Fraud Examiner (v) Certified EFQM Assessor & Team Leader (vi) Certified Business Process Professional (vii) Certified EXIM Bank Assessor
Employer and/or position: Tristar Group, Global Energy Logistics; Group Chief Administrative Officer
Served as District Director of District number: 105
Term of service: 2018-2019
In term as District District, District achieved: Smedley Distinguished
Website: balaji4id.com
Toastmasters offices held and terms of service (international and regional level):
Toastmasters honors and recognition (international level):
2018-2019 Smedley Distinguished District
2018-2019 Excellence in Leadership
2017-2018 Pathways Ambassador & Guide
2017-2018 Excellence in Program Quality
2014-2020 Distinguished Toastmaster
2007-2013 Distinguished Toastmaster
1998-2006 Distinguished Toastmaster
Relevant work experience and how it relates to Toastmasters and your role as a Board Member:
28 years in the banking industry, specifically in senior management roles in Compliance, Fraud Examination, and Anti Money-Laundering.
Five years in the Energy Logistics sector at a senior management level.
As a member of the management team, I interact closely with the Board of Directors on matters related to strategy and organizational policy.
My experience involves setting fundamental concepts of excellence, business process development, maximizing outcomes, and implementing governance frameworks.
I believe that this experience of leadership at a senior level, financial management, strategic planning and policy development equips me to serve effectively on the Board of Toastmasters International.
What experience do you have in strategic planning?
In the banking sector, I was involved with the strategic planning of banking products and the development of related marketing strategies.
In my current role, I am part of a team that oversees development and review of our organizational strategic plan as well as the effectiveness of its execution.
During the turbulent times lately, the team has been successful in keeping strategic goals agile to ensure the robustness of business processes and plans to ensure sustained growth and profitability.
As a Lead Assessor for Quality Management Award programs based on fundamental concepts of excellence, I have assessed a diverse array of organizations on several parameters including, leadership, strategic plans, financial planning & execution, assessment, review and refinement of policies & procedures
What experience do you have in the area of finance?
I have worked in the financial sector for three decades and have been responsible for developing financial policies, procedures, and controls, as well as internal audits and compliance reviews.
I am well equipped with financial planning and strategy development for organizations. Coupling that with my understanding of Toastmasters International's financial systems and oversight, I believe I am well equipped to play a strong role in financial oversight of Toastmasters International.
What experience do you have in developing policies?
As Group Chief Administrative Officer of Tristar, I am responsible for the shared services of the organization. One of my responsibilities is the development, review, and refinement of policies and procedures across the organization, in addition to the training of personnel to ensure appropriate deployment.
As Head of Compliance in the previous two organizations, I was responsible to ensure financial & compliance regulations of the country were implemented throughout the organization. This role requires knowledge of rules, regulations, practices, and implementation of the relevant high organizational-level policies. My main responsibility was to ensure that policies, procedures are developed, reviewed and refined across the organizations.
What lessons did you learn from previous leadership positions?
Fairness, integrity, maturity, objective balance, and abiding by sound values, are traits that I have learnt from my previous leadership positions both throughout my career and in Toastmasters.
Leadership is not merely about holding a title. It is a privileged role that comes with responsibility and accountability and must be performed with the utmost diligence and time spent judiciously to nurture the organization and its people.
From senior leadership positions in organizations where I worked with people from more than 200 nationalities I learned to respect differences in cultures, beliefs, and backgrounds.
Good leaders create other good leaders, and I have learnt effective ways to help people nurture their dreams and convert them into reality in the work environment and in Toastmasters.
What experience and key strengths would you bring to the Board of Directors?
Experience in the financial industry and expertise in managing finance related matters in corporates.
A visionary and global mindset derived from many years of working in multi-national and multi-cultural organizations.
Decision-making as part of the team.
Expertise in Governance, Compliance, and the development, review, and refinement of policies and procedures.
Ability to nurture talent, develop leaders and teams, and build excellence frameworks, a skill that I have successfully employed in the professional work environment and in Toastmasters.
Collaboration and teamwork with and across organizational levels.
I do believe that these are attributes that will enable me to make a positive contribution to the Board of Directors of Toastmasters International.
Why do you want to serve as an International Officer/Director?
I joined Toastmasters in 1998 to improve my communication and leadership qualities. I have now completed 22 years as a member and during this period, I have acquired immense knowledge. I want to continue to gain knowledge through serving.
I wish to climb the ladder one-step at a time and this is an opportunity to do so as International Director. I have contributed to the success of many members, Clubs, Areas, Divisions and Districts and I am sure that as an International Director, I shall continue contributing to the success of the organization. While doing so, I will be learning so much more and that is the knowledge I wish to pass on and help grooming more members to take up leadership positions.
What volunteer experience do you have outside of Toastmasters?
As a keen young sportsman, I encouraged, mentored children to take up cricket as a sport, and volunteered to be an official umpire at club, division and district level games in India.
I was a member of an organization called SLATE (Spreading Literacy Across The Emirates) wherein we used to visit the labor accommodation once every week and coach them on English language – both spoken and written.
I am a member of Smart Life, a local community organization that helps the large migrant blue-collar labor force to improve their skills. I actively teach them to speak, read and write the English language, train them in extracurricular activities like singing, dancing, sports etc., and involve them in other activities that improve their well-being and standard of life.
I participate as an advisor in activities related to United Nations leadership and support debates conducted by schools in the UAE and judge their competitions regularly.
As the Chairman of the Corporate Social Responsibility Committee at my current employer, I am involved with several initiatives to protect the environment such as planting trees, energy (electricity and water) saving campaigns, and beach cleaning. We actively encourage adult education, sharing of knowledge and skills, and assist the unfortunate with financial contributions.
In the past few months I took up the responsibility of being the central point of contact for the Covid-19 response in our organization and ensured support to employees from 21 countries through training them on preventive measures, teaming up with hospitals to get tests done and assisting in their recovery process. This helped build their confidence as my team provided them the required emotional support to face difficult situations; we continue to provide them the support required.
Have you worked with other Boards of Directors outside of Toastmasters? If so, describe your experience.
As the Group Chief Administrative Officer with Tristar Group, my current employer, I closely work with the Board of Directors.
I was the Secretary to the Board of Directors in Dubai First, the financial institution I worked last, for seven years.
I have also served as an Advisor to the Board of Directors of Smart life, a volunteer organization that serves the less fortunate members of the society.
I am a certified Independent Corporate Director through the Institute of Directors, India and I interact regularly with Independent Directors of various organizations.
In your opinion, what are Toastmasters International's major objectives and how would you work to achieve them?
In my opinion, one of the primary objectives of Toastmasters International is to nurture, retain, and improve members through our Clubs. As this drive to expand continues, the organization's values need to be consistently upheld.
I will work towards widening of the Toastmasters International footprint. Personally, I have always worked towards spreading the aspect of Toastmasters and shall continue my effort so that more and more people across the world understand the value and immense learning that comes by becoming a member of this organization.
Additional information about candidate:
I have never stopped learning and have not stopped sharing what I have learnt. "Sharing is caring" and in order to develop people, we need to share our knowledge. In addition to serving in various leadership positions, I have also mentored and trained many leaders within and outside of Toastmasters in the United Arab Emirates and Gulf Countries to take up similar roles.
When I joined Toastmasters, a senior member mentored me and I learned from him that the more you give, the more you get. I experienced that spirit of giving when I had a major accident in 2004. My fellow Toastmasters stood like my family went beyond and supported me for a whole six months to get me back to full health.
Recently I started an online channel with an idea of sharing knowledge to the community. Six of us, who are friends, now share our knowledge & experiences with an open audience. This has progressed well and helped some people in the community to be inspired and realize their hidden potential.
I wish to continue this process of learning, giving back, and sharing with the community. As John C Maxwell has said - a leader is one who knows the way, goes the way and shows the way.
I wish to be one such leader.
---