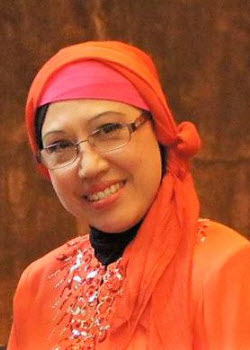 Candidate's Office: International Director
Region Number: 13
Toastmasters member since: 2006
Education: Diploma in Banking Studies
Employer and/or position: AIA Malaysia / Agency Manager
Served as District Director of District number: 102
Term of service: 2017-2018
In term as District Director, District achieved: Not Distinguished
Website:
Toastmasters offices held and terms of service (international and regional level):
Toastmasters honors and recognition (international level):
Relevant work experience and how it relates to Toastmasters and your role as a Board Member:
Has served in various managerial roles in HSBC Malaysia - as part of management, it was important that I gain the trust and respect from the staff as well as the customers. Feedbacks received could be useful for future changes in the banking services. Upholding the Brand values is key in delivering excellent customer service (internal & external) in Personal & Corporate Banking.
Similarly in Toastmasters, we are guided by the vision, mission, core values and governing documents, in our activities.
As a Board member, I can bring the voice of the members to the Board of Directors and also clarify certain policies decided by the Board to the members.
What experience do you have in strategic planning?
In my role as a Branch Customer Service Manager (HSBC Malaysia), I also served as a member of the Central Committee, involved in the transformation of some banking processes, from the Branch to the Back Office in HQ. It was a huge project which saw many staff being transferred from various branches in the Kuala Lumpur region.
What experience do you have in the area of finance?
When planning for Branch Customer Events / Community Service, working on the right budget is imperative, if the events were to be successful as intended. Some factors to be considered included, choice of venue, type of events, number of guests + VIPs, F&B, resources required.
On a personal front, out of the 11 siblings, I was the administrator, in distributing the monies inherited from our parents.
What experience do you have in developing policies?
Indirectly - as a manager, I assist in getting the relevant feedbacks and passed them to the Senior Executives for further action.
What lessons did you learn from previous leadership positions?
Serve with humility.
Embrace change in the organization.
Walk the Talk.
Quality matters.
Maintain good ethics.
What experience and key strengths would you bring to the Board of Directors?
Customer service experience in personal & corporate banking.
Served as a member of the central committee, in the transformation of banking processes.
Experience in the pre & post rollout of the Pathways Learning Experience, in the District.
Key Strengths: 1) Ethical 2) Committed 3)Passionate
Why do you want to serve as an International Officer/Director?
To have the opportunity to serve a wider community of Toastmasters.
To gain more leadership experience in Toastmasters which I can apply in my work place.
What volunteer experience do you have outside of Toastmasters?
Teaching English to Grade 5 students (Revision Class) - 3 months
Teaching English to children of poor HIV infected parents, at the Pink Foundation in Kuala Lumpur (1 year)
Helping out at the Old Folks Home.
Collecting medical supplies for flood victims.
Have you worked with other Boards of Directors outside of Toastmasters? If so, describe your experience.
No.
In your opinion, what are Toastmasters International's major objectives and how would you work to achieve them?
To be the No.1 leader in communication and leadership skills development. - Achieve through the District and Club Mission.
Embrace E-Learning through the introduction of Pathways Learning Experience (an interactive way to develop your skills). - I am currently on my 2nd Path and mentoring other members in their educational goals. I am also encouraging senior members to get started on Pathways.
Additional information about candidate:
---