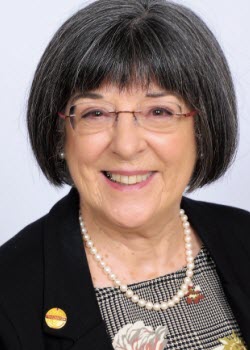 Candidate's Office: International Director
Region Number: 1
Toastmasters member since: 2007
Education: Bachelor of Arts, Seattle University; Juris Doctorate, University of Washington
Employer and/or position: Active volunteer after 30 years of active law practice
Served as District Director of District number: 32
Term of service: 2016-2017
In term as District Director, District achieved: Select Distinguished
Website: judy4id.com
Toastmasters offices held and terms of service (international and regional level):
2016-2017 District Director
2015-2016 Program Quality Director
2014-2015 Club Growth Director
2013-2014 Division Director
2011-2012 Area Director
Toastmasters honors and recognition (international level):
2015-2016 Excellence in Program Quality
2013-2014 Division Director of the Year
Relevant work experience and how it relates to Toastmasters and your role as a Board Member:
As a Board member I will apply the experience I gained from my years of law practice and teaching law. To represent my clients zealously within the bounds of the law, I analyzed reams of written information, researched the applicable law thoroughly, considered the viewpoints of all interested parties, and constructed my arguments persuasively and concisely. To educate my students, I communicated clearly and listened to their concerns.
As a lawyer, I worked with interdisciplinary teams of professionals to analyze cases before us. As a team we had significant input into the outcome of each case. I always maintained an underlying awareness that I represented the client and served as an ambassador of the group for which I worked.
The experience is relevant, because, as a Board member, I would work with peer Board members, listen to them, make my points persuasively and concisely, analyze written information, and keep an awareness of Toastmasters International policies and protocols. I would enthusiastically serve as an ambassador of Toastmasters International.
What experience do you have in strategic planning?
As a lawyer, I was instrumental in formulating and implementing a strategic plan to provide continuing legal education at no cost to individual government lawyers. I played a key role on a team that updated knowledge and skills while keeping license renewal affordable. The plan continues to be implemented.
As an elected member of the Board of Trustees of my church, I collaborated with peer trustees and interested members of the 500-member congregation to devise and revise a strategic plan for a capital fund drive to update and renovate our building.
As a member of the governing board of Manufactured Housing Communities Preservationists of Washington, I collaborated with peer board members and staff to devise and revise our strategic plan to maintain and purchase manufactured housing communities to preserve hundreds of affordable housing units.
I applied strategic-planning skills that I developed in my paid and volunteer work to grow my District when I was District Director.
These experiences have taught me that strategic planning is an ongoing process. Flexibility and collaboration are key to achieving desired results.
What experience do you have in the area of finance?
I have experience raising and managing money. In organizations that I have served, I participated in planning budgets and managing resources to achieve goals. I am responsible with money and understand the fiduciary responsibilities of Toastmasters Board members.
As Director of District 32, I creatively leveraged available funds to inspire excellence – Select Distinguished District.
As a lawyer, I performed cost analyses of proposed legislation.
In my volunteer work, I have raised money through donors and fundraising projects.
As Assistant Treasurer of Northwest International Folk Dancers, Inc., I help ensure that we stay within budget and send donor receipts. I have served as Treasurer of one of my Toastmasters clubs.
What experience do you have in developing policies?
I was instrumental in drafting Washington State laws that streamlined the process for adoption of minority children and helped reform prisons. This experience led to my being hired by the Washington State Legislature, where I was instrumental in drafting legislation that regulated utilities industries.
As Chair of the Reciprocity Committee of the American Bar Association Young Lawyers' Division, I led a team that formulated and recommended a policy of reciprocity for state bar membership.
In my career as a lawyer, I participated on a team that set standardized guidelines for disciplinary procedures, clarifying standards and expectations for health care professionals.
These experiences have crystallized my understanding of the key role that policy plays in fairness and service to the public.
What lessons did you learn from previous leadership positions?
I have learned that leadership is about building relationships and motivating results. When we maintain healthy relationships, we enhance the ability of our teams to set and reach attainable goals. I have learned that both long-term and day-to-day goals should be specific, measurable, attainable and time-bound. For instance, rather than "membership building," a club goal should be 20 members by June 30. I have learned conflict-management skills so that I can lead teams in healthy discussion and debate that enable us to reach effective decisions while all feel respected and valued as team members who can make a difference.
What experience and key strengths would you bring to the Board of Directors?
I would bring heart – a deep and enduring commitment and passion to serve Toastmasters. My first office in Toastmasters was President of my home club, which was struggling to remain viable. By channeling our energy into reaching Distinguished Club Program goals, we finished Select Distinguished. Members who considered leaving saw that they had more to learn and do. So, they stayed. Many went on to serve as leaders.
I would bring a high standard of ethics, sensitive listening, critical thinking and strategic -planning skills, honed by years of practicing and teaching law and working successfully with teams. I would contribute experience in conducting careful research and drafting, evaluating and editing policy. I pay attention to detail while keeping sight of the big picture.
I would participate fully, contributing ideas while collaborating with peer Board members and other interested parties to solve problems and create effective action plans to benefit all of our members.
Why do you want to serve as an International Officer/Director?
Why not put my skill set to work for the benefit of all our members?
The global pandemic of 2020 has presented new and different challenges for each of us as individuals and for Toastmasters as a global organization. Our organization needs to change with the times. Constant will be our core values and our mission of empowering individuals to become more effective communicators and leaders.
My service in club and district offices of Toastmasters, my service on other boards and my service to clients and community in my career have equipped me to take my passion for Toastmasters to the next level – to serve as an ambassador of our fine, global organization.
When I imagine a world without Toastmasters, it's a much less appealing world. As a peer Toastmaster so well put it, diversity is a fact; inclusion is a choice.
The organization that values inclusion in our diverse world and is true to its mission of empowering individuals to become more effective communicators and leaders is worth 100% from me.
What volunteer experience do you have outside of Toastmasters?
Board member (assistant treasurer) – Northwest International Folk Dancers, Inc. 2019 – present
Facilitator – Kaiser Permanente Lemonade Connection (for breast cancer survivors), 2019 – present
Board member – Manufactured Housing Communities Preservationists of Washington, 2006 – 2011
Board member and officer – Government Lawyers Bar Association 1995-2000 (President in 2000)
Trustee – University Unitarian Church, 1980-83
Trustee – Seattle-King County Bar Association Young Lawyers Board of Trustees, 1976-79
Founding member – Washington Women Lawyers
Have you worked with other Boards of Directors outside of Toastmasters? If so, describe your experience.
Yes. I have worked as a member of the following boards.
Professional:
Seattle-King County Bar Association Young Lawyers Board of Trustees. As a trustee, I published a Youth and the Law bulletin, informing high school students of basic legal rights and responsibilities.
Government Lawyers Bar Association. I worked with peer board members to design educational programs for our members and provide outreach to the community.
Church:
As a trustee, I participated in a team that insured that a 500-member congregation was well served.
Community:
Manufactured Housing Communities Preservationists of Washington. As a board member, I worked with a team of volunteer board members and paid staff to preserve manufactured housing as much needed affordable housing in the region.
Northwest International Folk Dancers, Inc. I participate in a team that hosts dances and provides scholarships to youth to attend dance camps. We help ensure preservation of beautiful dances and have fun dancing together. That is, we did before the pandemic and will again.
In your opinion, what are Toastmasters International's major objectives and how would you work to achieve them?
Toastmasters International's overarching objective is to be the first-choice provider of high value, dynamic, experiential communication and leadership training. In our Interim Plan, we set forth the steps to achieve this objective globally. Major objectives are to support high quality clubs, support members in achieving personal and professional goals, expand global recognition of Toastmasters brand, and increase value to members by standardizing operations. My work to achieve these goals would include serving on Board committees, listening sensitively to peer Board members and reading and analyzing all information, and contributing my ideas thoughtfully. It would also include District visits during which I would raise awareness and gather ideas to bring back to the Board. I would share my experience in expanding the clubs and District that I led and my knowledge of best practices.
Additional information about candidate:
When the world was open, I was a world traveler. I look forward to traveling again. I love meeting new people and making friends around the world. I have visited Australia, India, China, North Korea, Russia, and countries in the U.K., Europe and North, Central and South America.
I like to dance, I am a folk dancer, and have enjoyed salsa lessons in my travels.
I like to read. I enjoy, learn and take inspiration from classics and contemporary literature, fiction and non-fiction.
I enjoy cooking. My souvenirs include a cookbook from nearly every country I have visited. Nutrition is especially important to me as a breast cancer survivor. Please feel free to share your favorite recipe with me.
---