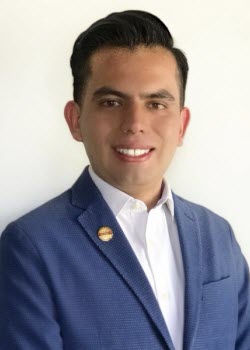 Candidate's Office: International Director
Region Number: 3
Toastmasters member since: 2006
Education: Bachelor of Accounting, Masters in Organization Administration, UNAM
Employer and/or position: Trainer, speaker and co-founder of Botavara Consultores. Sales Force and marketing strategies, manager.
Served as District Director of District number: 34
Term of service: 2019-2020
In term as District District, District achieved: Distinguished
Website: antoniocolorado.com
Toastmasters offices held and terms of service (international and regional level):
Toastmasters honors and recognition (international level):
2019-2020 Distinguished District Director
2018-2019 Excellence in Program Quality
2017-2018 Excellence in Club Growth
2017-2018 Spirit Award Region 10
Relevant work experience and how it relates to Toastmasters and your role as a Board Member:
As a finance and marketing specialist in national and international companies have allowed me to understand recent world challenges.
Discipline, order, image management and distribution of activities is something that I have in mind after my stay working in the Presidency of the Mexican Republic, since there I learned how important strategic decision-making linked to financial execution is for the impact of the lives of millions of people.
In the Pepsi Inc bottler in Mexico, I understood the importance of healthy budget management for the growth of companies and organizations, always thinking about the growth, expansion and empowerment of the brands.
My experience in the academic field as a researcher and teacher have given me valuable tools to understand and suggest improvements in education and training systems. This resulted in a partnership between the UNAM and the University of Texas.
In addition, as an entrepreneur, I have proven the foundations of teamwork, the strength and power that each person's voice has to inspire. The relevance of establishing procedures, rules and processes to ensure the success of any organization.
What experience do you have in strategic planning?
I have made comprehensive plans for the short, medium and long term goals, aiming at financial sustainability and positioning of products and services.
However, I consider that my greatest achievement in strategic planning has been the adjustment of plans developed by predecessors or myself, according to the needs, changes and demands of the market.
Life itself is a great plan that we are all developing and adjusting.
What experience do you have in the area of finance?
My academic and professional experience is closely linked to finance, since my other interests have emerged from this field.
Budget management, profit and loss analysis, risk assessment and internal capital reinvestment options are among my preferred activities in this field.
I have had the opportunity to work successfully managing approximately 25 million budgets in marketing.
On the other hand, as an entrepreneur, I have been able to put into practice my knowledge and experience when carrying out business plans with financial support, thus making the ROI attractive and increasing the profitability for my clients and my own.
What experience do you have in developing policies?
Creating policies and manuals for financial resources implementation and the design of job descriptions, both of vital importance in teams, companies and organizations in which I have had the opportunity to serve and develop my skills.
At all times, I have been clear that for the development of policies, teamwork and interdisciplinarity are vital so that the creation or modification of policies align to the needs of the organization.
What lessons did you learn from previous leadership positions?
One of my favorite projects in Pathways is lessons learned, because reflecting on what has been done is always of great benefit.
In my last year of service to my district, I learned the importance of having a clear vision and sharing it at all times with the team. That way everyone feels a part of the vision and will support in whatever is within their scope.
I checked once more, what can be achieved with unity, setting aside personal interests, making everyone aware of the common goal and understanding that when the work is done, the results are there.
I learned the importance of planning but also improvisation in times of challenge: the last four months were of constant change due to circumstances that impacted everyone. Although we always had a clear goal, we had to pivot from the original plan.
I also learned about recognition, what members expect and sometimes it is more than a trophy or a plaque. Recognition is about closeness, knowing what interests them, responding to an invitation or resolving a question with empathy.
As the leader of my district, I was able to put my intercultural intelligence to the test, because at the beginning of my leadership path the district was the complete Mexican Republic and the cultural differences are drastic even when we are all from the same country. Even later when reformed the District, these differences continued to exist due to the great extension of territory it covers.
Additionally, the opportunity to work together with districts in the region but with cultures other than my own was exciting and of great value to me, sowing greater interest in me and giving me the necessary skills to work globally.
In previous positions, I had the opportunity to understand that no matter what role we play, we are always members, we remain part of the organization we serve and serving is a privilege.
What experience and key strengths would you bring to the Board of Directors?
I will give the Board of Directors my experience in strategic planning, finance and marketing.
I have recent experience as a district leader, so providing insight into the needs of members is a critical part of what I will bring to the Board of Directors.
I have had the opportunity to participate in resolution and conciliation committees, for what I consider is another of the key points within the role that I will perform as International Director, since opportunities for growth are born from productive conflicts.
Additionally, I will provide a new perspective, I will be a fresh voice within the Board of Directors, and for generational, cultural, geographic reasons and experience as a member of the organization, I will be able to give an additional vision to the most important group of leaders of Toastmasters International.
Why do you want to serve as an International Officer/Director?
When I started my journey within Toastmasters International, I asked myself who were the people that made our organization grow and move towards the future; today I know who they are and I want to be a part of Toastmasters International's continued growth as an International Director.
This organization has given me the opportunity to grow, discover myself, polish skills and help others grow. I know that it is time to put those skills to the service of our members.
During the last years, I have had the opportunity to meet hundreds of members, from my district and also from all over the world. I know what I can propose and work to improve our experience as members of a global organization.
Serving is an honor with special responsibilities such as being the voice of the members, thinking at the base of our organization: the members and the clubs to develop new experiences and improve existing ones.
It is time to contribute my vision, experience and passion to the Board of Directors and that is why I will be part of it.
What volunteer experience do you have outside of Toastmasters?
My experience as a volunteer has developed within the academic area, as coordinator of innovation projects, approach to education and linker of organizations.
Although I have developed the work for the benefit of the research community in Mexico, within the activities of academic and university volunteering is the management of support for students for the continuation of their studies or the organization of events for minority social groups or in conditions of poverty.
I have also participated in activism activities, promoting the defense of human rights, giving support and support in key moments of impact cases in Mexico.
In difficult times when volunteering is necessary. This is why after the big earthquake of 2017 in Mexico City, I volunteered to help those who had suffered the biggest loss in the catastrophe.
I believe that having an opportunity gives the responsibility of duplicating it for others.
Have you worked with other Boards of Directors outside of Toastmasters? If so, describe your experience.
I have had the opportunity to serve within the Academic Councils of different university institutions. It has been necessary to review the budget allocation to the various areas of operation, as well as the implementation of modifications in educational plans and the monitoring of requirements by unions of teachers, independent teachers, workers and students.
Additionally, I have served as part of the Committee of the National Association of Faculties and Schools of Accounting and Administration, in which I have had the opportunity to coordinate projects to promote research in the field of administration and finance, in addition to designing programs integration and expansion of academic enrollments.
Being part of a Board of Directors is an honor with responsibilities, so my experience has been more than satisfactory, in each assignment received I have been able to meet the expectations set and exceed them. I have been able to leave a firm foundation to continue with the growth of the organizations to which I belong.
In your opinion, what are Toastmasters International's major objectives and how would you work to achieve them?
Our organization aims to be resilient with all the new challenges the world has, but also empowers our members to face those same new challenges.
First, it is important to meet the expectations that our members have: new members need to have a realistic expectation of what our organization offers and at all times must see new challenges and opportunities for growth within the organization.
This last point takes us to the grooming of leaders. People that know how to take on responsibilities, challenges, coordinate teams, not only within Toastmasters but also in our society, all over the world.
Once we have more leaders, their experience of empowerment and success is shared with their actions and their voice. The growth of the organization becomes constant and exponential. By adding strategy and planning, these experiences are strengthened and disseminated to reach new markets.
This is how we arrive at the member's experience within our clubs, which from the Board of Directors can be improved: reviewing and improving policies, manuals, procedures, finding new experiences of value for members, bringing the ideal experience to all members around the world and paying attention to their proposals, concerns and success stories.
Considering that last point, we reached the beginning and completed the cycle of improvement that I propose for our organization and that will be possible by serving as International Director.
Additional information about candidate:
"Our members, our pride." With those words I summarize my views on the members of Toastmasters International.
Some years ago, when I was thinking about what I wanted to do in my life I thought that what Toastmasters leaders do is what I would be willing to do forever: empower people through communication and leadership skills.
I believe it, I feel it and I live it because I am the result of the Toastmasters International educational program, here I have found more than members: I have found friends and an incredible family.
Here I have found love, confidence, camaraderie, a genuine support network. From Toastmasters I have taken a good part of my values and I have known horizons that only here I would have explored.
I am a proud member of the organization that has molded me, the country I was born in, the family to which I belong. I want to contribute and serve because that is what I have learned since childhood.
Every morning when I go jogging, I imagine how many people have known Toastmasters without considering much their life will change. One day I came to a club without thinking all the way that I would go and without imagining that one day I would have the opportunity to serve globally.
It is time to grow, it is time to improve, it is time to serve.
---