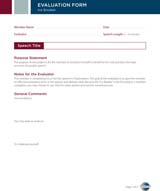 Ice Breaker-Evaluation Resource
This evaluation resource is for the "Ice Breaker" project. Use it in your club to evaluate a member completing this project. You can download and complete the resource on your device, or print and complete it by hand. How you choose to complete the evaluation depends on your preference and the preference of the member you are evaluating.
View form
Level 1 Project Completion Request - 8953
The Level 1 Completion Request is designed to help clubs give Level 1 credit in Pathways
View form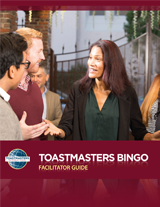 Toastmasters Bingo
This is a great ice breaker activity used to encourage participants to meet, connect and build stronger relationships with peers.
Download manual
Download PPT