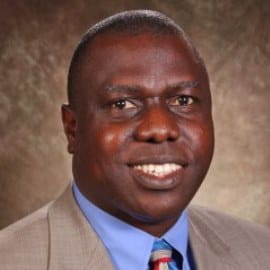 Region 4 Learning Master
What is your favorite Toastmasters experience?
"This is two-fold for me. I truly treasure and enjoy each moment I get the opportunity to speak in front of a Toastmasters audience, be it in a club meeting, at District Leadership meetings or during Toastmasters Leadership Institute training sessions. Secondly, I love the evaluation portions of our meetings. This is the key starting point from where growth truly happens. By taking the feedback to heart, one can apply new learnings towards being a better communicator and leader."

Length of time as a Toastmaster: More than five years, less than 10 years

Highest position held: District officer

Highest education awards earned: Distinguished Toastmaster

What is your area of expertise? How does your personal and professional experience relate to your Learning Master role? As a trained engineer and project manager, I've had the opportunity to work on, and lead teams across four continents. The experience of working with diverse teams of people teaches you how to collaborate with others. As a Learning Master, collaboration is a key skill that is needed as the contents of the new Revitalized Education Program are developed.