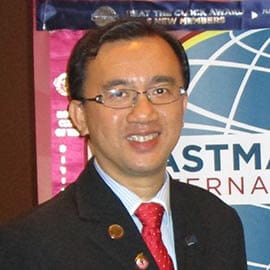 Region 14 Learning Master
What is your favorite Toastmasters experience?
"My favorite experience is to share my Toastmasters journey experiences with my members. I enjoy spreading the benefits of Toastmasters programmes with organizations so as to charter new Toastmasters Clubs."
Length of time as a Toastmaster: More than five years, less than 10 years
Highest position held: Division governor
Highest education awards earned: Advanced Communicator Silver, Advanced Leader Silver
What is your area of expertise? How does your personal and professional experience relate to your Learning Master role? I am a certified Project Management Professional (PMP). I am the Country Quality, Health, Safety & Environment (QHSE) professional in my company. I plan, implement and improve the projects and programmes for the organization.