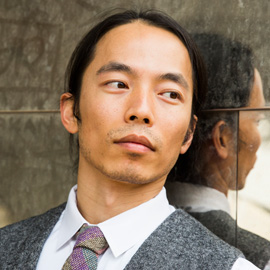 Member Spotlight: The Pursuit of Movement
My Club
"Using the body to articulate parts of your speech brings a rare element to the story."
Journey Highlights:
Giving a TED Talk at the Boston House of Blues
Promoted to Officer at State Street Corp
Teaching workshops on movement skills and conditioning
Born in Beijing, China, I came to the United States with my family at age 6 and later moved to Hong Kong to finish high school. Returning to the States at 18, I attended college at the University of Massachusetts, Amherst, worked in Boston, then left life in the city for surfing and business school in Malibu, California.
After receiving an MBA from Pepperdine University, I moved to South Korea to teach English. I currently live in Sacramento, and when I saw that the company I started working for had a Toastmasters club, I knew it was a perfect opportunity to develop my vocal communication and test my writing grits.
I just got promoted and switched departments to work as a trainer. My new manager is in our Toastmasters club and he saw the evolution of my public speaking abilities firsthand. He recognized that I have a talent for presentation, which was a big factor in his decision for hiring me. Toastmasters helped change my view on communication. It's taught me how to write with the intent of being heard instead of being read. That was a huge change for me.
My company, State Street Corp., has a partnership with TED, and each year they open up applications to its 30,000-plus employees to give a TED Talk. In the end, just 11 people were selected. I was lucky enough to be one of them. I was flown to Boston to perform my talk at the House of Blues.
When I was crafting my TED Talk, I considered using a PowerPoint for visual aid. Then I thought, why not just be the visual aid? I am a movement enthusiast, which is someone who explores and practices different movement arts. I gravitate toward aesthetic movements like acrobatics, martial arts and dance. I came from a breakdancing background but was always too scared to learn all the aerial and acrobatic movements. I now offer workshops where I teach a variety of skills, from handstands to movement flow to upper body conditioning.
Using the body to articulate parts of your speech brings a rare element to the story. With my TED Talk being about movement, I took great liberty to make it dynamic using whatever physical tools I had.
When you focus on what you're creating instead of yourself, the work begins to take on a life of its own. My TED coach (yep, we had coaches) told me in our first meeting that I needed to make this talk bigger than who I was. Once I accepted this and started taking the ego out of it, I allowed my performance to manifest on its own. All I had to do was get out of the way.