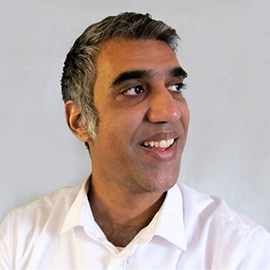 Member Spotlight: Success by Design
My Club
Annex Toastmasters Club
Club Number:

00003057
Location:

Toronto, ON, Canada, District: 60
Meeting Time:

Monday (Except holidays) 6:30 pm
"Toastmasters is a great place to fail, while gaining the skills to improve."
Journey Highlights:
Served as club president
Learned to lead by example
Enjoys the diversity of his club's members
When I joined Toastmasters six years ago, I was struggling to express myself, both personally and professionally. As a web designer, I often felt intensely anxious when presenting my work to clients. Even though my clients rarely noticed, it was incredibly stressful for me, so I joined to improve my speaking abilities.
I've grown as a communicator and leader by taking more chances in work and in life. I'm not only doing graphic design work, I'm also helping write presentations and I'm coaching speakers. I've led brainstorm sessions and innovation workshops related to solving design challenges. The confidence to do this came, somewhat ironically, from becoming intimate with my weaknesses and working to eliminate them and improve through participation in Toastmasters.