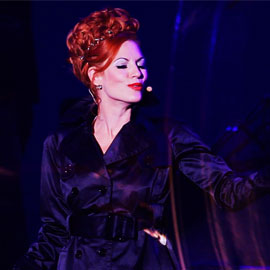 Member Spotlight: A Singular Sensation
My Club
Douglas Elliman
Club Number:

00595443
Location:

New York, NY, United States, District: 46
Meeting Time:

2nd & 4th Tuesday 6:30 pm
"With 20 people performing in my show, the leadership track in Toastmasters has had a huge influence on my ability to lead."
Journey Highlights:
While an area governor, earning President's Distinguished Area recognition.
Earning President's Distinguished Club, Perfect 10 Club (achieving all 10 DCP goals for the year) as president for Douglas Elliman Toastmasters.
Winning 1st place in an area-level Table Topics Contest.
I live in New York, New York where I perform in the critically acclaimed shows Burlesque to Broadway and The Heat Is On. When I'm not performing, I teach public speaking at the New York Conservatory for Dramatic Arts.
In 2012, I went to support my friend who was delivering her Ice Breaker speech and fell in love with her club, Douglas Elliman Toastmasters. I do a lot of interviews for the press, and they're just like Table Topics.
When I'm between songs, I address the audience through monologues. Like in public speaking, it's important to connect with the audience and keep them engaged. I've learned to master the skills we use at Toastmasters: body language, vocal variety, listening, eye contact, props and more.
With 20 people performing in my show, the leadership track in Toastmasters has had a huge influence on my ability to lead. For example, I've learned to delegate responsibilities in our company, Burlesque to Broadway, in each department, just as we do in Toastmasters. Each member has a role and is responsible for their department, like dance, music, costumes, hair etc. It's also helped in learning to work with so many diverse personality types.
Singing in front of 2,500 people isn't that different from singing in a club of 50. I started out in small clubs, and that is great training for making connections in a large hall. I give a workshop called Secrets of The Stage, and I tell people to take advantage of every opportunity to speak. The more you do it, the more comfortable it becomes. If you ever fail, get back up and learn from your mistakes!