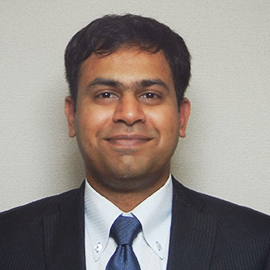 Member Spotlight: The Language of Communication
My Club
Tokyo Toastmasters Club
Club Number:

00001674
Location:

Tokyo, Tokyo, Japan, District: 76
Meeting Time:

1st, 3rd & 5th Thursday 7:00 pm
"Toastmasters provides a supportive environment in which to fail and learn from failures."
Journey Highlights:
Winning the Japanese Language Area Speech Contest (Bakre's native language is Marathi and he won against native Japanese speakers)
Meeting Toastmasters' Michael Notaro (2011-2012 International President) and Daniel Rex (CEO)
Being VPE of one of only five clubs in Japan to achieve President's Distinguished status in the 2013-2014 term
I joined Toastmasters in October 2012 after my senior colleague invited me to attend a meeting. I was impressed by the communication and leadership skills of the club members, and I immediately joined to improve my own skills. I'm now a member of two clubs.
The delivery and content of my speeches have improved, and I assume various roles at club meetings. I became vice president education (VPE) Sakura Toastmasters club, which went on to achieve President's Distinguished. On the professional front, communications between top management and the local subsidiaries of the company I manage have improved.
Tokyo Toastmasters has a great blend of Japanese and foreign members, and energy levels in the club are very high. The mid-career professionals at Sakura Toastmasters are capable of giving extremely constructive feedback. I am proud to be a member of both clubs.
As VPE, I learned how to support senior club members. That helped me serve as the link between my company's head office and its local subsidiaries in the United States, the United Kingdom and India. I now give impressive presentations within and outside of the organization.
Toastmasters provides a supportive environment in which to fail and learn from failures. You develop confidence, even when faced with challenging public speaking situations. In real life, you can't afford to experiment like you can in Toastmasters.