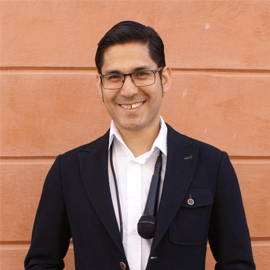 Member Spotlight: Podcast Producer Shines
My Club
Stadi Talkers
Club Number:

01315941
Location:

Helsinki, Finland, District: 95
Meeting Time:

Monday 6:00 pm
"Toastmasters helped me to polish my communication and speaking skills."
Journey Highlights:
Speaking at the 2012 International Speech Contest in Riga, Latvia
Being a finalist in the International Speech Area Contest
Helping my club to achieve President's Distinguished Club recognition while president
I am the host and producer of the "Time to Shine Podcast," where I interview accomplished public speakers around the world, including many Toastmasters. I've been a member of the Stadi Talkers club in Helsinki since 2011.
I moved to Finland from Peru nine years ago, and as a non-native English speaker living in a non-English-speaking country, it was challenging to find opportunities to practice public speaking in English. I was lucky to find an article about Toastmasters in a local newspaper, and I visited a meeting of the Stadi Talkers club. I joined two months later.
Toastmasters helped me to polish my communication and speaking skills. I deliver superior presentations now and find more creative ways to do them. The other crucial thing I learned is the importance of leadership.
Being a club officer came natural to me. I started as vice president membership, which is one of the nicest roles, as you meet and support a lot of new people. The club president role was the most challenging; being the public face of the club and the one who sets the tone forced me to aim for excellence in every word I uttered and every action I took. Now, as an area director, I like supporting club leaders and meeting motivated members in different locations.