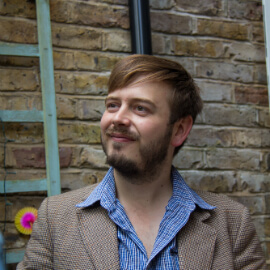 Member Spotlight: Two Words That Changed My Life
"Each turn on stage is an opportunity to try out something new and encourage others to do likewise."
Journey Highlights:
My Icebreaker Speech
The presidential elections for Early Birds Speakers Club
Representing my club at the Area 45 Evaluation Contest
One of my coworkers was attending Toastmasters to prepare for a best man speech and invited me to come along. He thought I'd find the venue interesting and he was right. I enjoyed the art deco finery of the Masonic hall, but that's not what kept me coming back.
After the first meeting, I received an email from the club president that included two words that changed my life: "Take courage." For me, each turn on stage is an opportunity to try out something new and encourages others to do likewise.
I am a computer graphics animator in London, England. In the past, I created graphic effects for a science-fiction series and a historical drama series for BBC television. I now lead a team at a post-production facility in London that creates video effects for a leading car manufacturer.
On a professional level, I can now attend a client meeting and speak with ease rather than stumble over my words. That confidence has also impacted my personal life, and I have been able to let go of my fear of social judgment.
I currently serve as the assistant division governor and am the immediate past president of my club, which meets at the historical Freemasons' Hall in London's Covent Garden. My club is one of London's few morning clubs, and it's characterized by smooth professionalism and high energy.