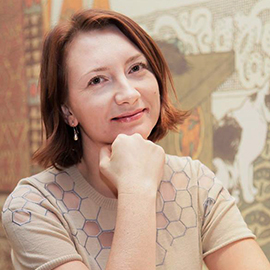 Member Spotlight: Nothing is Impossible
"One of the main things Toastmasters has taught me is there are no impossible tasks."
Journey Highlights:
Serving as president of the Moscow Free Speakers (2003-2004)
Starting the German-speaking Redefluss Moscow Club (2003)
Organizing several conferences in Moscow – two of them in two languages
While looking for an opportunity to practice speaking English I learned about Moscow Free Speakers, which was the only Toastmasters club in Russia at the time. I was fascinated by the program and immediately saw it as more than a place to practice English.
One of the main things Toastmasters has taught me is there are no impossible tasks. I have learned to take on any challenge and be flexible and attentive. Toastmasters has also enhanced my critical thinking skills, and I have learned how to provide positive yet constructive feedback to other members.
Serving in the club and participating in the communication and leadership program has brought me to a new professional level. Toastmasters helped me in my transition from being a recruiter to becoming a business trainer and coach, and I launched my own public speaking course in Moscow this fall. Earning the DTM (Distinguished Toastmaster award) also adds a considerable value to my qualifications. Attending international conferences has broadened my horizons, as has organizing such events. I have also learned to delegate more effectively.
My Toastmasters club is a family of open-minded, smart and friendly people, who are keen on self-development and communication and are ready to help each other. It's a unique community that makes me very happy.