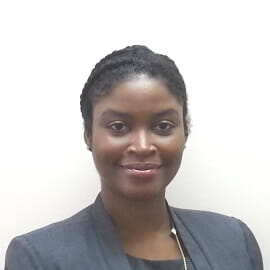 Region 8 Learning Master
What is your favorite Toastmasters experience?
"My most favorite Toastmasters experience was when my mother, Helena Frank, achieved her Competent Communicator Award. She had always had an interest in the Toastmasters program but was unable to join until she was certain she could spend sufficient time in places where there were clubs for her to progress."

Length of time as a Toastmaster: More than five years, less than 10 years

Highest position held: Area governor

Highest education awards earned: Distinguished Toastmaster

What is your area of expertise? How does your personal and professional experience relate to your Learning Master role? My experience in Toastmasters began when I was living in The Bahamas (District 47). Some friends of mine invited me to attend a meeting and I saw this as an opportunity not only to develop my communication and leadership skills but also to feel part of a family. I was happy within the safe, positive and fun environment of the New Providence Branch of Toastmasters Club 3596. To this day, I can still count on my mentor, Jamaro Thompson DTM, to be available to discuss ideas.