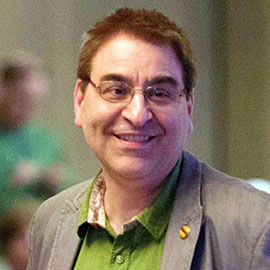 Member Spotlight: Boldly Moving Forward
My Club
New Entrepreneurs Club
Club Number:

00004291
Location:

Edmonton, AB, Canada, District: 42
Meeting Time:

Thursday 6:10 pm - 7:50 pm
"Joining Toastmasters can transform you."
Journey Highlights:
• Served as area governor, division governor and district governor
• Received a Presidential Citation in 2009 for the use of technology to benefit the Toastmasters community
• Wrote the book Corey OutSMARTs the Butterflies, which helps youth build confidence and speaking skills
I joined Toastmasters reluctantly. I had the confidence to speak in front of a group—but only if I had a script and knew everyone in the room. After my first knee-knocking experience delivering a Table Topics speech, I spent the remainder of the meeting looking at my watch like a schoolboy waiting for the 3 o'clock bell to ring. That was about 12½ years ago.
I now feel more confident when speaking to audiences. I speak on TV and radio, and present sessions on how small businesses can use technology and gadgets. As a leader, taking on club and district roles has helped me go from "doing things" in my profession to sharing, teaching, training, consulting and inspiring others to "do." Joining Toastmasters can transform you. It's a safe place to make mistakes. Once you get on board, the possibilities are endless. You have no idea where it can lead. It's like Star Trek—it helps you "boldly go" where you've never gone before. Toastmasters is part of my life, rather than just another thing I have to do each week.