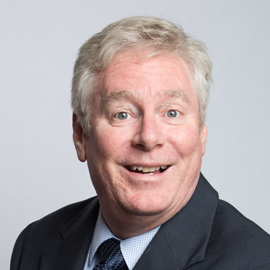 Member Spotlight: A Lifetime of Laughter
My Club
"You need a safe place, such as Toastmasters, to get up as often as possible to break in your material and work on your timing."
Journey Highlights:
Becoming an Accredited Speaker in 2001
Forming my own company, Originally Speaking
Transitioning from stand-up comedy to motivational humor
When I was 12, my parents put me on a stage to perform in front of 800 people at the Disneyland Hotel in Anaheim, California. Fortunately, show business ran in my blood. My parents, Tulara Lee and George Gilbert Sr., were considered one of the funniest comedy acts of their time. I grew up in their humor-filled family home in Las Vegas, Nevada, where I would often brush shoulders with famous entertainers at parties my parents threw. It's a house full of many memories that I still live in today.
I am an 18-year Toastmaster and Accredited Speaker. My career as a stand-up comic began at a young age, and while I went on to perform at comedy clubs and conventions—even pairing up with my mother for a double comedy act—I ultimately became a professional speaker with a focus on humor. Today I deliver entertaining presentations on the importance of humor in business to professional organizations, and I'm a member of two Toastmasters clubs in Las Vegas.
Comedian Jack Benny once said that my parents were the funniest act he had ever seen. They performed a physical comedy act all over the world with the great stars of their day, including Frank Sinatra, Bob Hope and Sammy Davis Jr. I had the best childhood, with comedians and entertainers always coming over to the house. There was always laughter and music.
I had been doing professional stand-up comedy since the age of 12, so I joined Toastmasters when I was 36 to help me segue from stand-up to motivational humor. In 1994, four years before I joined, my former wife had a kidney/pancreas transplant, and after she recovered I wanted to share how we had used humor to get us through those tough times. I had also made a promise to myself that if she got her transplant, I would use my speaking skills to talk about the importance of organ and tissue donation. Joining Toastmasters helped give me the structure and content I needed to make the transition, and I used the Accredited Speaker Program as my blueprint to becoming a professional speaker.
I have traveled across the country speaking about the role humor plays in the workplace and the benefits of laughter in life. What keeps me going is making people laugh and inspiring them to overcome tough times. My motto is "Laughter is a wellness program everyone can afford." I formed my company, Originally Speaking, in 2003 to further my speaking career by promoting my presentations and now my books.
My advice to members is to get up in front of an audience as often as you can. The old comedians backstage would tell me, "Georgie, you need a place to be bad." You need a safe place, such as Toastmasters, to get up as often as possible to break in your material and work on your timing.