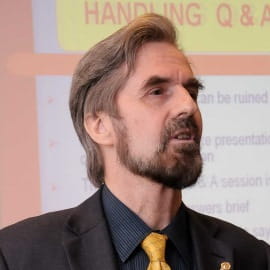 Region 14 Learning Master
What is your favorite Toastmasters experience?
"Having the opportunity to:
Mentor new TMs
Provide evaluations to TMs at all levels of experience
Conduct Youth Leadership & Speechcraft programs
Deliver workshops at Division & District levels - especially on Contest Judging & Speech Evaluation
Contribute to the development of T.I. at Club, Area, Division & District levels
Create & mentor new TM Clubs - 25 to date over a 14-year period
Share my experience gained from 3 DTMs to help my fellow TMs"
Length of time as a Toastmaster: More than 10 years
Highest position held: Division governor
Highest education awards earned: Distinguished Toastmaster
What is your area of expertise? How does your personal and professional experience relate to your Learning Master role? Training - especially in fields of Presentation Skills, Public Speaking & Effective Business Writing. As a trainer, I develop training materials & deliver training to people from students through to C-Level. Also, a Motivational Speaker & writer/editor of books + I had an earlier management career through to General Manager & CEO, in UK, USA + Malaysia.