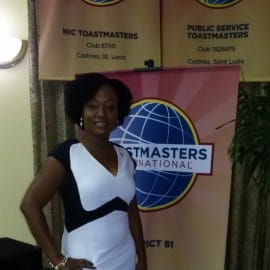 Region 8 Learning Master
What is your favorite Toastmasters experience?
"It is undoubtedly my year as Area Governor during the 2012 - 2013 term. There were mostly moments of sterling success which were interspersed with potentially crippling challenges. Through the power of teamwork, persistently pursuing our passion for Toastmasters and trusting in our resilience to overcome the challenges, my team and I finished the year as a President's Distinguished Area. We were able to charter two new clubs and assist a struggling club to be Select Distinguished."
Length of time as a Toastmaster:
More than 10 years
Highest position held: Division governor
Highest education awards earned: Distinguished Toastmaster

What is your area of expertise? How does your personal and professional experience relate to your Learning Master role? My career as a Project Information Management Coordinator involves the management of documents and data in an onlineforum and providing training on the use of said system. On a daily basis, I'm focused on assuring that accurate information is available to my team members to assist them in making informed decisions in an efficient and effective manner. As a Learning Master, I will leverage this experience to assist in the creation of an enriching and interactive learning environment.