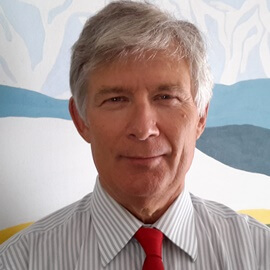 Member Spotlight: A Renaissance Man
My Club
"Because I am so passionate about the REP and where it is headed, my enthusiasm can only ignite the passion of others."
Journey Highlights:
Participation in the district Humorous Speech Contest (twice)
Earning my Distinguished Toastmaster award
Ambassador for Toastmasters' branding and the revitalized education program
As a small-business owner, my survival relied on effective speaking skills. Toastmasters taught me to listen, and be tolerant and patient. I also learned that when you raise others' self-esteem, you help make them more confident—and you a trusted companion. It all begins with a mutually supportive environment.
My career has evolved from the analytic to the artistic, from science, engineering and business to art and storytelling. The common thread has been creativity and communication. As a satellite oceanographer, my job was to explore the role and capabilities of earth-observing satellites and pass that knowledge on to others. I became a skilled instructor before a major career shift took me into the world of books, publishing and multimedia. To promote my business (and authors' books) I learned how to weave short digital stories for print, large-screen cinemas and workshops. Now that I have retired, I can share my experiences and help others.
I am a seven-year member and an Ambassador for Toastmasters' revitalized education program [REP]. I also served as an area governor and brand ambassador, and am a member of the Positively Speaking club in Sarasota, Florida.
I wanted to know what type of leader I could be, and as an Ambassador for the revitalized education program, I have enjoyed the role. Because I am so passionate about the REP and where it is headed, my enthusiasm can only ignite the passion of others. I feel stoked to be on the front line and learn about what is coming.