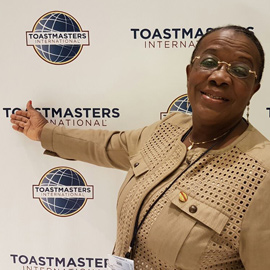 Member Spotlight: Versatile Diplomat Exudes Passion
My Club
Bronx Toastmasters Club
Club Number:

00006615
Location:

Bronx, NY, United States, District: 46
Meeting Time:

2nd & 4th Wednesday 7:30 pm
"I tell people that public speaking is important in every facet of your professional career, and it is never too early or late to start."
Journey Highlights:
Serving as District 94 Governor 2014-2016
Sponsoring the first English-speaking club in Togo, Kekeli Toastmasters club
Starting the OTR Elite Toastmasters club of Lomé
Volunteering at the 2012 and 2013 Toastmasters International Conventions
I am originally from West Africa, and was living in New York when I heard about Toastmasters from a friend in London in 2008. In 2000, I moved to the United States for family reasons and became a U. S. citizen in 2005. For the last six years I've been a foundation ambassador for Zonta International, a nonprofit organization that empowers women worldwide.
Although I wanted to be a lawyer, I had a scholarship to study economics, a field not attracting many women at the time, so I earned my degree in economics in England and then traveled to France for my diplomatic studies. In 1972 I worked as a young diplomat in Rome. I then married a Togolese man, which brought me to Togo in the early 1970s. There, I worked at the ECOWAS Fund (Economic Community of West African States) as head of conferences and external relations for 18 years, then left to start my own event company.
I now split my time between Bronx, New York, and Togo. Excellence Club in Togo is French-speaking and I do my speeches and roles in English and French. Our district has more French-speaking clubs because the members have gained so much and are eager to share their experiences. I also sponsored the first English-speaking club in Togo, Kekeli Toastmasters club, which has produced two winners of the International Speech Contest Semifinals.
I started a corporate club because I was inspired by the story of the Bank of America corporate clubs, which was shared at training right at the beginning of my term as district governor in 2014. District 94 had few corporate clubs and I knew I had to sell this idea.
I started by inviting employees of various companies in Lomé, Togo, to attend our club meetings. For the Togo Revenue Authority (OTR), I sent a letter at the end of the work day and the next morning the personal assistant of the CEO called to tell me he had approved the project of starting a corporate club. I later found out he was a Toastmaster for 23 years in his home country and wanted his staff to reap the same benefits as he had.
At the demonstration meeting he shared his personal story and many were inspired. It has been rewarding to see lives being transformed. Most members tell us how their communication skills with clients have greatly improved since the OTR Elite Toastmasters club of Lomé opened.
Three corporate clubs are in the pipeline; two of which are in international organizations. I think when people see how the lives of their friends and families have been changed, they are eager to join.