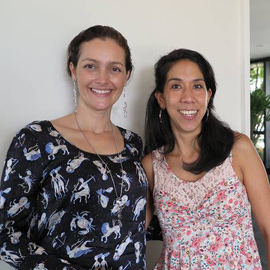 Member Spotlight: Duo Helps Boost Toastmasters in Brazil
My Club
"Toastmasters in Brazil has continued to expand within the last year, with 11 chartered clubs, one Gavel club and six prospective clubs."
Journey Highlights:
Organizing Brazil's first Toastmasters Leadership Institute
Holding volunteer positions on Toastmasters International's developing markets team
Helping other clubs to charte
We are members of the Vila Olimpia English Toastmasters in São Paulo. Our native language is Portuguese, but we learned English in school, and by traveling and participating in Toastmasters.
We hold volunteer positions on Toastmasters International's developing markets team and recently helped organize Brazil's first Toastmasters Leadership Institute (TLI), which provides training for club officers. The TLI was attended by 52 members and guests from several states in Brazil.
Toastmasters in Brazil has continued to expand within the last year, with 11 chartered clubs, one Gavel club and six prospective clubs.
Tell us about your club and how Toastmasters has helped you grow.
AG: Since Vila Olimpia is an English-speaking club, everyone has at least an intermediate level of proficiency in English. In Brazil we don't have many opportunities to practice it, since most peo-ple speak Portuguese. In our club we get several visitors who travel all over the world and it gives us an opportunity to interact with people of different cultures.
DS: I'm more confident giving speeches in English and even speaking English in normal conversation. As a volunteer on the developing markets team, I can also improve on my professional leadership skills, like managing a team of people from around the world and working within many different cultures.
What are you doing to help grow Toastmasters in Brazil?
DS: As a public relations lead, I post all the events, articles and new information about clubs on our club website. I also share what's going on in Brazil on our Facebook page, with articles related to public speaking and leadership, as well as advertise our events. I have a team that helps me a lot with these tasks.
AG: As the team's events lead for Toastmasters in Brazil, my main focus was the TLI in January. I also make sure all the volunteers are committed, and I distribute tasks and ensure we are keeping Toastmasters' the high standards.
DS: We are helping other clubs to charter. To be successful, we need to stay close to the club officers and members to engage them. In Brazil it's really common to have a WhatsApp group (a cross-platform method of communication) to talk to people. For the TLI, we created a group for all the vice presidents public relations and we are sharing best practices and advice with everybody.