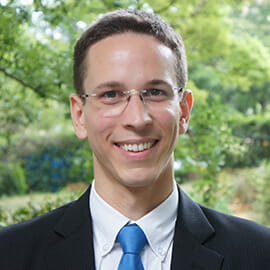 Region 13 Learning Master
What is your favorite Toastmasters experience?
"The first time I joined an Area Contest. I started TM only a few months before and just placed 2nd on our club contest. I had to travel to a different country to the Area Conference, and I'll never forget the excitement, nervousness and joy defining that whole day. This event made me realize how big Toastmasters is and how much I can learn from all the other members. I'm attending conferences ever since, and they are the highlights of the year."
Length of time as a Toastmaster: More than one year, less than five years
Highest position held: Area governor
Highest education awards earned: Advanced Communicator Silver, Advanced Leader Silver
What is your area of expertise? How does your personal and professional experience relate to your Learning Master role? I'm an IT engineer responsible for building enterprise quality applications. In my daily job I have to understand and analyze a huge amount of information and design and improve our systems in a way so they serve our users' needs to their fullest. I'm passionate about doing the right thing and continuous improvement – both in my personal and professional life. As a Learning Master I'm doing the very same thing, looking into our great educational materials, and find ways to improve them further.