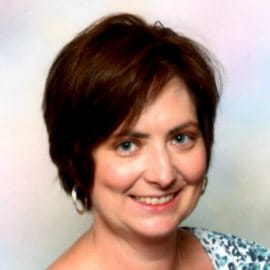 Region 4 Learning Master
What is your favorite Toastmasters experience?
"My favorite Toastmasters experience is evaluation - giving evaluations, receiving evaluations and conducting selfevaluations. I've learned to provide feedback in a way that can be heard without defensiveness. I've learned to accept feedback with an open-mind. And I've learned to evaluate myself before and after interactions. The art of evaluation has an impact in all areas of my life – it continues to be my favorite Toastmasters experience because it prompts growth."

Length of time as a Toastmaster: More than five years, less than 10 years

Highest position held: District officer

Highest education awards earned: Distinguished Toastmaster

What is your area of expertise? How does your personal and professional experience relate to your Learning Master role? Education and professional development are areas of expertise. My experience as a life-long learner in formal and informal settings has fostered an ability to gather data through observation, conversation and participation. I am passionate that we can learn from every encounter when we have an open-mind and reflect. As an educator and training professional, I recognize the immense value Toastmasters offers to individuals and want to contribute to maintaining that quality in the future.