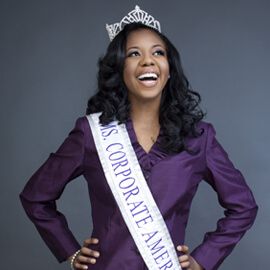 Member Spotlight: Where Business Meets Beauty
My Club
"Being able to speak passionately, with grace and poise, are traits I picked up in Toastmasters."
Journey Highlights:
My first year as a member
Winning the International Speech and Table Topics contests at the area level
Stepping up to leadership roles in Toastmasters
I am a certified public accountant and work as a first vice president for the National Association of Black Accountants. I am currently club president of the Chicago Speakeasy Toastmasters Club and an Ambassador for the revitalized education program.
After becoming a CPA in 2010, I wanted to push myself even further with a unique personal development opportunity—pageantry! I was selected to compete in the Miss Illinois USA pageant in 2010 and my colleague recommended that I join Toastmasters to practice speaking extemporaneously.
In March, I was crowned Ms. Corporate America 2015, and now travel around the United States to conduct professional workshops, participate in national radio and TV broadcasts, attend seminars and speak to audiences about diversity in business. Ms. Corporate America is for women ages 21 to 55 who make a difference in their profession and in the community. Communication skills are imperative when representing women in business.
During the three-day pageant weekend [in Orlando, Florida], the interviews required me to be quick on my feet, build a connection with the audience in a few seconds and articulate a compelling mission and desire to be Ms. Corporate America. Being able to speak passionately, with grace and poise, are traits I picked up in Toastmasters.
Through my experiences, I have learned there is more to a pageant queen than what most people think. The women who compete are intellectually competent, poised, confident and altruistic. For me, pageantry is not just about winning the crown. It is about learning how to win yourself over by embracing every part of you, so you can serve the world in a powerful and purposeful way.