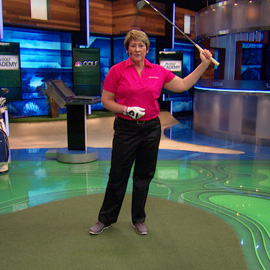 Member Spotlight: Golf Coach Communicates on the Course
My Club
Lakesiders
Club Number:

00002453
Location:

Wakefield, MA, United States, District: 31
Meeting Time:

2nd & 4th Monday, check web-site 7:00 pm
"So much of what I do hinges on communicating ideas, techniques and strategies in as succinct and meaningful a way as possible."
Journey Highlights:
Lead coach for the Golf Channel Academy
Recognized as a top golf teacher in her region by Golf Magazine
Winning Toastmasters speech competitions
I was raised in Tewksbury, Massachusetts, and had two loves as a child—playing sports and playing the trumpet. I thought music was my calling, but after being introduced to the game of golf in my 20s, my life was never the same.
For the past 20 years, I have been a LPGA (Ladies Professional Golf Association) Teaching and Club Professional, and was recently named a lead coach for the Golf Channel Academy.
I joined Toastmasters because I was intrigued by a presenter at a conference who talked about how Toastmasters helped him become better at public speaking. My hopes were to improve my skills as a communicator, and his talk inspired me to find my local clubs. Little did I know I'd soon find myself competing in and even winning several speech competitions!
I operate my own golf instruction business, Cathy MacPherson Golf, at the Ferncroft Country Club in Middleton, Massachusetts. I work with men, women and junior golfers whose skills range from beginner to the aspiring tour player.
So much of what I do hinges on communicating ideas, tech¬niques and strategies in as succinct and meaningful a way as possible. My success as an instructor depends on my ability to connect with clients and deliver information in a way they relate to. I must say, working through each project in the Competent Communication manual brought a different level of awareness to how I was delivering a certain message.
My advice to coaches or mentors is to get to know the person with whom you are working. Ask questions; discover their interests and passions. Use the listening skills you develop as a speech evaluator to better learn who they are and what makes them tick. Understanding them more fully will help you frame your ideas in a way that relates to them specifically.
There is no doubt that I have Table Topics to thank for my improved ability to think on my feet and speak extemporaneously! Table Topics is not only enjoyable, it helps build a skill set that I use every day. As for nerves, I still have some when it comes to media interviews, live TV segments and other media elements, but the confidence Toastmasters has given me helps diminish nervousness significantly.