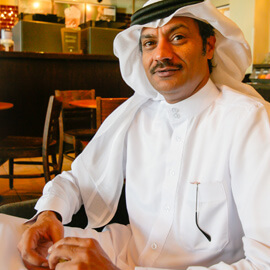 Member Spotlight: Committing to Excellence
My Club
GPIC Toastmasters
Club Number:

01130743
Location:

Manama, Bahrain, District: 20
Meeting Time:

1st & 3rd Wednesday 7:30 pm
"Toastmasters has made me aware of the level of responsibility I have to give back to this leader-making hub."
Journey Highlights:
Winner of the International Arabic speech contest in Jordan and Dubai, and of the Arabic Table Topics Contest in Dubai.
Head of the Executive Committee for Arabic Toastmasters Clubs in District 20, with 44 clubs in seven countries.
First Bahraini citizen to earn a DTM in an Arabic Toastmasters club.
As a mechanical engineer at Gulf Petrochemical Industries Company (GPIC), I owe much of my success to the company's president, Dr. Abdulrahman Jawahery, who holds a doctorate in engineering, for starting me on the Toastmasters path. Initially I wanted to develop my public speaking skills. However, once I fully appreciated the education program, my goals were to charter other Toastmasters clubs, mentor the members and translate Toastmasters literature into Arabic. My focus was on developing leaders to make Toastmasters' tagline, "Where Leaders Are Made," a tangible reality.
I am passionate about Toastmasters because of the noticeable positive change that came about in my life, and the fact that I embrace the value of nurturing and supporting others. My journey as a Toastmaster is a quest in search of excellence. It has made me aware of the level of responsibility I have to give back to this leader-making hub. It has made me keen to embrace an attitude of gratitude for all those who supported me in achieving my goals.
As a mechanical engineer and a supervisor of health, safety and environment (HSE) at GPIC, my profession gives me a sense of contribution and happiness because I enjoy paying attention to details and mitigating risk. Toastmasters helped me become an effective listener and communicator at work. I have learned to be more inspiring—and in fact encourage many of my co-workers to become Toastmasters and subsequently be the change they want to see in themselves. In a nutshell, Toastmasters has made me adopt a servant leadership style.