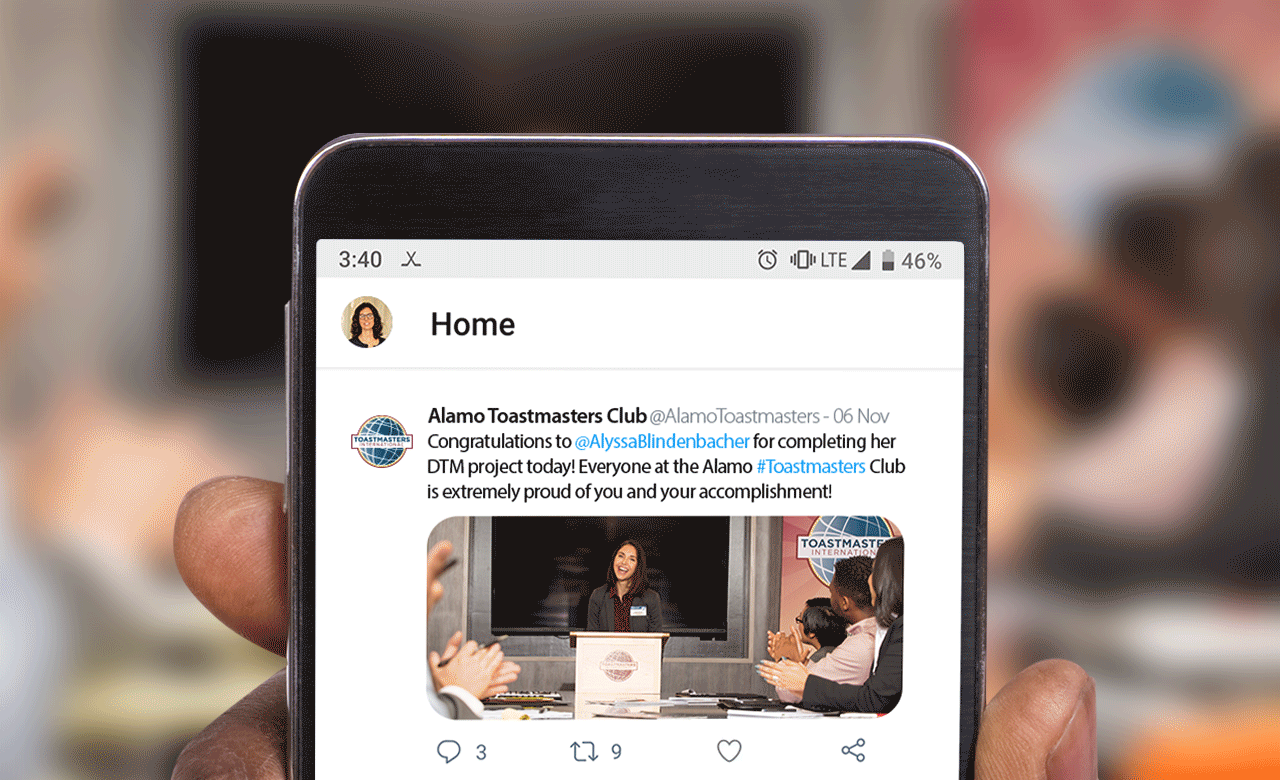 Featured Article
Learn how building a social network can aid your club or district.
Shared News
Wanted: 2019 Convention Presenters
Would you like to speak in front of a large audience? Apply to present at the 88th Annual Toastmasters International Convention, scheduled for August 21-24, 2019 in Denver, Colorado. Tell us about your talent addressing international audiences of 1,000 people or more and submit your video and application by December 31, 2018.
Share Your Story With #MyWhy
Last month, Toastmasters launched the #MyWhy social media campaign. Take some time to record a video sharing your story and help inspire others!
Video Mistakes to Avoid
Video can be a great way to promote your club or district. However, poorly made videos can deter prospective members from attending a club meeting. For tips on how to avoid common mistakes when making a video, check out this helpful video.
Join the Conversation
Are you a member of The Official Toastmasters International Members Group on Facebook? All active members are welcome to join the group. It can be a helpful place to keep up with the latest news, ask questions and connect with Toastmasters from around the world.
You May Have Impostor Syndrome
Do you devalue your success because of self-doubt? Are you worried about taking on challenges because you might fail? Toastmasters can experience the impostor syndrome, which is often triggered by stepping into a new, unfamiliar assignment. Read how to overcome your insecurity and match your confidence to your competence with four helpful strategies.
Recognize Their Role
Recognize your club officers! Visit the Toastmasters Online Store and use code OFFICERS to save 10% on a Club Officer Pin Set! Offer valid November 1-30, 2018. Not valid with any other offer.
Club News
Make Your Club Extraordinary!
Ensure your club delivers a high-quality member experience by sending your officers to district-sponsored training twice a year. These sessions feature activities and instruction to help officers grow as leaders. Your club can achieve Goal 9 in the Distinguished Club Program if at least four officers are trained during both semi-annual sessions. The next training will be held between December 1, 2018 and February 28, 2019. Please visit your district website for more information.
Leaving a Lasting First Impression
First impressions are important, and there is much to consider when it comes to making a good first impression on guests at meetings. Does your club designate a specific individual to greet guests? Do you introduce them? Who follows up with guests at the end of the meeting? If your club has a unique practice you think would transfer well to other clubs, we'd love to hear about it. Email submissions@toastmasters.org and tell us how you deliver a quality experience for visitors of your club!
Send in Your Semiannual Officer List
If your club elects officers twice a year, arrange to hold your elections this month and notify World Headquarters of the results once they're available. Download the Club Officer Information form and submit your new officer list online via Club Central or email it to clubofficers@toastmasters.org by December 31 to receive Distinguished Club credit.
District News
Earn Distinguished Area Program Credit
To qualify for the Distinguished Area Program, area directors must submit an Area Director's Club Visit Report for first-round visits for at least 75 percent of their clubs by November 30. Please submit your reports online through District Central.
Turn in Your Club Officer Training Report
For clubs to receive club officer training credit in the Distinguished Club Program, it must be recorded online through District Central by November 30. If there are any changes to the June–August club officer training, please email districts@toastmasters.org.
Tips for Nominating New District Leaders
The time of year to nominate district leaders is upon us. The District Leadership Committee webpage and Protocol 9.0 are helpful resources as you navigate this process. Please email your district leadership committee roster, which should include names and member numbers, to districts@toastmasters.org no later than November 30.
Plan for Club Alignment
District directors: it's time to prepare for club alignment for the 2019–2020 program year. Please direct your alignment committee to review the information on the alignment webpage, and then provide them with a current club directory. Email districts@toastmasters.org for questions about alignment plans.
Additional Leader Letters
---
---
---
---
---
---