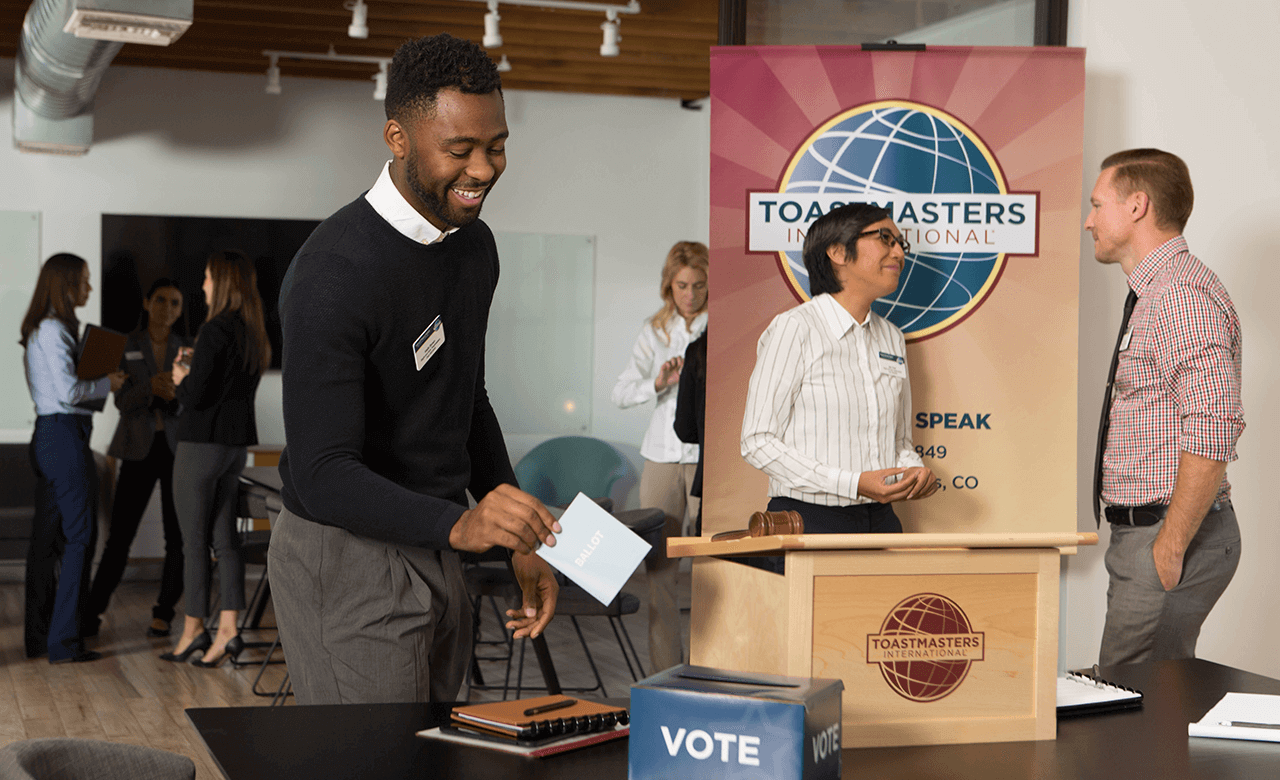 Featured Article
Make things go smoothly for your successors
Shared News
New Pathways Flier Available
To help you promote the Pathways learning experience to prospective members and clubs, make sure you use the new Pathways flier. Bring these fliers to your meetings to hand out to guests, set them on the table at an open house meeting, or pass them out to friends, family, and members of your community!
Announcing the 2018 International Speech Contest Semifinalists!
Each year, more than 30,000 Toastmasters compete in the world's largest speech contest. Find out when your semifinalists are competing at the 2018 International Speech Contest Semifinals. These semifinalists will compete to advance to the World Championship of Public Speaking at the 87th Annual International Convention in Chicago, Illinois.
Follow Toastmasters for convention updates!
The 87th Annual Toastmasters International Convention runs from August 22-25 in beautiful Chicago, Illinois. If you are unable to attend, but want to receive updates on the World Championship of Public Speaking®, the Annual Business Meeting or any other event, follow Toastmasters International on social media. If you're attending, join the conversation by adding #TICon2018 to your posts.
Step Up and Challenge Your Fellow Toastmasters
If you're attending the International Convention, there's still time to register for the Smedley Step Challenge! Take part with your fellow Toastmasters in a bit of friendly competition by tracking your steps while helping to raise funds for the Ralph C. Smedley Memorial Fund®. Will you have the most steps at the end of the challenge? The five participants who finish atop the leaderboard will hear their names announced at the "World Championship of Public Speaking ®."
Ensure That You're Compliant with OFAC Regulations
The U.S. Office of Foreign Assets Control (OFAC) has placed sanctions on certain countries where Toastmasters clubs exist, or may be chartered. To ensure compliance, all club officers in the countries listed below must verify that no club members appear on the Specifically Designated Nationals and Blocked Persons List (SDN). Please review the SDN list if your club is in one of the following countries or regions: Balkans, Belarus, Burma (Myanmar), Burundi, Central African Republic, Cuba, Democratic Republic of the Congo, Iran, Iraq, Lebanon, Libya, North Korea, Somalia, Sudan and Darfur, South Sudan, Syria, Ukraine/Russia, Venezuela, Yemen and Zimbabwe. Please email legal@toastmasters.org if you have questions, or if a member appears on the SDN list.
The Art of Delegation
Whether you're stepping into a leadership role for the first, second or fifth time, knowing how much you can take on and what to delegate to other members is crucial. Read about the experience of a first-time club officer and the five lessons she learned on the importance of delegation.
Thank You Outgoing Region Advisors!
Congratulations to the 2017-2018 team of region advisors for completing a successful program year. Thank you for your dedication and leadership, which were instrumental in helping district leaders to fulfill the district mission of building new clubs and supporting all clubs in achieving excellence. Your efforts are greatly appreciated!
Hats Off to Savings
Head over to the Toastmasters shop and save 10% on all caps when you use promo code CAP10. Offer valid July 1–31, 2018. Not valid with any other offer.
Club News
Recruit New Members to Your Club Today!
When holding an open house meeting for your club, make sure you use the updated Open House PowerPoint. It features an updated design and now mentions the benefits of Pathways. Gather your friends, family and members of the community to give them a preview of what being a Toastmaster is like!
Help Shape the Future of Toastmasters
Every club has the opportunity to make its voice heard by voting for international officer and director candidates as well as the proposal to amend the Bylaws of Toastmasters International. Voting will take place during the Annual Business Meeting next month in Chicago, Illinois. More information on proxy voting will be emailed to club presidents, secretaries and liaisons this month.
New Club Officers: Plan for a Successful Year
Congratulations to all new club officers! This is a fulfilling opportunity to grow as a leader and help your club members achieve their goals. Prepare for your term by referring to the Club Leadership Handbook and viewing the online officer tutorials. It is also recommended that your executive committee meets to discuss the club budget and Club Success Plan
Follow-Up With Your Club's Guests
After guests attend your club meeting, make sure you stay in contact with them. Use this template to send prospective members a personalized email inviting them to come back and to read about Pathways.
District News
Recruit New Corporate Clubs Today!
When reaching out to companies to recruit new corporate clubs, use this PowerPoint presentation. It outlines the value of Toastmasters to both the company and the employees, the cost-effective nature of starting a club and the benefits of Pathways.
Help Clubs Designate a Proxy
Voting is an important way for each club to make its voice heard. Club presidents, secretaries and liaisons will receive an email this month about how to vote by proxy before the Annual Business Meeting in August. District directors are encouraged to contact club officers and ensure a proxy is selected to vote on their behalf.
Attend District Leader Training
District directors, program quality directors and club growth directors: develop your core leadership skills and network with others from around the world at this year's district leader training! Sessions will take place August 20–21, 2018 at the Marriott Marquis Chicago in Chicago, Illinois, prior to the start of the 87th Annual Toastmasters International Convention. Invitations and pre-work assignments will be emailed to you later this month.
New! Online Training for District Leaders
This year, for the first time ever, district directors, program quality directors and club growth directors were provided with Pre-District Leader Training to help prepare for their new roles. These modules outline district leaders key responsibilities, how to accomplish them, and provide them with an action plan for their first 30 days. Make sure you use the Pre-District Leader Training before attending the District Leader Training in August!
New Leadership Opportunities Await
All district expenses, income, banking activity and obligations for the second half of the 2017-2018 program year must be accounted for in the year-end audit. District finance managers are required to submit a 2017–2018 year-end audit report and supporting documents to World Headquarters by August 31. Please note that funds may be unavailable for district orders and requisitions if reports are not submitted on time.
Attention New Finance Managers!
Training materials have been emailed to all new finance managers, including links to webinars and helpful e-learning tools. To familiarize yourselves with your new roles, review the reporting requirements. Finance managers can also request personalized training by emailing the District Finance team.
Don't Lose Access to Your District Account!
Throughout the year, district directors are required to submit reports to World Headquarters. To maintain access to your district reserve account, ensure that your reporting requirements are met by July 15. Be on the lookout for additional details outlined in upcoming emails from the District Growth and Support and District Finance teams.
Congratulations to New Districts
With continued growth in Districts 6, 34 and 72, Toastmasters is pleased to announce three new districts starting July 1, including District 106 (Ontario and Northern Minnesota), District 113 (Northern Mexico) and District 112 (Northern New Zealand). Due to their unparalleled growth, Districts 59 and 95 are reforming to welcome four new districts. Please welcome District 107 (Andorra, Portugal and Spain), District 108 (Estonia, Finland, Latvia, Lithuania and Poland), District 109 (Austria, Bulgaria, Cyprus, Greece, Italy, Lichtenstein, FYR Macedonia, San Marino, Switzerland and Vatican City) and District 110 (Croatia, Czech Republic, Hungary, Rep. of Moldova, Romania, Slovakia and Ukraine). Additionally, Qatar will become Provisional District 116.
Welcome New District Leaders!
Congratulations on being elected to your new role! Start your term off right by viewing helpful Toastmasters resources, including The District Leadership Handbook and the Toastmasters International District Recognition Program. You can also view the District Leader Tools section online for additional resources and information.
Additional Leader Letters
---
---
---
---
---
---