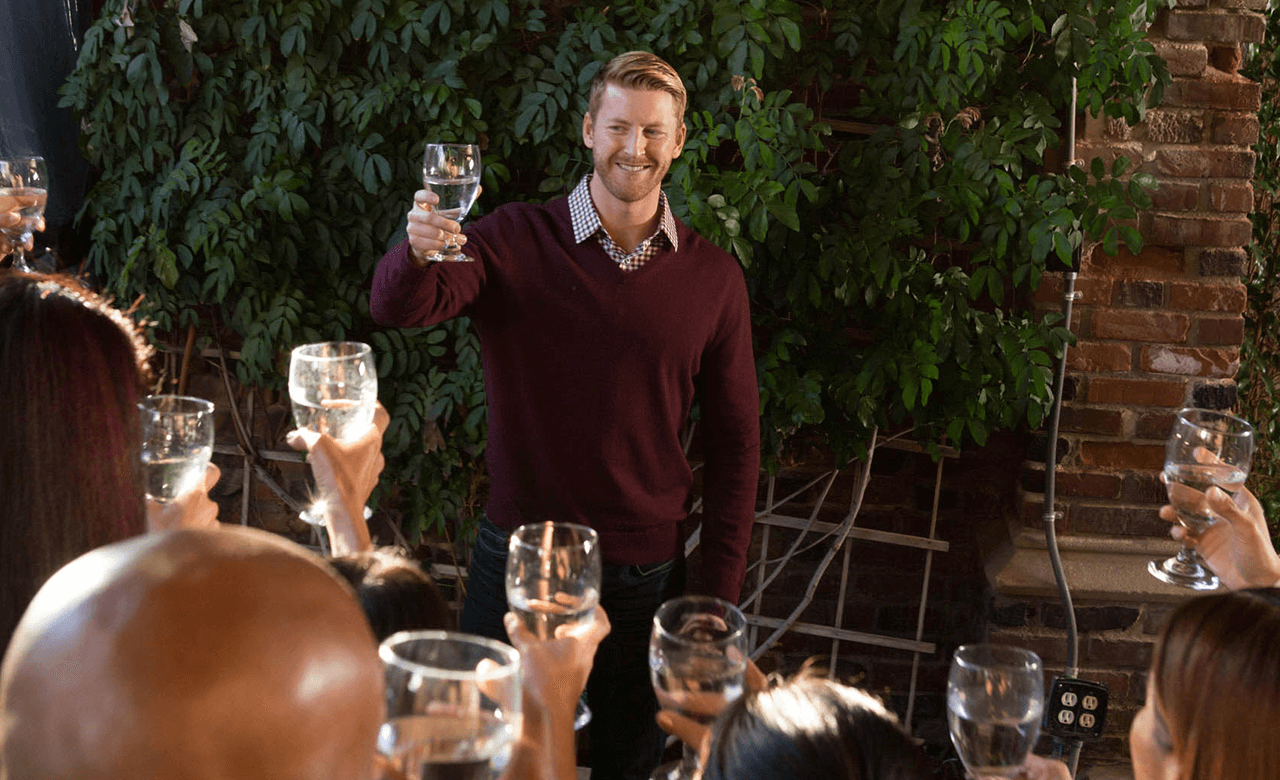 Featured Article
Set an example on how to handle the most mingling time of year.
Shared News
Shake Up Table Topics®
While Table Topics can be daunting for new members and those with presentation anxiety, having creative and fun themes can help motivate guests to join and keep members entertained and retained. Calling on members to respond to a random list of topics can get stale. Instead, inject some fun into your next club meeting with these ideas and tips for Table Topics.
Use Newly Translated Materials
The Find Your Voice and Your Path to Leadership brochures, as well as the Navigating Pathways flier, have recently been translated into the nine languages Toastmasters currently offers: Arabic, French, German, Japanese, Portuguese, Simplified Chinese, Traditional Chinese, Spanish and Tamil. Hand out these essential marketing materials to prospective members in their native language and turn them towards Toastmasters.
Summit Team to Improve Pathways
We're pleased to announce a newly created team in response to the wealth of feedback received about Pathways. Made up of World Headquarters employees, the Summit Team's primary focus is enhancing the Pathways user experience and learning journey. The team has been busy gathering feedback through member surveys, social media, emails, phone calls, and more, and is committed to implementing continuous positive changes. We've heard you and continue to hear you. And while larger issues will take time to tackle, you should see small updates being released every few months.
Experience the New Navigator
The Summit Team's first project was to create an all-new Navigator, designed to help new members better understand Toastmasters and Pathways. Hosted on the Toastmasters website, this great new tool is mobile-friendly and currently available in English. Encourage new and seasoned members to access it!
Give Back
Help others to be transformed by the Toastmasters experience. Consider making a contribution to the Ralph C. Smedley Memorial Fund® on behalf of a friend or family member. Your gift supports innovation in communication and leadership education and is a great way to end the year!
It's Time for Gifts Galore
Find the perfect presents at Toastmasters Online Store. Save 10 percent on select gifts—use promo code: GIFTS10. Offer valid December 1-31, 2018. Not valid with any other offer.
Club News
Verify Club Contact Email
Don't miss important club information such as prospective member inquiries, Pathways-level completion requests or news from World Headquarters. Keep your club contact information current by logging into Club Central and verifying or updating your club email address (this will also update it in Find a Club). For assistance, email the Club and Member Support Team or call +1 720-439-5050, ext. 402, Monday through Friday from 6 a.m. to 7 p.m. MT.
Update Semiannual Officer List Online
Once your new officers are elected, it's easy to log in and submit the club officer list online. Be sure to submit your list by December 31. Without an officer list, club officers will not be able to conduct club business on the Toastmasters website. For assistance, email the Club and Member Support Team, or call +1 720-439-5050, ext. 402, Monday through Friday from 6 a.m. to 7 p.m. MT.
For California Clubs Only
In mid-January, California club presidents and treasurers should be on the lookout for an email with instructions for e-filing the 199N tax form pertaining to the 2018 tax year. Please note: the deadline to e-file is May 15.
District News
Area Directors: Prepare for Second-Round Club Visits
Each district must establish and maintain positive, supportive relationships with its clubs. Area directors play a critical role in creating this relationship through club visits, which are required twice a year. Second-round club visits begin December 1, and reports can be submitted upon completion of the club visit. To meet one of the qualifying requirements of the Distinguished Area Program, please log in to District Central and submit an Area Director's Club Visit Report for at least 75 percent of the base number of clubs in your area. You can view your progress on the dashboard.
It's Time for Club Officer Training
Club Officer Training is a great opportunity for leadership development and, as such, district leaders should be sure to promote the benefits of training, reminding club officers that it is an important goal in the Distinguished Club Program. Second-round training starts on December 1, and reports can be submitted once training is complete. Utilize helpful training materials and view the training schedule below.
District Elections Deadline
Do you know someone who would like to take on a leadership opportunity within your district? If so, encourage them to submit their intent to run for office by December 15. Please refer to Protocol 9.0 District Campaigns and Elections.
TLM Best Practices/Guidelines in Leadership Central
Recently, the Toastmasters Lead Management (TLM) Best Practices and Guidelines were posted to The Meeting Room in the club growth director community. To assist district leaders in accessing this helpful tutorial more easily, the guidelines can now also be found in Leadership Central. Visit the District Leader Tools > Leadership Roles > District Marketing Team. Scroll to the bottom of the page to find a PDF download link in Related Resources. Use your www.toastmasters.org credentials to access the site. Please email corporaterelations@toastmasters.org with any questions about the TLM program.
Pathways Adoption Rates
Pathways statistics are now available on District Central. Research has shown a positive correlation between the adoption rate of club officers and its members; therefore, we are asking for your help to ensure that club officers are working in Pathways. District leaders should focus on ensuring that club officers are engaged and supported in their efforts to get members started with Pathways. With your help, the goal is to see higher adoption rates at all levels.
Be Prepared for Mid-Year Training
District directors, program quality directors and club growth directors: you will be receiving pre-work assignments for Mid-Year Training in the coming weeks. Be sure to complete the pre-work prior to attending training. The more prepared you are, the more you'll benefit from the experience.
Additional Leader Letters
---
---
---
---
---