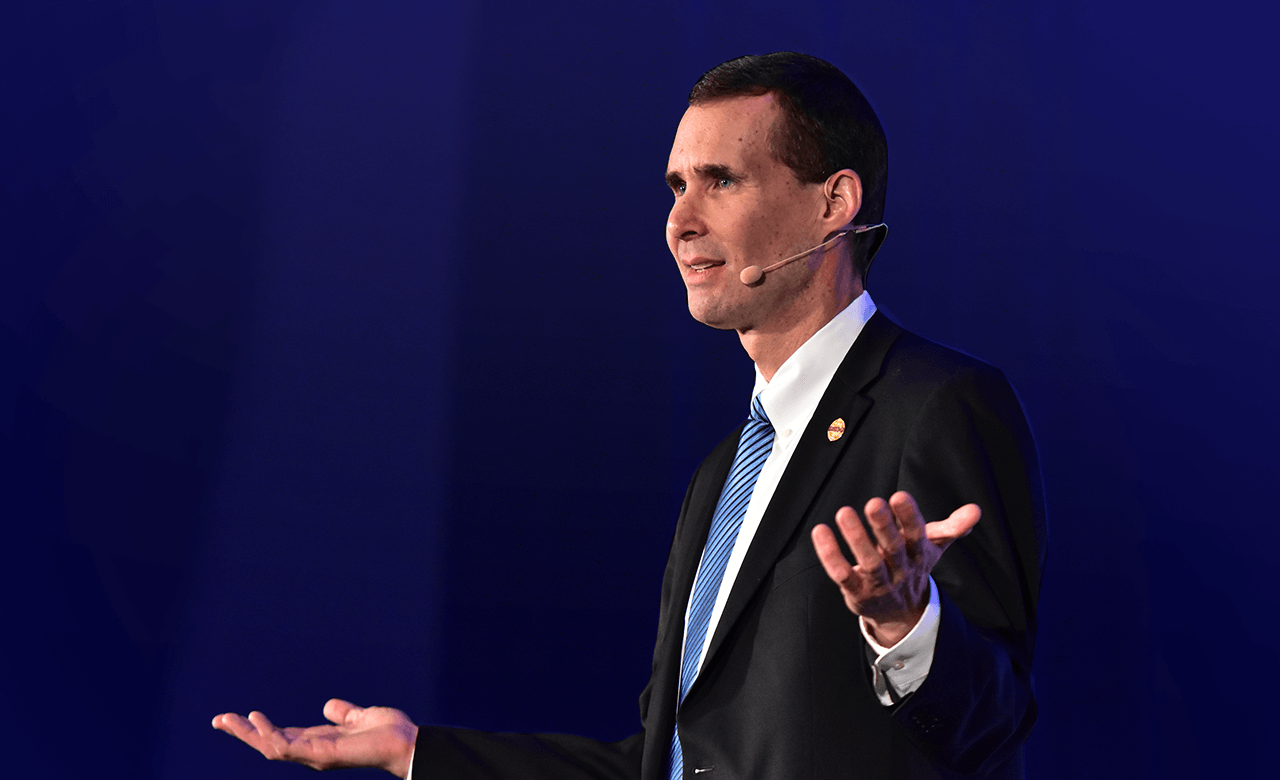 Featured Article
Encourage fellow Toastmasters to step into leadership positions; they might find their true purpose.
| | |
| --- | --- |
| | Announcements |
SHARED NEWS
Welcome Toastmasters Fast Track — Last month, we introduced the Toastmasters Public Speaking Fast Track. This online learning course features instructional videos and an interactive way to learn and grow. We hope that you will share the Facebook and LinkedIn posts with people who might need help with public speaking skills but aren't ready to commit to joining a club. The goal of Fast Track is simple—to bring new prospects to Toastmasters and, ultimately, convert them into members. To learn more about how Fast Track affects you and your club, click here.
Paris Awaits! — Are you planning on joining us at the 2020 International Convention in Paris, France? Commit before December 31 and get 2019 pricing! This is the first time Toastmasters can sign up the year before the show, so say "oui" to Paris now!
Present in Paris — Would you like to speak in front of a large audience? Apply to present at the 89th Annual Toastmasters International Convention, scheduled for August 5–8, 2020 in Paris, France. Tell us about your talent addressing international audiences of 1,000 people or more and submit your video and application by December 31, 2019.
Download Translated Resources for Free! — Did you know that the marketing materials Find Your Voice, Your Path to Leadership, and Navigating Pathways are available as free digital downloads in the Resource Library? They are currently offered in ten languages. The Resource Library also includes many other free translated items that you can search for by language or in the Translation Category.
Annoying People Are Everywhere — Some people will always rub you the wrong way. Having a game plan for how to deal with annoying people will save you from unnecessary emotional turmoil, and you might find yourself actually enjoying an interaction with someone you never thought you'd like. Learn how to trade irritation for curiosity in this November Toastmaster article. And if you think you might be one of these annoying people, learn how to be a more likable person in the article below.
Want to Be More Likable? — Think of someone you really like. Now consider why you like them. Are they thoughtful? Interesting? Friendly? People described as likable tend to draw others toward them almost magnetically. The good news is that likability isn't a trait you're born with—it's something you can learn. Discover tips on how to be a more likable person, which goes a long way in business and in life.
Korean and Tamil Translations Update — Last month, we announced the translation of the Presentation Mastery and Leadership Development paths, along with The Navigator, into Korean and Tamil. We are committed to providing the best user experience possible to all Toastmasters and, for this reason, the launch of these translations will be delayed. To ensure we provide you and the members in your District with the best learning opportunity and user experience, we ask for your patience as we work to complete this project before the end of the year.
Plan for a Successful Year — Stay organized for the year ahead with a personal planner! You can save 10% on a 2020 Weekly Planner by visiting the Toastmasters Online Store and using promo code PLANNER. Offer valid November 1-30, 2019. Not valid with any other offer.
CLUB NEWS
Send in Your Semiannual Officer List — If your club elects officers twice a year, arrange to hold your elections this month and notify World Headquarters of the results, once they're available. Download the Club Officer Information form and submit your new officer list online via Club Central or email it to clubofficers@toastmasters.org by December 31 to receive Distinguished Club credit.
Month-End Closing — Did your club qualify to receive the Smedley Award? Please be advised that all notifications regarding clubs that have earned their award will not be posted until late October, due to Month-End Closing and the need for that to be completed before final reporting is run. Read more about Month-End Closing Dates and their impact on reporting.
DISTRICT NEWS
Updated Pathways Adoption Rates — Pathways statistics on District Central have recently been updated, and these statistics will now be updated daily and available for your viewing. Research has shown a positive correlation between the adoption rate of club officers and its members; therefore, we are asking for your help to ensure that club officers are working in Pathways. District leaders should focus on ensuring that club officers are engaged and supported in their efforts to get members started with Pathways. With your help, the goal is to see higher adoption rates at all levels.
Area Directors: Submit Your Club Visit Reports — To qualify for the Distinguished Area Program, area directors must submit an Area Director's Club Visit Report for first-round visits for at least 75% of their clubs by November 30. Please submit your reports online through District Central.
Plan for Club Alignment — District Directors: it's time to prepare for club alignment for the 2020–2021 program year. Please direct your alignment committee to review the information on the alignment webpage, and then provide them with a current club directory, which can be obtained by sending an email to listrequest@toastmasters.org. For questions about alignment plans, please email districts@toastmasters.org.
Tips for Nominating New District Leaders — The time of year to nominate district leaders is upon us. As you navigate this process, reference helpful resources such as the District Leadership Committee webpage and Protocol 9.0. Please submit your district leadership committee roster, which should include names and member numbers, to districts@toastmasters.org no later than December 1.
| | |
| --- | --- |
| | Reminders |
SHARED NEWS
Your Projects, Unlocked — After listening to feedback, a recent update will now allow you to access Pathways projects in all levels of your path, regardless of the level you are working on. This change has been extended to all languages available in Pathways. Please note while you will be able to view all projects, the projects themselves have not changed and still build in complexity. If you have any questions, please visit the FAQ page, call +1 720-439-5050 ext. 403 from 6 a.m.–7 p.m. Mountain Time, Monday–Friday, or email educationprogram@toastmasters.org.
Meeting Roles Made Easy — Have you checked out the new tools to help your club's meetings run smoother? Last month, we introduced new documents, including a "Toastmaster of the Day Script and Checklist," a "Timer Script and Log," and more. Visit the Club Meeting Roles webpage to download them today!
Laughter is Multilingual — The Engaging Humor path is now available in Arabic, French, German, Japanese, Portuguese, Simplified Chinese, Spanish, and Traditional Chinese. Learn to incorporate humor into your speeches and do it in your native language!
| | |
| --- | --- |
| | Recognition |
CLUB NEWS
Distinguished Club Program Ribbons — Congratulations to all the clubs that earned recognition within the Distinguished Club Program! If your club was recognized as Distinguished or higher, your ribbon should be arriving soon. These ribbons were mailed to the club's mailing address listed for your club. If your club was expecting a ribbon and did not receive it, please contact the Orders and Tracking Team by emailing tracking@toastmasters.org or calling +1 720-439-5050, Monday through Friday, 6 a.m.-7p.m. Mountain Time for additional assistance.
Smedley Award — Congratulations to all clubs who have received the Smedley Award! If your club has earned the Smedley Award, this recognition will be displayed under the "Club Achievement" section of Club Central. Clubs can expect to receive their ribbon later this month. To ensure that your club receives their award without issue, please review the club's mailing address in the "Club Demographics" section of Club Central.
| | |
| --- | --- |
| | Training |
DISTRICT NEWS
Mid-year Training — Throughout the month of January, Toastmasters International will conduct a training program for 2019–2020 District Directors, Program Quality Directors, and Club Growth Directors. District leaders will develop core leadership skills, share best practices, and network with others from around the globe. Registration emails will be sent this month.
Round Two of Club Officer Training — Round two of club officer training has now begun! To receive credit in the Distinguished Club Program, the training must be entered online through District Central. District Leaders may begin entering training in District Central starting mid-November. If you have any questions about club officer training, please contact districts@toastmasters.org.
Additional Leader Letters
---
---
---
---
---
---