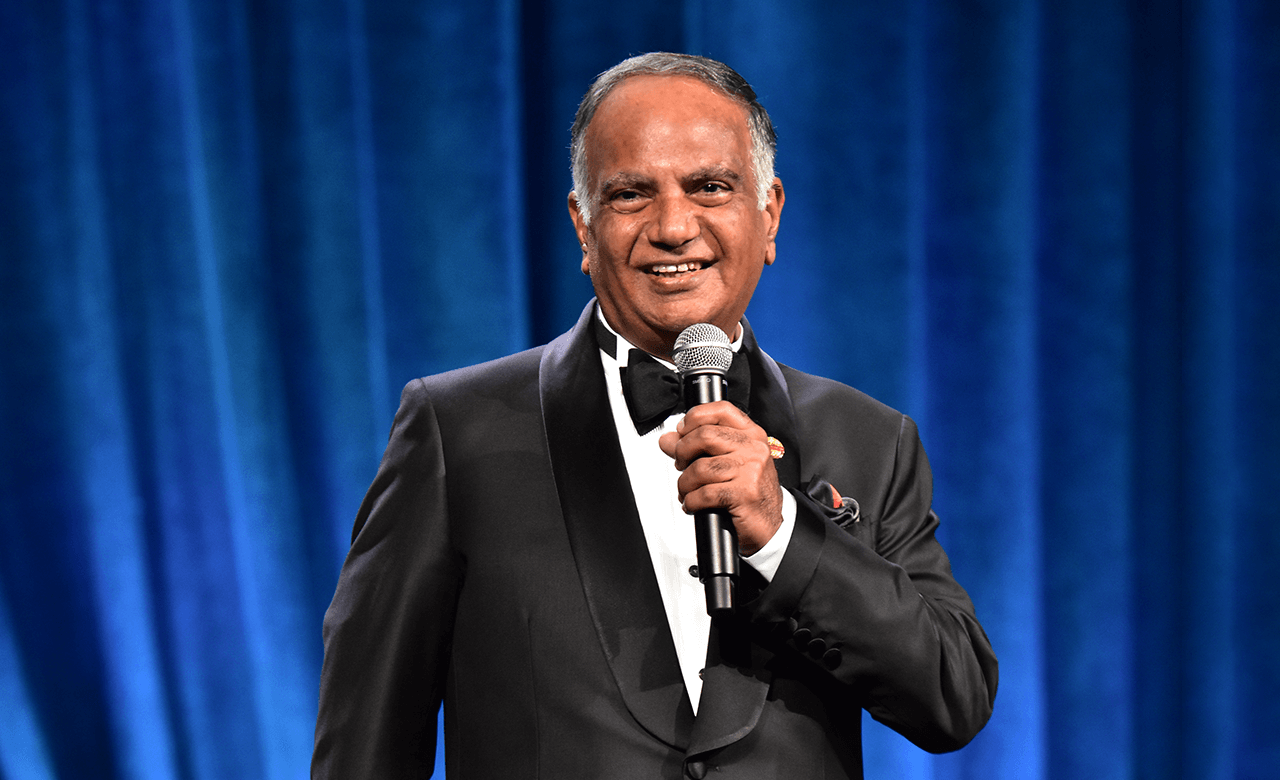 Featured Article
Read about leadership in the words of 2019-2020 International President Deepak Menon.
| | |
| --- | --- |
| | Announcements |
SHARED NEWS
Raise the Bar — While we may be in a new program year, 2019 is still the year of the wow! Take some time to complete the Club Quality Checklist to evaluate the strengths and weaknesses of your club. Next, hold an open house to help bring new members to your club. For more helpful resources to raise the bar of your club, visit the Wow!Factor webpage.
Share Your Wow!Factor Project Tips — Help Toastmasters clubs around the world reach their goals by writing out what makes your club so great and different—in "tips" form. Submit by clicking on "We're In!" and filling out the form. Go to the Wow!Factor webpage to see some examples. Your club's tips may be shared on our social media pages for hundreds of thousands of fellow members to see!
Access All Projects in Your Path — Working in Pathways? Ever wish you could access projects in all levels of your path, regardless of the level you are working on? Later this month, you will be able to do just that. We are working to update paths on Base Camp so that members can open and explore all projects right away.
We've Improved the New-Member Experience — Last month, we announced upcoming changes to the new-member experience. We are excited to announce that these changes have been implemented and include updated welcome emails and path selection, an easier way to set up profiles, and more. To see a preview of what this new onboarding experience looks like, click here.
Catch Up on Convention — Did you miss the 88th Annual Toastmasters International Convention? You can still experience it on your phone, laptop, tablet, or TV through Toastmasters On Demand and enjoy permanent access to individual events or the entire convention.s to individual events or the entire convention.
Congratulations, World Championship of Public Speaking® Winners — Aaron Beverly from the United States won first place with his speech, "An Unbelievable Story." Second- and third-place winners were Luisa Montalvo from the United States with "First Impressions" and Kwong Yue Yang from China with "Less and More." See the complete list of finalists and watch the top three speeches on the Toastmasters YouTube channel.
New Accredited Speakers — Congratulations to Gregory Van Borssum, Australia; Michael Bayer, Canada; Paul Artale, United States; Sima Dahl, United States; Thomas William Iland, United States; and Dr. Yelena Balabanova, United States; for achieving the Accredited Speaker designation! Accredited Speaker is an elite title reserved for those who combine expert knowledge in a particular subject with a mastery of public speaking. If your members are interested in the program, let them know applications for 2020 will be accepted from January 1–February 1.g. If your members are interested in the program, let them know applications for 2020 will be accepted from January 1–February 1.
Help Strengthen the Toastmasters Brand — On October 3, amendments will go into effect for Policy 4.0: Intellectual Property. The reasons behind the changes are simple: We want to present a single brand identity to anyone who visits a club. A new section on Brand Standards will make the guidelines for brand usage clearer for clubs and districts.
Choices for All — For years, district and club materials were distinguishable by their color, with districts utilizing burgundy and clubs using navy. As the new business cards and club banners were being developed, we wanted to give members, clubs, and districts options to choose from. While some items will keep the color distinction, including badges and the Leader Letter, districts and clubs are free to use their preferred color on fliers, stationery, newsletters, business cards, and more.
Meet the 2019–2020 Board of Directors — At this year's Annual Business Meeting, the membership of Toastmasters International elected new members to the organization's Board of Directors. Learn more about the International President, International President-Elect, vice presidents, and international directors who will serve in 2019–2020.
Laugh in all Languages — Earlier this year, we launched the 11th path in the Pathways learning experience. Later this month, the Engaging Humor path will be available in Arabic, French, German, Japanese, Portuguese, Simplified Chinese, Spanish, and Traditional Chinese. Learn to incorporate humor into your speeches and do it in your native language!
The Path to Leadership Development — Nearly everyone has been a leader at least once in their lives, which can require juggling many different skills at once, including time management, communication, motivation, and planning. If you want to improve those skills and be more in tune with your inner leader, read more about the Leadership Development path in the Pathways learning experience.
Infuse Your Club with Vitamin C: Creativity! — Over time, clubs can become a bit stale, with members lapsing into a routine pattern, sameness of the room, or identical meeting formats. Learn how to spice up your club meetings with changes of pace, fresh ideas, and a dose of fun to create a renewed vitality.
Speech Contest Rulebook Update — In response to questions about the number of required judges at area contests, a change made in the 2019–2020 Speech Contest Rulebook, effective immediately. Section 5A2 now states that, "At area contests, there must be an equal number of voting judges from each club in the area, subject to or a minimum of five voting judges." Sections 4, 5A3, and 6 have been similarly revised.
Earn Credit for Club Officer Training — When club officers are well trained, club members are better served, leading to increased member retention and greater satisfaction. If members of your club attended club officer training, make sure to report it to earn Distinguished Club Program credit. The deadline for program quality directors to report club officer training via District Central is September 30.
Give Guests a Warm Welcome — Save 10% on Toastmasters Welcome Packet! Purchase a packet to hand out to a guests at your next meeting, open house or at a conference! Get yours by visiting the Toastmasters Online Store and use code 10GUEST. Offer valid September 1–30, 2019. Not valid with any other offer.
DISTRICT NEWS
Board of Directors Candidates Wanted — Would you or someone you know like to be on the Toastmasters International Board of Directors? Refer to the role attributes and responsibilities to see what it takes to qualify to be a candidate. The deadline to submit a Letter of Intent is October 1, so don't delay!
Open Call for 2020–2021 Region Advisor — Do you enjoy guiding and mentoring others? Consider taking those skills to the next level. Region Advisors help districts grow by guiding district leaders to success. Applications are now being accepted for the 2020–2021 program year and are due by September 30.
Help Your District Grow — Receive dedicated assistance in building new clubs from the club extension chair. This core member of your district marketing team can help you manage club building efforts for the district through the Toastmasters Lead Management (TLM) system.
| | |
| --- | --- |
| | Reminders |
SHARED NEWS
Digital Club Banners are Here! — You asked for them and we've delivered! Now you can order a club banner, receive a digital file, and have it printed locally. We hope this change will help our international clubs. Best of all, the banner is available in three different colors. Start customizing your club's new retractable banner today.
Tips for All — All the same helpful tips, now with a contemporary design! 10 Tips for Successful Public Speaking is a one-page document featuring helpful advice on how to improve one's public speaking. Hand them out to guests, friends, family, or members of your community to show them how Toastmasters can help them build a brighter future.
Have You Committed to Toastmaster Online? — It's everything you love about Toastmaster magazine, with added online features. What's more, the online edition no longer requires you to log in—meaning you can now regularly enjoy and share articles from the current issue, without waiting for the postal service! If you enjoy the interaction, take this opportunity to opt out of the print edition. Go paperless and subscribe to receive an email each month when the online magazine is available.
CLUB NEWS
Submit Dues and Renewals by October 1 — Keep your club in good standing and receive credit for the Distinguished Club Program by logging in to Club Central and processing member dues by October 1. If you have any questions, please contact Club and Member Support by email at renewals@toastmasters.org or call +1 720-439-5050.
Add Members and Win! — Clubs who add five new, reinstated, or dual memberships to their roster between August 1 and September 30 will earn a special ribbon to display on their club banner, plus a 10% discount towards their next club order from the Toastmasters Online Store! It's not too late to earn the Smedley Award!
| | |
| --- | --- |
| | Recognition |
| | |
| --- | --- |
| | Training |
DISTRICT NEWS
Relive Public Relations Manager (PRM) Training — The 2019 PRM Training Webinar Video is now available for anyone who missed or would like to revisit it. The webinar explains the PRM role and provides tips, tools, and strategies to help districts reach their target audiences and gain more media exposure.
Club Growth Director (CGD) Webinar — The 2019 CGD Training Webinar Video is now available for anyone who missed or would like to revisit it. The webinar explains the CGD role and provides tips, tools, and strategies for a successful program year.
Additional Leader Letters
---
---
---
---
---
---