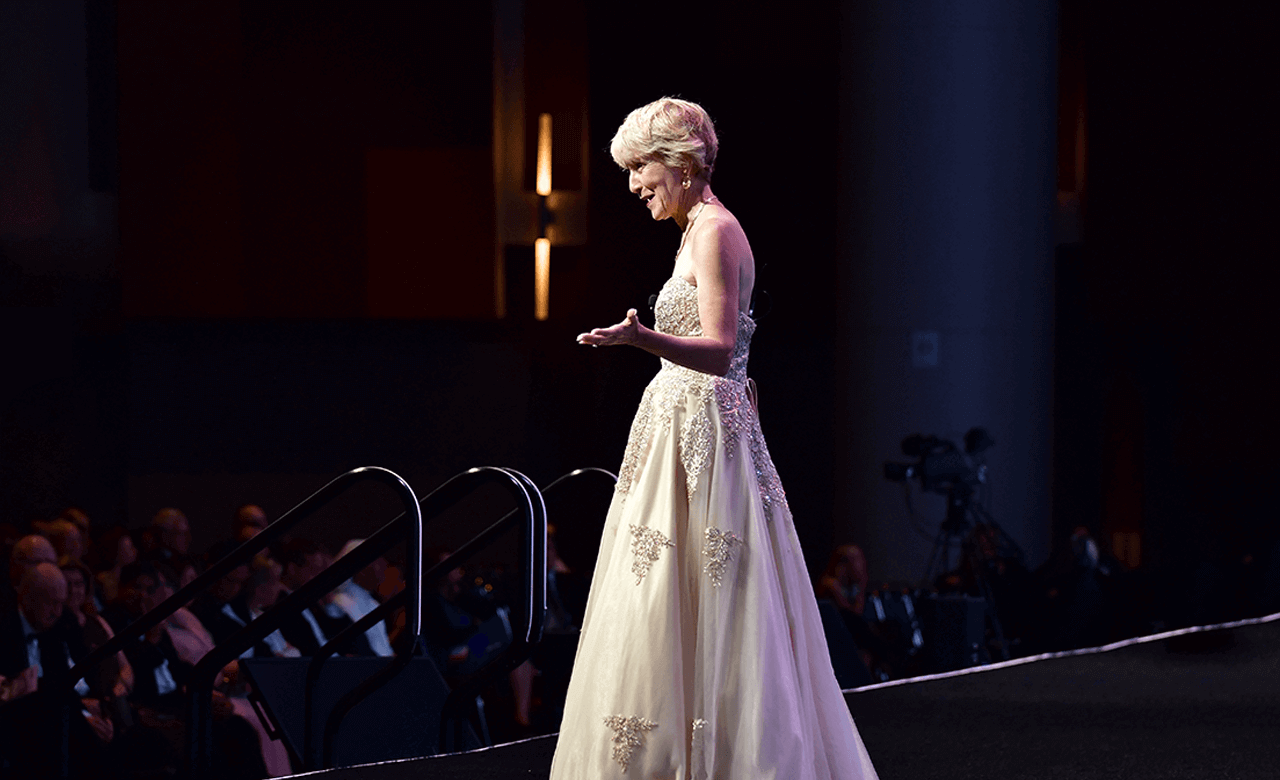 Featured Article
Lark Doley discusses her path to leadership as she rose the ranks to International President.
Shared News
New Brochures Are Now Available!
The Find Your Voice and Your Path to Leadership brochures have been redesigned. Both feature a contemporary design and information about Pathways. Use these brochures at meetings so guests can learn the numerous benefits Toastmasters has to offer.
Meet the 2018-2019 Board of Directors
At this year's Annual Business Meeting, the membership of Toastmasters International elected new members to the organization's Board of Directors. Learn more about the International President, Vice Presidents and international directors who will serve in 2018–2019.
Congratulations, World Championship of Public Speaking® Winners
Ramona J. Smith from the United States won first place with her speech, "Still Standing." Second and third-place winners were Zifang Su from China with "Turn Around" and Anita Fain Taylor from the United States with "It is What it is, it Ain't What it Ain't." See the complete list of finalists and watch highlights from the top three speeches on the Toastmasters YouTube channel.
New Accredited Speakers
Congratulations to Edwin W. Ettinghausen, United States; Greg Wood, Canada; Maurice DiMino, United States; Tamara Smiley Hamilton, United States; Terry Watson, United States and Valda Ford, United States; for achieving the Accredited Speaker designation! Accredited Speaker is an elite title reserved for those who combine expert knowledge in a particular subject with a mastery of public speaking. If your members are interested in the program, let them know applications for 2019 will be accepted from January 1–February 1.
Catch Up on Convention
Did you miss the 87th Annual Toastmasters International Convention? You can still experience it on your phone, laptop, tablet or TV through Convention On Demand and enjoy permanent access to individual events or the entire convention.
Common Challenges of Corporate Clubs
Toastmasters' corporate clubs provide an in-house opportunity for employees to develop their leadership and communication skills. As a result of sponsoring a club, companies benefit from better leaders and more effective managers. However, due to the unique nature of this strategic partnership, specific challenges can occur. Read tips on how to overcome these challenges and discover the benefits of corporate clubs through the eyes of 2014 World Champion Dananjaya Hettiarachchi in a Toastmasters video.
Accessorize for Success
Show off your Toastmasters pride! Visit the Toastmasters Online Store and use code MPIN15 to save 15% on a Membership Pin! Offer valid September 1-30, 2018. Not valid with any other offer.
Club News
Submit Dues and Renewals by October 1
Keep your club in good standing and receive credit for the Distinguished Club Program by logging in to Club Central and processing member dues by October 1. If you have any questions, please contact Club and Member Support by email, or call +1 720-439-5050.
Add Five Members and Receive a Smedley Award
Can your club add five new, dual or reinstated members between August 1 and September 30? If you do, your club will receive a Smedley Award ribbon to proudly display on your club banner.
District News
Board of Directors Candidates Wanted
Would you or someone you know like to be on the Toastmasters International Board of Directors? Refer to the role attributes and responsibilities to see what it takes to qualify to be a candidate. The deadline to submit a Letter of Intent is October 1, so don't delay!
Remember to Submit Your District Budget
Please download the district budget template and email your 2018–2019 budget to the District Finance team by September 30. You can find the budget template and other useful resources on the District Finance page.
Make Sure Your District is on Track
Keep your district eligible for the Distinguished District Program and maintain access to your district reserve by submitting your District Success Plan by September 30. Please complete and submit the forms on District Central and email the District Growth and Support team if you have questions.
Take on New Leadership Responsibilities as a Region Advisor
The region advisor role is instrumental in helping districts grow through coaching, guiding, training and collaborating. If you are interested in becoming a region advisor, or would like to learn more about this role, visit the region advisor webpage. Applications for the 2019-2020 program year are due by September 30.
Appoint Your District Leadership Committee Chair
The district leadership committee (DLC) is responsible for nominating candidates for district office, using the procedures set forth in Protocol 9.0: District Campaigns and Elections. Districts are required to appoint their DLC chair no later than October 1, and work with them to appoint their full committee by November 1. If you have any questions, please email the District Growth and Support team for more information.
Help Your District Grow by Adding a Club Extension Chair
A club extension chair can aid in building new clubs for your district. This core member of your district marketing team can help you manage club building efforts for the district through the Toastmasters Lead Management (TLM) system.
Additional Leader Letters
---
---
---
---
---
---