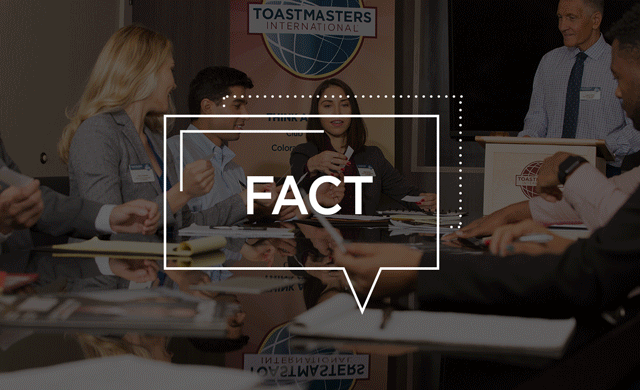 Featured Article
Learn the proper policies behind five common Toastmasters myths.
| | |
| --- | --- |
| | Announcements |
SHARED NEWS
Introducing Toastmasters Fast Track — Later this month, Toastmasters Public Speaking Fast Track will be rolled out! This online learning course will feature instructional videos and an interactive way to learn and grow. The goal of Fast Track is simple—to help your club grow. We hope that you will share the Facebook and LinkedIn posts with people who might need help with public-speaking skills but aren't ready to commit to joining a club. To learn more, watch this video.
Meeting Roles Made Easy — We've developed new tools to make your club's meetings run smoother, including an "Ah-Counter Script and Log," "General Evaluator Checklist," and more. Visit the Club Meeting Roles webpage to download them today!
Your Projects, Unlocked — You asked for it and we unveiled it—you can now access Pathways projects in all levels of your path, regardless of the level you are working on. This change was extended to all languages available in Pathways. Please note while you will be able to view all projects, the projects themselves have not changed and still build in complexity. If you have any questions, please visit the FAQ page, call +1 720-439-5050 ext. 403 from 6 a.m.–7 p.m. Mountain Time, Monday–Friday, or email educationprogram@toastmasters.org.
Happy Birthday, Toastmaster Magazine — It's time to multi-celebrate! Toastmasters International is commemorating its 95th anniversary this year, and its flagship publication turned 86 years old. Additionally, the Toastmaster online magazine made its debut three years ago this month. Read about the magazine's humble beginnings and view a photo gallery of cover art throughout the decades. Then test your Toastmaster knowledge with a quiz.
Laughter is Multilingual — The Engaging Humor path is now available in Arabic, French, German, Japanese, Portuguese, Simplified Chinese, Spanish, and Traditional Chinese. Learn to incorporate humor into your speeches and do it in your native language!
Stay Tuned for Tamil and Korean Additions — The Presentation Mastery and Leadership Development paths, along with The Navigator, will be translated into Toastmaster's latest languages, Tamil and Korean, later this month. Be on the lookout!
Chart Their Journey — Save 15% on a Toastmasters Pathways Achievement Chart! Hang the chart at your club meeting and display progress for up to 25 members. Get yours by visiting the Toastmasters Online Store and use promo code CHART15. Offer valid October 1–31, 2019. Not valid with any other offer.
| | |
| --- | --- |
| | Reminders |
SHARED NEWS
New Experience for New Members — Changes to the new-member experience are in place and include updated welcome emails (with path selection), an easier way to set up profiles, and more. Check out this Toastmasters Labs video to better understand the modifications. You can also click here to see what the new onboarding experience looks like.
Help Strengthen the Toastmasters Brand — On October 3, amendments will go into effect for Policy 4.0: Intellectual Property. The reasons behind the changes are simple: We want to present a single brand identity to anyone who visits a club. A new section on Brand Standards will make the guidelines for brand usage clearer for clubs and districts.
Choices for All — For years, district and club materials were distinguishable by their color, with districts utilizing burgundy and clubs using navy. As the new business cards and club banners were being developed, we wanted to give members, clubs, and districts options to choose from. While some items will keep the color distinction, including badges and the Leader Letter, districts and clubs are free to use their preferred color on fliers, stationery, newsletters, business cards, and more.
Creativity Awaits at the Gallery — Clubs can get even more creative with the wealth of images available for download at the Toastmasters Gallery. View the images, which are updated quarterly, and access Toastmaster magazine archives all in one convenient place.
Wow! the World — Want your club's Wow! Factor Tips featured on Toastmasters International social channels and shared with Toastmasters clubs around the globe? Submit your club's best Wow! Factor Tips by December 1 for your chance to be highlighted.
CLUB NEWS
October Dues Still Accepted Online —Although the October renewals due date has passed, you can still submit dues payments online to keep your club and members in good standing. Log in to Club Central to submit dues or conduct other club business online. If you need assistance, contact Club and Member Support by emailing membership@toastmasters.org or calling +1 720-439-5050, Monday through Friday, 6 a.m.–7 p.m. MT.
Looking for Your Renewals? — Has your club submitted information for members to be renewed that is still not reflecting on your club's roster? If your club has submitted payment by wire transfer, then this may be the reason for the delay. Please email the confirmation of the wire transfer (commonly called the SWIFT Receipt) to our Finance team, financequestions@toastmasters.org. They will ensure that the funds are allocated to your club for its use in renewing your members. During the increased volume for the renewal period, please send only one communication regarding confirmation for the wire transfer. While you may receive a response after certain deadlines, rest assured that each club is credited for their submissions based on when they contacted World Headquarters, not when the club receives their reply.
Smedley Award 2019 — Contest submissions for the Smedley Award end today, October 1. Please be advised that all notifications regarding clubs that have earned their award will not be posted until late October, due to Month-End Closing and the need for that to be completed before final reporting is run. For more information about the Month-End Closing Dates, and their impact on reporting, please refer to this section of our website.
DISTRICT NEWS
Area Directors: Conduct an Effective Club Visit — Help your clubs grow and maintain quality through club visits. Serving Clubs through Visits: A Guide for Area Directors can help you navigate the varied environments you'll encounter during these visits. Your support affects the future of clubs in your area and empowers club officers to help members achieve their goals. Submit your Area Director Club Visit reports through District Central no later than November 30 for credit towards the Distinguished Area Program.
| | |
| --- | --- |
| | Recognition |
| | |
| --- | --- |
| | Training |
SHARED NEWS
Club Officer Training, Round Two, Coming Soon! —At the Board Briefing during the 88th Annual Toastmasters International Convention, the Board of Directors announced a change, effective immediately, to the timelines for Club Officer Training. The second round of Club Officer Training now begins November 1. Ensure your club sends club officers to training so they can acquire valuable lessons and insights on how to bring your club to the next level of success. For more information about club officer trainings within your district, please consult your Program Quality Director.
DISTRICT NEWS
Train Your Newly Chartered Club Officers —It is beneficial to train all club officers, regardless of when their club charters. New clubs that charter between September 1 and October 31 achieve credit towards their Distinguished Club Program goals for the first training session when four club officers are trained by an authorized district representative in a live training session. Program Quality Directors can email training submissions outside of the available submission dates by including: club number, member names, and corresponding officer position in an email to districts@toastmasters.org.
Additional Leader Letters
---
---
---
---
---
---