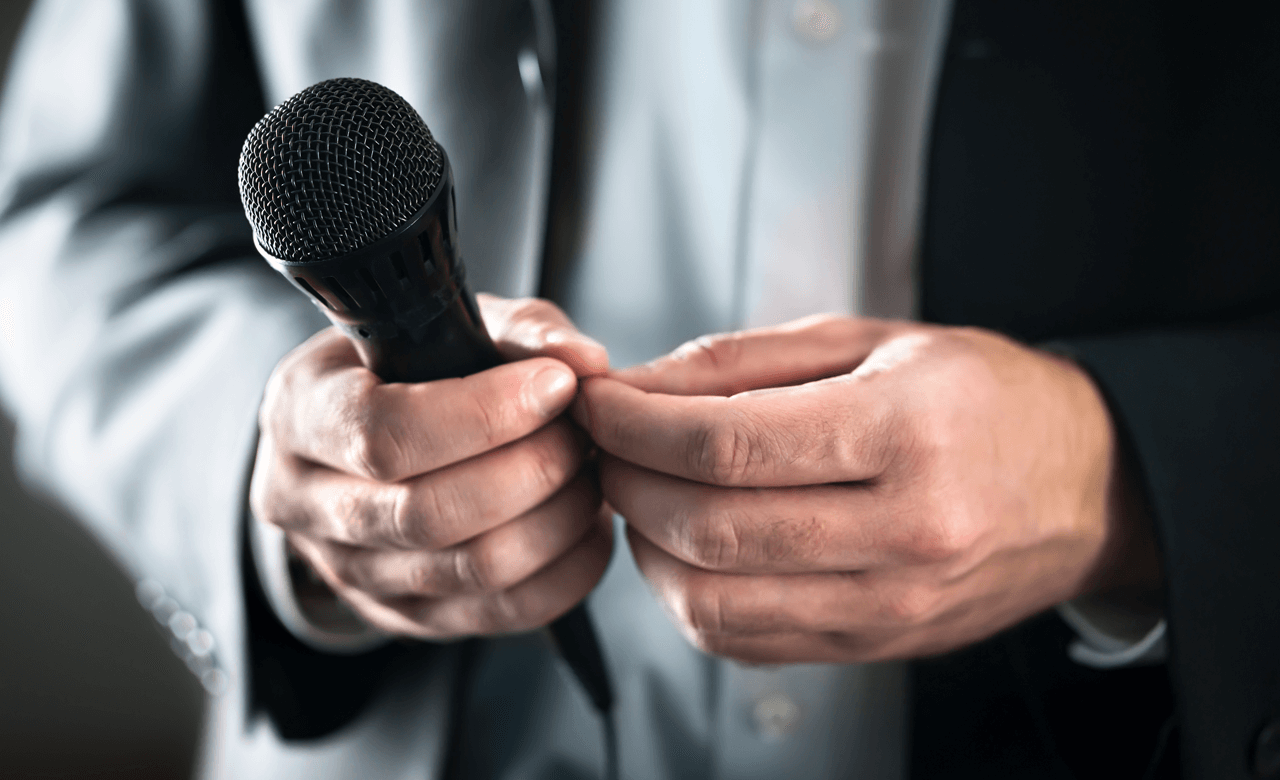 Featured Article
Toastmasters leaders are not immune to speaking jitters, especially when out of their comfort zone; it pays to refresh some public-speaking basics.
| | |
| --- | --- |
| | Announcements |
SHARED NEWS
Improve Your Online Confidence — Social media is a great way for clubs to recruit prospective members, especially during the global pandemic. For a fun way to engage with people on social channels, share the "Feel Confident in Online Meetings" infographic! This digital file outlines tips to grow confidence and find success while participating in online meetings. It can also help potential Toastmasters understand how they can grow as a member.
Virtual Victories Still Happening — Did you realize that about 82% of clubs are still meeting online? Clubs can ensure they are making the most out of meetings that take place virtually by utilizing the helpful resources on Toastmasters' Online Meetings webpage.
LinkedIn Ad Guide —Ready to start advertising on social media? Use this how-to tutorial and link to ad prosperity on LinkedIn! In Section One, find detailed instruction on creating a LinkedIn ad. In Section Two, access suggested headlines, ad copy, and images. In Section Three, get tips from Toastmasters.
Toastmaster Wins National Editorial Awards — Toastmaster magazine recently won three 2020 Folio awards for editorial excellence. These national awards recognize excellence in engaging content and gorgeous design across all sectors of the publishing industry. "Fitting in as an Autistic Speaker" won in the category of Column/Blog, while "Master the Art of Interviewing" received honorable mention in its category, as did "Running With a Dream: Nudžejma Softić;
Check Out the Corporate Clubs Infographic — Would it surprise you to know that more than 1,000 corporate Toastmasters clubs have been chartered during the past 18 months? That factoid and more can be found in Toastmasters' Corporate Clubs Infographic, which includes the latest workforce data on how employers of all sizes are recognizing the value of chartering corporate clubs. Please share the knowledge with members of your club, District, prospective clubs, and media!
Access Public Speaking Webinar Recordings —The recordings for the first two webinars in Toastmasters Public Speaking Webinar Series, Lose the Fear, Learn the Relevance and Speak for Yourself!, are ready! Enjoy some refresher tips, while also using them as a marketing tool.
Reap the Rewards of the Rotary/Toastmasters Alliance — How can Toastmasters benefit from teaming up with Rotarians? In this November Toastmaster article, learn how you can gain experience speaking outside of your club, strengthen your mentoring and evaluation skills, expand your professional and personal network, and broaden your perspective on the world.
Tough Times, Free Path — Toastmasters is showing special appreciation for its members during these difficult times by awarding anyone who renews their membership for the October renewal period by December 31, 2020 with a free Pathways path. Visit your Toastmasters profile, click the "Choose A Path" button, and follow the normal path selection process to redeem your free path before March 31, 2021. Please share this special offer with members who are hesitant to renew. Help yourself and others to end the year by looking towards a new path for next year! For more information about the free path offer, see frequently asked questions.
Area Council Meetings Matter — Holding Area Council meetings can make the crucial job of being an Area Director much easier. Districts that encourage these meetings tend to have Areas with the most successful clubs, more engaged members, and a higher Distinguished Club status. In this exclusive online article, learn how these meetings offer club leaders valuable information and guidance, as well as an opportunity for officers in Areas and clubs to network and share experiences.
Anatomy of a Toastmasters Meeting — Guests and new members often need a quick way to understand meeting roles, and this new one-pager is the answer! Now clubs can hand out "The Anatomy of a Toastmasters Meeting" to them. Thank you to Angel Rios of San Juan Toastmasters for creating the original version of this document and allowing us to share it.
Controversial Conversations — Turn on the news or fire up your favorite social media app, and you're likely to encounter a world divided. As Toastmasters, we are trained to listen, speak, and evaluate topics in a thoughtful, civil manner; but we also enjoy lively exchanges. Read this Toastmaster article and discover strategies to help you navigate tricky topics, whether you're at work, a holiday party, a family gathering, or with a group of strangers.
Gifts Galore — Are you looking for holiday gifts to buy for friends, family, or fellow Toastmasters? During November, visit the Toastmasters Online Store and use promo code GIFT10 to save 10% on an assortment of items that make for perfect gifts! Offer valid November 1-30, 2020. Not valid with any other offer.
DISTRICT NEWS
Prospect Corporate Clubs with New Flier — Club Growth Directors and their teams need simplified support when prospecting. The Corporate Club Marketing Flier was designed to easily introduce Toastmasters as a professional development training solution to corporate cultures. Download this one-page PDF in the Resource Library today!
International Candidates at District Events — Are you having an International Officer or Director candidate visit your District or make a presentation at one of your District events? Please review Policy 9.1: International Campaigns and Elections for guidelines and restrictions. If you have any questions, feel free to contact candidates@toastmasters.org.
Tips for Nominating New District Leaders — The time of year to nominate District leaders is upon us. As you navigate this process, reference helpful resources such as the District Leadership Committee webpage and Protocol 9.0. Please submit your District leadership committee roster, which should include names and member numbers, to districts@toastmasters.org no later than December 1.
Plan for Club Alignment — District Directors: it is time to prepare for club alignment for the 2021-2022 program year. Please direct your alignment committee to review the information on the alignment webpage, and then provide them with a current club directory, which can be obtained by sending an email to listrequest@toastmasters.org. For questions about alignment plans, please email districts@toastmasters.org.
Policy Violations Quick Reference Guide — We are pleased to announce a new and streamlined Policy Violations Reference Guide to assist with handling reported potential policy violations effectively and promptly. The guide covers the most common questions regarding club-, District-, and international-level violations and will help you address the violations prior to contacting World Headquarters for assistance.
Online Speech Contest Requirements — For the 2020-2021 Toastmasters program year, all Districts must conduct online Area-, Division-, and District-level speech contests. Review the updated Online Speech Contests Best Practices document to learn more about the requirements for online speech contests and discover what you can do to help your District and contestants prepare.
| | |
| --- | --- |
| | Reminders |
SHARED NEWS
See You Online! — Many members look forward to the day when they can return to in-person meetings, but remind them that online meetings allow them the opportunity to practice hosting virtual meetings, gain comfort and practice with technology, stay connected with fellow members, virtually visit clubs around the world, and expand their network. Please share these benefits and this video message from International President Richard E. Peck, who provides an update on how the coronavirus disease has impacted Toastmasters.
Replay Convention for Free! —Take this opportunity to rewind and replay all of the exciting convention highlights! We welcome you to invite friends, family, and colleagues to share in a rewarding and educational online experience that can help them become better listeners, influencers, and storytellers.
Rotary Session Recordings — Want to gain a better understanding of the alliance between our organization and Rotary? Watch our webinars titled, "Personal Growth Opportunities Part 1 and 2: Rotary's Alliance with Toastmasters."
CLUB NEWS
Award Credit Still Accepted — There's still time—until June 30, 2021, club officers can submit member work towards completing ALS and DTM awards or the High Performance Leadership project to earn the Leadership Excellence award online via Club Central or by emailing them to educationprogram@toastmaster.org. Access the applications here.
Send in Your Semiannual Officer List — If your club elects officers twice a year, arrange to hold your elections this month and notify World Headquarters of the results once they're available. Download the Club Officer Information form and submit your new officer list online via Club Central or email it to clubofficers@toastmasters.org by December 31 to receive Distinguished Club credit. Not sure how to host a club officer election? Take a look at page 53 of the Club Leadership Handbook.
Month-End Closing Impacts Awards —Did your club qualify to receive the Smedley Award? Please be advised that all notifications regarding clubs that have earned Smedley and other awards were not posted until late October, due to month-end closing, which needs to be completed before final reporting is run. Read more about Month-End Closing Dates and their impact on reporting. Once finalized, clubs that achieved awards will receive recognition on the Membership Building Programs For Clubs page under the 2020 archive.
DISTRICT NEWS
Area Directors: Submit Your Club Visit Reports — To qualify for the Distinguished Area Program, Area Directors must submit an Area Director's Club Visit Report for first-round visits for at least 75% of their clubs by November 30. Please submit your reports online through District Central.
| | |
| --- | --- |
| | Recognition |
CLUB NEWS
Applause for Smedley Award Recipients! – Congratulations to all clubs who have received the Smedley Award! If your club is one of our honorees, this recognition will be displayed under the Club Achievement section of Club Central. To ensure that your club receives its ribbon, please review the club's mailing address in the Club Demographics section of Club Central.
Distinguished Club Program Ribbons – Congratulations to all clubs that earned recognition within the Distinguished Club Program! If your club was honored as Distinguished or higher, your club's record was updated in Club Central under Club Achievements. For the 2019–2020 program year, the ribbons began shipping on October 21 for international club recipients and on October 30 for clubs in the United States. We appreciate the patience of all honored clubs.
| | |
| --- | --- |
| | Training |
CLUB NEWS
Round Two of Club Officer Training — Round two of club officer training has begun! To receive credit in the Distinguished Club Program, be sure that your club sends at least four officers to officer training. For more information about club officer training, please contact the Program Quality Director for the District.
DISTRICT NEWS
Mid-year Training — Throughout the month of January, Toastmasters International will conduct an online training program for 2020–2021 District Directors, Program Quality Directors, and Club Growth Directors. District leaders will develop core leadership skills, share best practices, and network with others from around the globe. More information will be sent via email.
Club Officer Training — Round two of club officer training has begun! To receive credit in the Distinguished Club Program, the training must be entered online through District Central; District leaders may begin entering training in District Central starting mid-November. If you have any questions about club officer training, please contact districts@toastmasters.org.
Additional Leader Letters
---
---
---
---
---
---
---