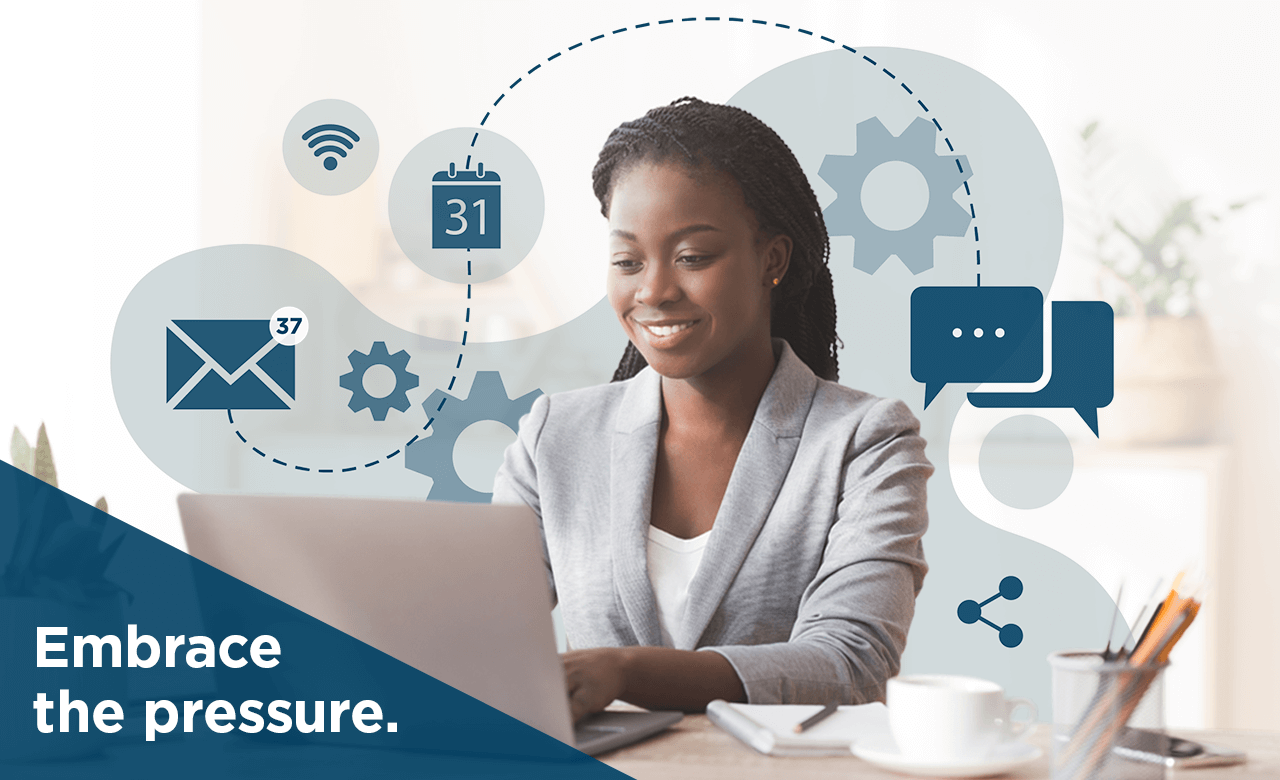 Featured Article
Learn how to act as a strong leader while facing pressure.
| | |
| --- | --- |
| | Announcements |
SHARED NEWS
Online Meeting Videos — Recently, we created three new videos to help clubs transition to online meetings. Keep Your Club on Track with Online Meetings, Successfully Filling Online Meeting Roles, and 7 Tips for Attending Online Meetings are great tools to help find success during these challenging times. Visit the Online Meetings webpage, watch the videos, and share them with your club's members! If your club or District has members who are hesitant to attend online meetings or you have friends or family that may be interested in Toastmasters, ask them to watch this video.
Online Club Fliers — Invite members and guests to join your club's next online meeting! Use these customizable fliers to alert current and prospective members to your club's online details.
The Toastmaster Magazine —The Board of Directors made the difficult decision to temporarily discontinue print delivery of the Toastmaster magazine. We will reevaluate the status of print delivery regularly and will inform the membership when it will resume. We anticipate this will be no later than January 2021. Meanwhile, the digital edition will be stronger than ever. You can find all the same content, plus fresh, timely articles at www.toastmasters.org/Magazine. We encourage you to share it on your District and club websites as well as your social media channels.
Base Camp Access Extended — The Board of Directors extended access to Pathways' Base Camp through June 30, 2020 for members who were in good standing as of April 30, 2020. The hope is that this will provide added support to Toastmasters who are not yet able to renew their membership but may want to continue their educational journey. Visit COVID-19 FAQ to read answers to frequently asked questions
First Rotary Courses —We are excited to announce that the first two courses that we are developing for Rotary members will be available this month! Develop a Speech and Deliver a Speech will help Rotarians improve their public speaking. They may reach out to your club to practice their newfound skills!
Rotary Alliance PowerPoint Template —We appreciate the enthusiastic members who have created their own materials when reaching out to Rotary clubs. Here's a newly-created Rotary Alliance PowerPoint Template you can all use! Please remember that any branded materials you create need to be emailed to brand@toastmasters.org and approved by World Headquarters.
Toastmasters and Rotary: An Exciting Alliance — The Toastmasters–Rotary alliance leverages the strengths of both organizations to help members grow personally and professionally. In this informative article, read about the educational courses being rolled out to Rotary this year, as well as how Toastmasters can gain more opportunities to strengthen their communication skills, expand their networks, and positively impact their communities.
Updated PowerPoint Template — We are excited to announce a new and improved PowerPoint template to help with your presentations, speeches, and events. You can find it here among our updated stationery templates.
Submit Your New Club Documents Early — More clubs charter in June than at any other time. To avoid delays and ensure program year credit, submit your new club forms early. If you have questions about starting a club, view the How to Build a Toastmasters Club guide or email the New Clubs Team at newclubs@toastmasters.org.
The Final Push — The homestretch is here! With two more months until Pathways becomes the sole education program, how are you meeting members' needs? Some Districts have created special training materials, tutorials, and specific channels of communication. Find tips and resources to help members transition to Pathways in this May Toastmaster article.
Pathways Updates — Wondering what is coming next for Pathways? Want to make sure you plan training sessions around Base Camp outages? Visit the newly created Pathways Updates page to keep up to date.
Fundraising Protocol — In March 2020, the Toastmasters International Board of Directors approved changes to Protocol 8.2: Fundraising. The new protocol provides parameters around the materials fee that can be charged to participants for Speechcraft and other fundraising programs. These updates are effective immediately and available for review here.
Wear with Pride — Show the world that you're proud to be a Toastmaster! Save 20% on Where Leaders Are Made, Pathways, and Vintage Logo T-Shirts when you visit the Toastmasters Online Store and use promo code TIPROUD! Offer valid May 1-31, 2020. Not valid with any other offer.
CLUB NEWS
It's Time for Club Officer Elections! — Your club should hold elections at the first meeting in May for new officers taking office July 1. Information on the election process and Club Leadership Committee procedure can be found in the Club Leadership Handbook. Note: Due to COVID-19, Club Leadership Committees and club officer elections are permitted to be held online. After the election, log in to Club Central and submit your revised officer list by June 30 to receive Distinguished Club Program credit. If you are struggling to find volunteers, share the Role Summary for each club officer position with potential leaders.
Publicize Your Online Club — An email template has been created for Vice Presidents Public Relations (VPPRs) to publicize their online club through their local media. The template can be found here, customized by replacing the bolded text with the appropriate club information, and shared with the local media via email. A list of media outlets in your area for you to contact can be accessed through www.mondotimes.com. Email pr@toastmasters.org with any questions.
Introducing the Club Quality and Service Team! — Some may have already received emails from them, but we would like to officially introduce the Club Quality and Service Team at World Headquarters! This new team is here to help guide members and leaders with their inquiries on things relating to the role of officers, how to resolve club-level conflict, and club-level questions about the governing documents. As members of clubs themselves, the team stands poised to guide leaders through challenges clubs may be facing. The Club Quality and Service Team can be reached at clubquality@toastmasters.org.
| | |
| --- | --- |
| | Reminders |
SHARED NEWS
Toastmasters Coronavirus Updates — The health and safety of all Toastmasters is our top priority and we are continually monitoring the impact of the coronavirus disease (COVID-19). To see the latest communications about the coronavirus, please visit this COVID-19 webpage.
Update Your Online Club Status! — If your club has made the move to meet online, please indicate that in your Club Demographic section of Club Central. Click the "Yes" button for Online Attendance and then save your changes. This will let your members and potential guests know that individuals can participate in the club online. Additionally, in the Club Contact and Meeting Information section, you may update the club's street address and type "Online" into this field.
Online Meeting Tips — We have created a hub dedicated to online meetings! Visit the Online Meetings webpage for helpful resources, tips, and inspiration for your club's online meetings. Follow us on social media for Toastmasters Online Tips and Virtual Victories to see how other clubs are conducting their meetings online and staying connected.
New Zoom Tools — With many now turning to Zoom for online club meetings, Toastmasters branded tools have been created. There are several virtual backgrounds to choose from, including some featuring Toastmasters' core values in different languages, as well as green, yellow, and red backgrounds to be used by timers. Other tools include banners and a logo that can be displayed at the top of the meeting invitation page and webinar-related pages, such as the invitation page, registration page, and in the email invite. Use these and show your Toastmasters spirit while staying connected virtually!
Traditional Education Program Ending — The end of the 2019–2020 program year is right around the corner! Members who are serving as a club or District leader or as club coach through June 30, 2020 will be able to begin submitting traditional awards with leadership requirements as early as June 1 to get Distinguished Club Program credit this year. Remember that Advanced Leader Silver, Leadership Excellence, and Distinguished Toastmaster awards in the traditional program will still be excepted during the 2020–2021 program year.
Successful Club Series — Did you know that you will still be able to access the Successful Club Series after the end of the traditional education program? The series is currently available as a digital download in the Resource Library and will continue to be after July 1, 2020.
CLUB NEWS
Club Coach Program — If your club has fewer than 13 members, your club qualifies for the Club Coach Program. If you would like one or two experienced Toastmasters to collaborate with your club on strategies to increase membership and master your club meetings, please reach out to your District's Club Growth Director. For additional questions, or if your club is not in a District, please contact clubcoach@toastmasters.org.
Beat the Clock — Make membership building fun by encouraging everyone to participate in the Beat the Clock program, from May 1–June 30. If your club adds five new, reinstated, or dual memberships to your roster, you'll earn a special ribbon to display on your club banner and a 10% discount on your next club order from the Toastmasters Online Store! Members with July join dates do not qualify towards the program.
Contacting World Headquarters — When communicating with World Headquarters staff, please select a single email address to use. Including multiple email addresses on the same communication may result in a reply email not reaching you, and your email may be categorized as spam.
California Clubs Reminder — It's time to file your 199N California e-Postcard with the California Franchise Tax Board (FTB) for the 2019 tax year (January 1 to December 31). As California non-profit entities, clubs (including corporate clubs) are required to file a 199N electronically by May 15, 2020.
DISTRICT NEWS
Club Visit Reports Due May 31 — Area Directors: are your clubs delivering the best possible member experience? Evaluate clubs based on the standards listed in Moments of Truth and submit your Club Visit Report online through District Central by May 31. These evaluations empower club officers to help members reach their goals; plus, submitting your reports is a requirement for your own Distinguished Area Program Goals. Please email any questions to districts@toastmasters.org.
Report Your Alignment Changes — Each year, Districts must review and amend the alignment of clubs, Areas, and Divisions, if necessary. In June, District leaders will receive an important email with instructions on how to submit alignment changes for the 2020–2021 program year. Please report changes on the alignment template we will provide in mid-June and email to districts@toastmasters.org as soon as possible but no later than July 15.
Preparing for Success — Remember what it was like when you began your current role? Is there anything you know now that you wish you knew then? Think about what your successor needs to know as they transition into your role and refer to the Transitions webpage for ideas on how you can prepare them and the District for a successful year ahead!
| | |
| --- | --- |
| | Recognition |
SHARED NEWS
Club Mentor Credit — World Headquarters will start awarding mentor credit early for any mentors who are mentoring a new club chartered in December 2019. Mentors may receive credit as early as June 1, 2020, by having any charter officer sign and email the "Get Credit" form to the New Clubs Team at newclubs@toastmasters.org. In place of the "Get Credit" form, any charter officer may send an email and confirm the mentor role was complete.
| | |
| --- | --- |
| | Training |
DISTRICT NEWS
District Leader Training — Toastmasters International will conduct a training program for 2020–2021 District Directors, Program Quality Directors, and Club Growth Directors. District leaders will develop core leadership skills, share best practices, and network with others from around the globe. Submit your District leader list as soon as possible so that we can share more event details as they become available.
Region Advisor District Visits — Region Advisor visits are intended to provide support, leadership development, skill building, mentoring, and coaching to District leaders. Learn more about the District visit process here and how your District will benefit by having your Region Advisor visit. Be sure to work with your Region Advisor and get your District visit planned between July and October!
Additional Leader Letters
---
---
---
---
---