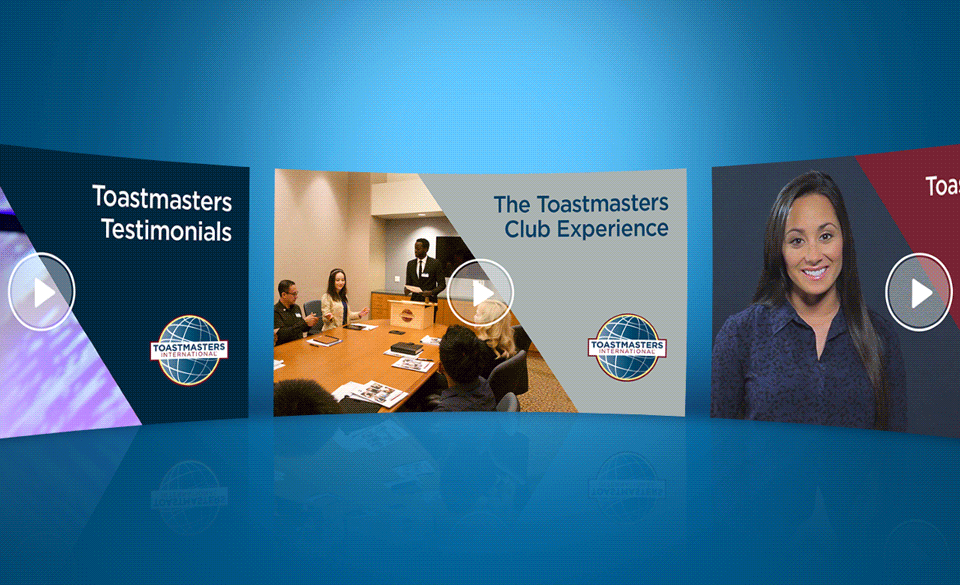 Featured Article
Video is the most engaging form of media. Are you using it?
Shared News
Join Us in Chicago!
Take advantage of the most exciting event of the year: the 87th Annual Toastmasters International Convention, August 22–25 in Chicago, Illinois, United States. Don't miss early-bird pricing when registration opens on May 7.
World Headquarters Relocation Update
Toastmasters International is excited to announce that the transition of its World Headquarters location from California to Colorado is complete. Please send all mail and courier correspondence to 9127 S. Jamaica St. Suite 400, Englewood, CO 80112. While the current phone number will work through July 31, 2018, you may now use the new local phone number, +1 720-439-5050, anytime between 6 a.m. – 7 p.m. MT, Monday through Friday.
2018 International Director Candidates
The Toastmasters International Leadership Committee has nominated the 2018–2019 international director candidates. Elections will take place at the 2018 Annual Business Meeting, August 25, in Chicago, Illinois, United States.
New Personal Data Regulation
The General Data Protection Regulation (GDPR) will become effective across the European Union (EU) on 25 May 2018. The GDPR is intended to strengthen and unify EU data protection standards while regulating the export of personal data outside the EU. This new regulation will impact Toastmasters International clubs and districts. An organization-wide GDPR transition plan is being developed as a means of compliance and to assure members, vendors, business partners and regulators that we are committed to data protection. If you have questions, please email the Legal team.
2018 Region Realignment
On July 1, 2018, the regions of Toastmasters International will realign, resulting in a decrease in the number of regions in the Americas from 10 to nine, and increasing the number of regions in the rest of the world from four to five. The decision to realign was made by the Board of Directors in August 2017 to comply with the Bylaws of Toastmasters International. Visit the Region Realignment webpage for additional information. District leaders with questions should email the District Leader Support team.
Translating Pathways
The final two Pathways region rollouts are this month. One of the new program's best features is the availability of translated educational materials in Arabic, French, German, Japanese, Portuguese, Simplified Chinese, Spanish and Traditional Chinese. This means members around the world can learn in their own native language—thanks to volunteer translations reviewers. You can learn more about how translated materials are shaping members' Pathways experience in an article in this month's Toastmaster magazine.
Dealing with Challenging Personalities
We all know them: the club members who irritate, agitate and aggravate others. Maybe they even create conflict that pollutes the culture of your club. So how do you deal with difficult members? You don't have to choose between candor and kindness. Learn how to handle seven specific maddening member-types in this Toastmaster magazine article.
Need Help? Contact World Headquarters
The support staff at World Headquarters is ready to help whenever you have questions or require assistance. Please don't hesitate to contact us, whether by phone, fax or email. Support hours are Monday through Friday from 6 a.m.–7 p.m. MT.
Submit Charter Forms Early
More clubs charter in June than at any other time. To avoid delays and ensure program year credit, submit your new club forms early. If you have questions about chartering, view the How to Build a Toastmasters Club guide or email the New Clubs team.
Club News
Did You File a 199N Form?
All California-based clubs: please remember to file a 199N form for the 2017 tax year. The deadline to e-file is May 15.
Beat the Clock
Make membership building fun by encouraging everyone to participate in the Beat the Clock program, from May 1–June 30. If your club adds five new, reinstated or dual memberships to your roster, you'll earn a special ribbon to display on your club banner — plus, you'll receive a 10-percent discount on your next club order from the Toastmasters Online Store!
Find Your Favorite Polo!
Show your Toastmasters pride wherever you go with a stylish polo shirt. All polos are 10% off this month. Use promo code POLO10.
Club Officer Elections
Your club should hold elections at the first meeting in May for new officers taking office July 1. Information on the election process and nominating committee procedure can be found in the Club Leadership Handbook. After the election, log in to Club Central and submit your revised officer list by June 30 to receive Distinguished Club Program credit.
New Club Officer Kits Arriving Soon
This month, seven copies of the updated Club Leadership Handbook will be sent to your club along with a copy of the new Speech Contest Rulebook and the Distinguished Club Program and Club Success Plan. Please give a copy of the Club Leadership Handbook to each newly-elected officer to help them better understand their role and responsibilities. If you have questions about mailings from World Headquarters, please email the Tracking team.
District News
District Leader Training
On August 20 and 21, Toastmasters International will conduct a training program for 2018–2019 district directors, program quality directors and club growth directors. District leaders will develop core leadership skills, share best practices and network with others from around the globe. This event will be held in the days prior to the International Convention in Chicago, Illinois.
Report Your District Speech Winners
Program quality directors: please be sure to have the chief judge for your district submit the Report of District International Speech Contest Winner form on or before the Monday following your district speech contest. World Headquarters must receive this report before contacting the district winner with important information about competing in the semifinals.
Club Visit Reports Due May 31
Area directors: are your clubs delivering the best possible member experience? Evaluate clubs based on the standards listed in Moments of Truth and submit your Club Visit Report online through District Central by May 31. These evaluations empower club officers to help members reach their goals — plus, submitting your reports is a requirement for your own Distinguished Area Program Goals. Please email any questions to the District Leader Service and Support team.
Report Your Alignment Changes
Each year, districts must review and amend — if necessary — the alignment of clubs, areas and divisions. In June, district leaders will receive an important email with instructions on how to submit alignment changes for the 2018–2019 program year. Please report any changes to the District Leader Service and Support team no later than July 15.
Preparing for Success
Remember what it was like when you began your current role? Is there anything you know now that you wish you knew then? Think about what your successor needs to know as they transition into your role, and refer to the Transitions webpage for ideas on how you can prepare them — and the district — for a successful year ahead!
Plan Ahead for Year-End
Please remember that June 13 is the last day for district leaders to place supply orders or access the district reserve account for the 2017–2018 program year. Your district accounts for 2018–2019 will be available beginning July 1.
Additional Leader Letters
---
---
---
---
---
---