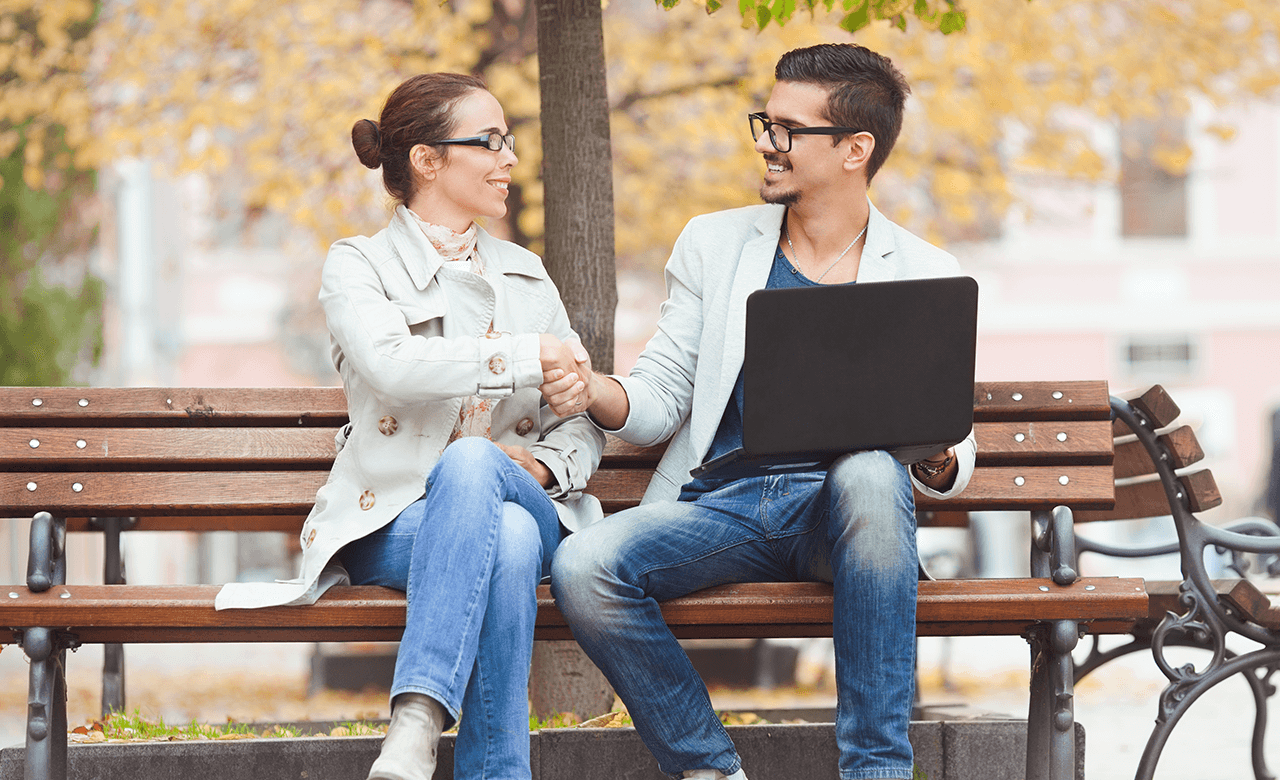 Featured Article
Be both strategic and inspirational when you pass the leadership torch.
| | |
| --- | --- |
| | Announcements |
SHARED NEWS
Rotary Partnership Set to Launch — Two great nonprofits are about to unite! The Toastmasters/Rotary union is in development, with exciting details coming soon. Stay tuned.
Newly Redesigned Business Cards — Do you want to make a lasting impression on prospective members at your next club meeting, open house, conference, or any other networking event? Choose from eight new designs, customize your card, and have them professionally printed!
Calling All Early-Bird Savers! — Planning for a peak experience at the 88th Annual Toastmasters International Convention in Denver, Colorado this year? Aim high with the lowest pricing when you register by July 10. Don't delay — take 50 USD off the regular registration price when you sign up now.
Tell Us the How Behind Your Wow — Please keep all the Wow!Factor videos coming, we enjoy hearing your club messages. To take them a step further and for added inspiration to other clubs, can you start including the how behind your club's wow? Also, if you could start and finish by specifically mentioning Wow!Factor, even better. Watch this video, then add these two steps to help raise the bar of your videos, just as you've raised the bar of your clubs!
The Magic Power of Humor — For a speaker, laughter has the power to impart confidence and provide a boost of propelling energy. For a listener, laughter has the potential to lighten the mood and ease tension. Read this June Toastmaster magazine cover story to find out three types of humor that can help you spark laughter and unite you with your audience.
First Region Quarterfinals Underway — The 2018–2019 International Speech Contest is the first to include region quarterfinals. Judging for this level of the contest takes place this month, and results will be announced in early July. To see who is representing your region in the semifinals at the International Convention, visit the region quarterfinals page, and watch for updates.
The Path to Strategic Relationships — Your ability to connect and communicate with others can lead to stronger relationships, better leadership, and more successful outcomes. In the Strategic Relationships path, discover how projects, such as how to network and understanding your leadership style, can translate into your professional life. Don't miss the accompanying video to see how this path has enabled members to be more comfortable interacting and making meaningful connections with people at work.
Convert Prospective Members — Did you know that Toastmasters International receives interest from an average of 10,000 people per month? Prospective members who contact your club through the Find a Club webpage are the easiest to convert to being members. In a recent survey to prospective members, we found that over 60% did not attend a club meeting. When asked why they didn't attend, over 70% said it was due to the club not replying to them. Make sure your club is replying to all emails in a timely manner.
Chat It Up — Save 10% on a Chat Pack! Each Chat Pack features 156 fun and engaging question cards to use during Table Topics, get-togethers, and more! Get yours by visiting the Toastmasters Online Store and use code CHAT10. Offer valid June 1–30, 2019. Not valid with any other offer.
DISTRICT NEWS
Help Your Clubs Grow — As a district leader, you can have a big impact facilitating club membership growth. We encourage you to reach out to all area directors and help with this process. While they do their club visits, area directors should ensure clubs have up-to-date contact information in Club Central, are regularly checking their email for prospective members, and are replying to emails in a timely manner.
Plan for Year-End — Don't forget: June 16 is the last day for district leaders to place supply orders or access the district reserve account for the 2018–2019 program year. Your district accounts for 2019–2020 will be available beginning July 1.
Reporting Requirements Due July 15 — Please make sure that your reporting requirements are met by July 15 to maintain access to your district reserve account. Additional details will be provided in upcoming emails from the District Growth and Support and District Finance teams.
Don't Forget Your Year-End Audit — Make sure you email districtfinancialreports@toastmasters.org your district's 2018–2019 Year-End Audit, Certification and Narratives by August 31. See Audit Committee Guidelines and ensure that all supporting documentation and signed reports are submitted to World Headquarters.
New TLM Program to Launch — You asked, we delivered! We are happy to announce a new Toastmasters Lead Management (TLM) program is set to begin July 2019. Lead records created on or after July 1, 2018 with an active status will be transferred to the new program. To ensure a smooth transition, please update your TLM records by completing contact information fields and updating all lead record Pipeline Stages, as necessary, before June 25. We recommend downloading all of your records to Excel, as well. Watch your email and The Meeting Room (CGDs only) for more information regarding program updates, webinar training dates, and tips and recommendations for record-cleanup.
CLUB NEWS
Want New Members? — Adding new members is a great way to revitalize your club experience! Here are three easy steps to help you with the process. Step 1: make sure your club's information is always up to date in Club Central. Step 2: get into a habit of checking your email every other day to see if anyone has tried to contact your club. Step 3: make sure you reply to all emails from prospective members in a timely manner.
| | |
| --- | --- |
| | Reminders |
SHARED NEWS
Will Your Wow Make it to Convention? — Would you like thousands of Toastmasters from around the world to see how your club wows? We recently announced that select Wow!Factor videos, submitted before July 1, will be chosen and played at the International Convention this year! Visit the Wow!Factor webpage for more information on how to submit your club's video.
Hundreds of Influential Connections — Do you want to share your product or company with the world? The International Convention is your global showcase opportunity and provides exposure to more than 2,000 passionate leaders. Connect, promote, and sell your goods and services to Toastmasters from around the world. View the 2019 Exhibitors and Sponsorships Prospectus and sign up today!
Use the Latest Pathways Flier — The digital and translated versions of the Navigating Pathways flier are now updated to include the newest learning path, Engaging Humor. Hand out this revised marketing tool at open house meetings and to guests, friends, family members, and people in your community.
Korean, Tamil Ribbons are Here! — We are excited to offer Promotional Welcome Ribbons in Korean and Tamil, which means all 10 supported languages now have corresponding ribbons. Check them out and purchase a set to hand out to guests, open-house attendees, or at a conference!
Have You Committed to Toastmaster Online? — It's everything you love about Toastmaster magazine, with added online features. What's more, the online edition no longer requires you to log in—meaning you can now regularly enjoy and share articles from the current issue, without waiting for the postal service! If you enjoy the interaction, take this opportunity to opt out of the print edition. Go paperless and subscribe to receive an email each month when the online magazine is available.
Charter New Clubs by June 30 — If you are starting a new club, we respectfully request you submit all paperwork and payments by June 30, which marks the close of the 2018–2019 program year. If you have any questions about club building, please email newclubs@toastmasters.org.
| | |
| --- | --- |
| | Recognition |
SHARED NEWS
Can Your Club Beat the Clock? — Make membership-building fun by encouraging everyone to participate in the Beat the Clock program, which runs from May 1–June 30. If your club adds five new, reinstated, or dual memberships to your roster during the program, you'll earn a special ribbon to display on your club banner. Plus, you'll receive a 10-percent discount on your next club order from the Toastmasters Online Store!
Thank You Outgoing Leaders! — Congratulations to club officers and district leaders for a successful 2018–2019 program year. Thank you for your unwavering dedication and the inspiration you've given to members and other leaders. Your efforts are recognized and appreciated by members, fellow leaders, and Toastmasters International.
CLUB NEWS
Jump-Start the New Year — Outgoing officers: Help your club earn Distinguished Club Program (DCP) credit for the 2019–2020 program year by submitting your newly elected officers through Club Central by June 30.
Will You Coach Your Club to Distinguished? — Club coaches that bring their clubs to Distinguished status or higher for the 2018–2019 program year will receive credit for their role once year-end results are final. Club coach credit is not awarded for clubs reflecting a preliminary Distinguished status. Per the Month-End Closing Dates, year-end business is expected to be completed on July 26. For more information regarding the Club Coach program, view the Club Coach FAQ's or contact Club and Member Support via email clubcoach@toastmasters.org or phone at +1 720-439-5050.
| | |
| --- | --- |
| | Training |
CLUB NEWS
Support Incoming Club Officers — Ensure that your 2019–2020 club officers have the tools they need to start the year right. Encourage them to sign up for district-sponsored club officer training and guide them to the Club Officer Tools page for a variety of resources to help them in their new role.
Additional Leader Letters
---
---
---
---
---
---