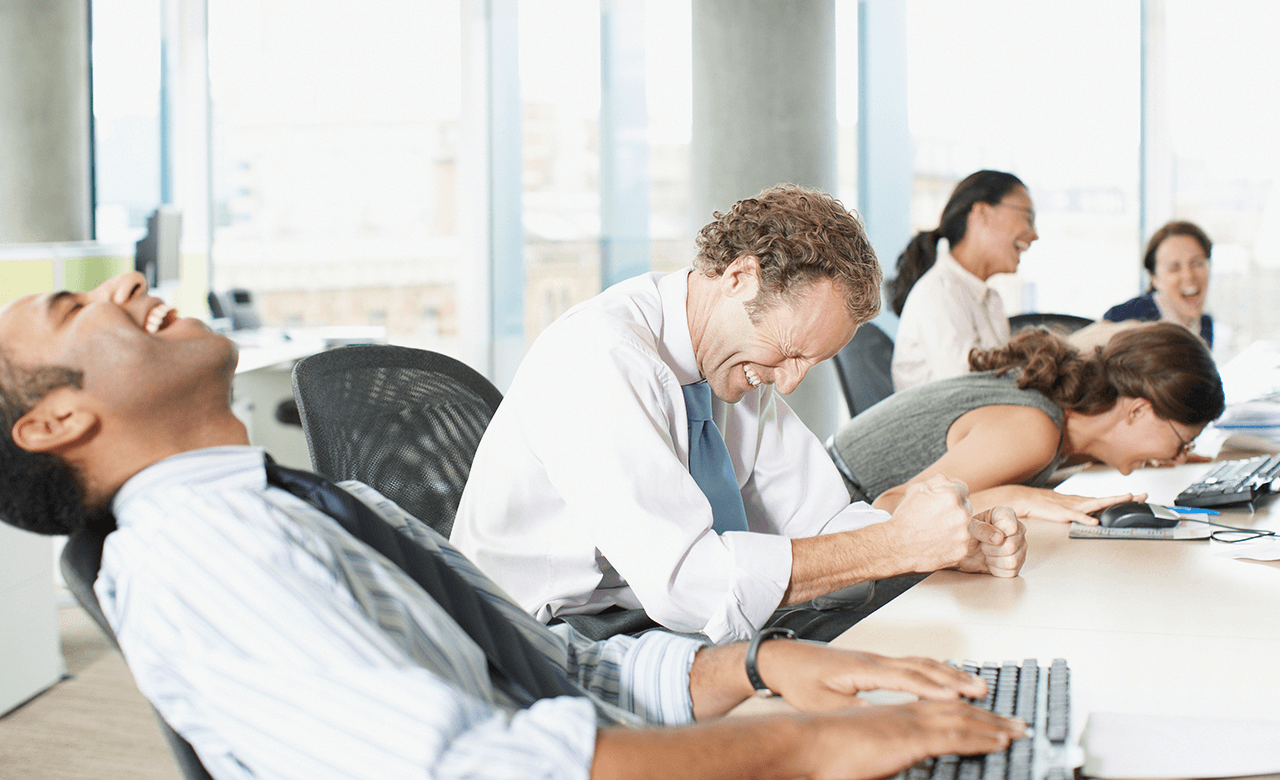 Featured Article
Consider comedic techniques to boost morale and increase productivity.
| | |
| --- | --- |
| | Announcements |
SHARED NEWS
Humor Path Launches - The Engaging Humor path is here! Looking to create funny, engaging speeches? This just-released path offers strategies on writing humorous speeches, using effective timing and pacing, crafting strong openings and even how to cope when your jokes bomb. Currently available in English, the 11th path in the Pathways learning experience provides an in-depth study of humor and works the same as the other paths, with required projects and electives throughout five levels that increase in complexity.
How to Run a Club Speech Contest - Running a club speech contest may sound like a large project, but it doesn't need to be. Take a deeper look into the Speech Contest Rulebook, learn your responsibilities as the Contest Master, recruit a team to help and before you know it, you will be ready to pick a winner. A brief review of the basics can help you feel confident volunteering for this project. Included in the article is an audio recording by the author with encouraging tips for running a club speech contest.
Sponsors and Exhibitors: Catch the Early Bird through March 31! - Would you or someone you know like to exhibit or sponsor at the 2019 Toastmasters International Convention? Save 100 on exclusive packages during the Early Bird Special, good through March 31. This is a unique global opportunity for individuals or companies (as well as district corporate sponsors) to showcase products or services relevant to attendees and meet face to face with more than 2,000 decision-makers and influencers who are passionate about leadership and communication.
Pathways: Designed to Deliver - In designing the learning experience, the Pathways development team used the most current research findings in adult learning, including: internal motivation is the driving force to learn; experiential learning is critical and adults want to apply what they learn by doing something tangible with their knowledge. Pathways' robust and challenging nature is an important aspect of the program, as is the fact that speech evaluations are designed to be customized. Read how members are currently benefiting from and growing with the program in this investigative Toastmaster article.
New Pins for Paths! - Show the world you're on the path to success with new Pathways Pins. Silver-plated pins coordinate with Level 1, 2, 3 and 4 tags, which can be attached as levels are completed. Gold-plated pins represent the completion of a path. Now available for purchase, all pins feature the path logo printed in the middle in full-color. Proudly wear them to club meetings, district conferences and the International Convention.
Experience the New Homepage - Have you clicked on the updated homepage? We reenergized it to include a silent video that is inspiring and engaging. There is also a newly created All About Toastmasters webpage, which is a great tool to share with prospective members and anyone who seeks to understand all that Toastmasters has to offer.
International Director Candidates Nominated - The Toastmasters International Leadership Committee (ILC) has nominated the 2019–2020 international director candidates. Voting will take place at the August 2019 Annual Business Meeting in Denver, Colorado, United States.
Openly Recruit! - Help your club's marketing efforts by using the redesigned Open House Flier! Invite prospective members to attend a club meeting by hanging up the flier at work, in coffee shops, or around your community.
Make Your Phone Pop - Add some style to your phone while also making it easier to hold! Visit www.toastmasters.org/Pop and use code POP10 to save 10% on a Toastmasters PopSocket! Offer valid February 1–28, 2019. Not valid with any other offer.
| | |
| --- | --- |
| | Reminders |
SHARED NEWS
Refrain from Opting Out - As a leader, it is important that you refrain from opting out of emails from Toastmasters, as you will miss out on essential information. Visit your Privacy and Consents and ensure you are set up to receive emails. If you clicked "Unsubscribe" at the bottom of a Toastmasters email, send a message to marketing@toastmasters.org and ask to be re-added to our mailing list.
Membership Dues Now Accepted - Payments for the next renewal period are now being accepted. Club officers can start submitting payments for renewals through Club Central. To keep clubs in good standing, all payments must be received on or before April 1.
DISTRICT NEWS
Successful District Elections Start Here - The district leadership committee (DLC) is responsible for finding the best qualified candidates who will help to ensure long-term district success. The DLC notifies the district director of the nominated candidates six weeks prior to the election date, and the DLC report must be posted four weeks prior to the district's council annual meeting.
Consider Club Growth When Reviewing Alignment -Be prepared prior to your district conference: take the time to look at amending the alignment of clubs, areas and divisions. If you have any questions, please email the District Growth and Support team at districts@toastmasters.org.
Review District Operating Procedures - Many districts establish operating procedures to guide them and provide consistency from year to year. Review your district's operating procedures regularly to ensure that they are relevant and current. If your district changes its procedures, follow the guidelines in the District Leadership Handbook. Please email a copy of the changes to districts@toastmasters.org and post any changes on your district's website.
Find the Right Speakers - One of the most important aspects of planning your conference is selecting educational speakers. Here are a few guidelines to help you get started.
CLUB NEWS
2019: The Year of the Wow - The Wow!Factor Project is this year's "new gold standard," as International President Lark Doley puts it, to help raise the bar of clubs across the globe to be more uniform and top-performing. It's time to ask: Is your club a good example of Wow? Can you take it up a notch? Utilize tools and resources posted on TheWow!Factor webpage to hit targets and create the best club experience possible!
Show and tell us! - Is your club a good example of The Wow!Factor Project, referenced above? When you're ready, show and tell us in a one-minute video what makes your club so great and different, using #wowfactor. Use these video tips, have fun and wow us!
Find a Club Form Updates - The Find a Club page has been updated. After prospective members fill out a form with their information, an automated email is sent to you with their information. When replying, send an email directly to the prospect. If you haven't already, visit Club Central and update your club's email address. View these documents to see how this process has changed. This update is the first of many to help manage leads.
| | |
| --- | --- |
| | Recognition |
DISTRICT NEWS
District Recognition Program Changes - As you learned during Mid-year Training, the Board of Directors decided to modify the Distinguished District Program for the 2018–2019 and 2019–2020 years to encourage district teams to focus on the mission and, at a minimum, reach Distinguished District status.
Distinguished District now requires 1.5% net membership payment growth, 1.5% net club growth, and 40% of the club base to be distinguished.
Select Distinguished District now requires 3% net membership payment growth, 3% net club growth, and 45% of the club base to be distinguished.
President's Distinguished District now requires 5% net membership payment growth, 5% net club growth, and 50% of the club base to be distinguished
Smedley Distinguished District, a new level, requires 8% net membership payment growth, 8% net club growth, and 55% of the club base to be distinguished.
CLUB NEWS
Club Coach Program Changes - Successful club coaches traditionally receive credit toward the ALS or DTM award for their service as a coach. In addition, the ALS award also requires one year of service as a district officer. But starting now, successful club coaches will also be credited with service as a district officer. This means successful club coaches will complete two of the ALS/DTM requirements rather than one. Club coaches will still have two years to help clubs become distinguished—all of this year and through the 2019–2020 program year. You may have members in your district who doubted their ability to achieve the traditional DTM award by June 30, 2020—this revised club coach program facilitates this.
| | |
| --- | --- |
| | Training |
DISTRICT NEWS
Submit Club Officer Training Reports - The deadline for the second round of Club Officer training is February 28. It is recommended that your reports be submitted by March 31 for your clubs to receive credit in the Distinguished Club Program. Please check your district reports regularly for accuracy.
Thank you Mid-year Training Attendees! - The training in January built on foundational sessions conducted last year at August District Leader Training. Your discussions, sharing of best practices and collaboration made the training valuable and tremendously successful. We wish you the best of luck in achieving your year-end goals.
CLUB NEWS
Evaluate Your Club Meetings Is your club meeting environment representative of the ideal? Utilize the new Club Quality Checklist to evaluate the quality of your club meetings. This is available as a free digital download.
Additional Leader Letters
---
---
---
---
---
---