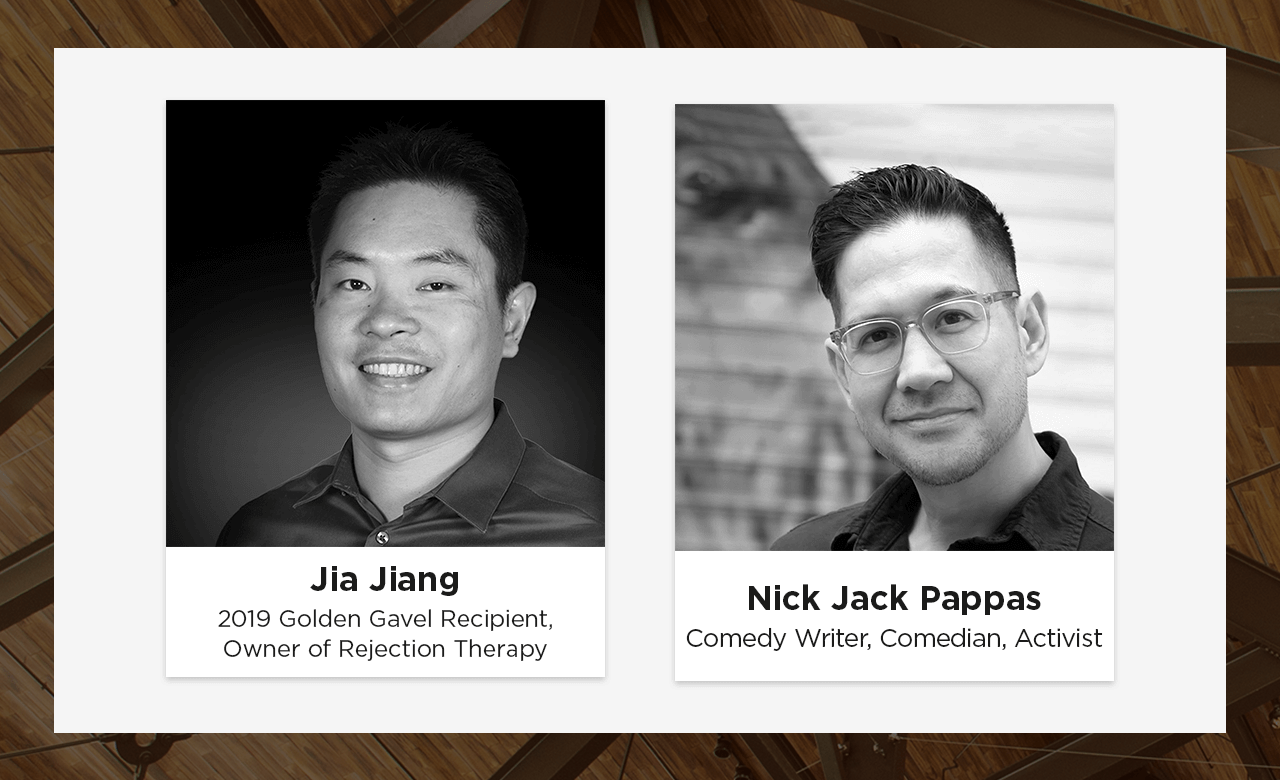 Featured Article
Are you a self-aware, vulnerable leader? Two 2019 International Convention speakers share ways to get there and why it's an asset.
| | |
| --- | --- |
| | Announcements |
SHARED NEWS
On Demand Access — Can't get to the Front Range for the 88th Annual Toastmasters International Convention? On Demand puts you front and center! Buy livestream access to thrilling convention events and watch from home.
Calling All Convention Savers! — This is your last chance to register for convention at a discount. Save 75 off the onsite price if you register online by August 16. You won't be able to register for convention again until the show opens on August 21.
Improving the New-Member Experience — The Summit Team is working on exciting changes to the new-member experience, including updated welcome emails and path selection, an easier way to set up profiles, and more. The goal of the project is a smoother onboarding process for all new Toastmasters. Stay tuned for more information.
Digital Club Banners are Here! — You asked for them and we're delivering! Now you can order a club banner, receive a digital file, and have it printed locally. Best of all, the banner is available in three different colors. Start customizing your club's new retractable banner today.
Tips for All — All the same helpful tips, now with a contemporary design! 10 Tips for Successful Public Speaking is a one-page document featuring helpful advice on how to improve one's public speaking. Hand them out to guests, friends, family, or members of your community to show them how Toastmasters can help them build a brighter future.
Pathways 101 — Does your club need a refresher on the Pathways learning experience? Now is the perfect time to review the basics of this expansive and innovative program. In this August article, discover resources, statistics and answers to common questions. Watch videos to learn why the program was created and how members are using their transferable skills to transform their careers and enhance their everyday lives.
How to Benefit from Change — According to Toastmaster Dana LaMon, no matter who you were when you joined Toastmasters, today you are a different person. Your circumstances changed. The membership of your club changed. The international organization changed. Read and listen to advice from LaMon, an Accredited Speaker and 1992 World Champion of Public Speaking, as he shares tips on how to maximize the benefits of change and focus on what lies ahead.
The Key to Success — Looking for a gift for a club member or officer? Purchase a Toastmasters Key Ring and engrave a custom message on the back! You can save 10% on the key ring with promo code KEYRING. Offer Valid August 1–31, 2019. Not valid with any other offer
DISTRICT NEWS
Area Directors: Visit More Clubs — Area directors play a crucial role in the positive rapport that districts maintain with their clubs, largely through club visits. While two visits a year are required, area directors who visit at least 75 percent of the base number of clubs in their area can meet one of the qualifying requirements of the Distinguished Area Program by logging into District Central and submitting an Area Director's Club Visit Report. Learn more about the District Recognition Program here.
Region Advisor Applications Open September 1 — Would you or someone you know like to be a region advisor? It's a rewarding opportunity to continue your leadership journey by supporting and coaching district leaders as they work to achieve the district mission. This volunteer position spans a 15–month term and reports to the International President. Applications for the 2020–2021 program year will be available online beginning September 1. If attending the International Convention, stop by the Leadership Roles Booth in the Toastmasters Marketplace for more information on the Region Advisor Program.
CLUB NEWS
Add Members, Win an Award — Make membership-building fun by encouraging everyone to participate in the Smedley Award program, which runs from August 1—September 30. If your club adds five new, reinstated, or dual memberships to your roster during the program, you'll earn a special ribbon to display on your club banner. Plus, you'll receive a 10% discount on your next club order from the Toastmasters Online Store!
Collect Member Dues Soon — Club officers are responsible for collecting and submitting member renewal payments twice a year, in April and October. Beginning August 12, October 2019 renewals will be accepted to allow ample time to collect and submit dues payments online in Club Central. Please also review Dues FAQ.
| | |
| --- | --- |
| | Reminders |
SHARED NEWS
Cheer on the Semifinalists! — Who is representing your region in the 2019 International Speech Contest Semifinals? Find their name and contest round here. Then get ready to watch, listen, and experience the excitement as they compete against semifinalists from around the world for the chance to win the 2019 World Championship of Public Speaking® .
Easier Access to Pathways — Have you logged in and visited your Toastmasters profile recently? The Summit Team has added an exciting new feature to help make Pathways easier to access. Now, you can navigate to Base Camp, choose a path (or purchase an additional one), and view The Navigator—all from your profile! Watch this informative video to learn more.
Convert Prospective Members — Did you know that Toastmasters International receives interest from an average of 10,000 people per month? Prospective members who contact your club through the Find a Club webpage are the easiest to convert into members. In a recent survey to prospective members, we found that over 60% did not attend a club meeting. When asked why they didn't attend, over 70% said it was due to the club not responding to them. Make sure your club is replying to all emails in a timely manner.
Assign a Proxy — Make sure your club's voice is heard by assigning a proxy before the 2019 Annual Business Meeting, only two weeks away! This is an important time to cast your club's vote—in the international officer and director elections, as well as for Proposals A through L: Amendments to the Bylaws of Toastmasters International and the Club Constitution. Please email proxyinfo@toastmasters.org with any questions and make note of Proxy Information.
View the Toastmasters Gallery — Clubs can get even more creative now that a wealth of images for club use can be downloaded through the Toastmasters Gallery. View images, which are updated quarterly, and access Toastmaster magazine archives. Check it out today!
DISTRICT NEWS
Help Your Clubs Grow — As a district leader, you can have a big impact facilitating club growth. We encourage you to reach out to all area directors and help with this process. When making club visits, area directors should ensure clubs have up-to-date information in Club Central, are regularly checking their email for prospective members, and are replying to emails in a timely manner.
Prepare for a Successful Term — Congratulations on being elected to your new role! If you haven't already, start your term off right by viewing helpful Toastmasters resources, including the District Leadership Handbook and the District Recognition Program, which are now found in the District Leader Tools section of our website. Additionally, be on the lookout for the monthly Leader Letter—our newsletter with important information to help you with your role.
CLUB NEWS
Want New Members? — Adding new members is a great way to revitalize your club experience! Here are three easy steps to help you with the process. Step 1: Make sure your club's information is always up to date in Club Central. Step 2: Get into a habit of checking your email every other day to see if anyone has tried to contact your club. Step 3: Make sure you reply to all emails from prospective members in a timely manner.
| | |
| --- | --- |
| | Recognition |
DISTRICT NEWS
Congratulations to the 2018–2019 Distinguished Districts — For the 2018–2019 program year, 38 districts met their goals and achieved Distinguished or better status in the Toastmasters International District Recognition program. There were 17 Smedley Distinguished, 5 President's Distinguished, 8 Select Distinguished and 8 Distinguished districts. Well done!
CLUB NEWS
Congratulations Club Coaches! — We applaud all the club coaches who were successful for the 2018–2019 Program Year. Look for your recognition certificates in the mail shortly. If your second program year as a coach has expired, and you were not able to complete the task, do not fret—you may be reappointed! For reappointment, please speak with your District Director or Club Growth Director and have them submit a request to World Headquarters before August 31, 2019. Club coaches who can be reappointed will be sent a communication later in the month.
Congratulations Distinguished Clubs! — Hooray for all of the clubs who reached Distinguished status or better for the 2018–2019 Program Year. A recognition ribbon and letter will be mailed to the address listed on record of the club president for the 2018–2019 Program Year. We appreciate all of the efforts your club and members put forth.
| | |
| --- | --- |
| | Training |
DISTRICT NEWS
Encourage Club Officer Training by August 31 — When club officers are well-trained, club members are better-served, leading to increased member retention and greater satisfaction. Help club officers be the best they can be by encouraging them to attend club officer training, which continues through August 31. Clubs will also earn Distinguished Club Program (DCP) credit if the program quality director reports the training details via District Central by September 30.
CLUB NEWS
Attend Club Officer Training by August 31 — Be the best officer you can be by attending club officer training, as outlined in this schedule. Your club can also earn Distinguished Club Program (DCP) credit, if your district's program quality director reports your officer training details on District Central by September 30.
Additional Leader Letters
---
---
---
---
---
---