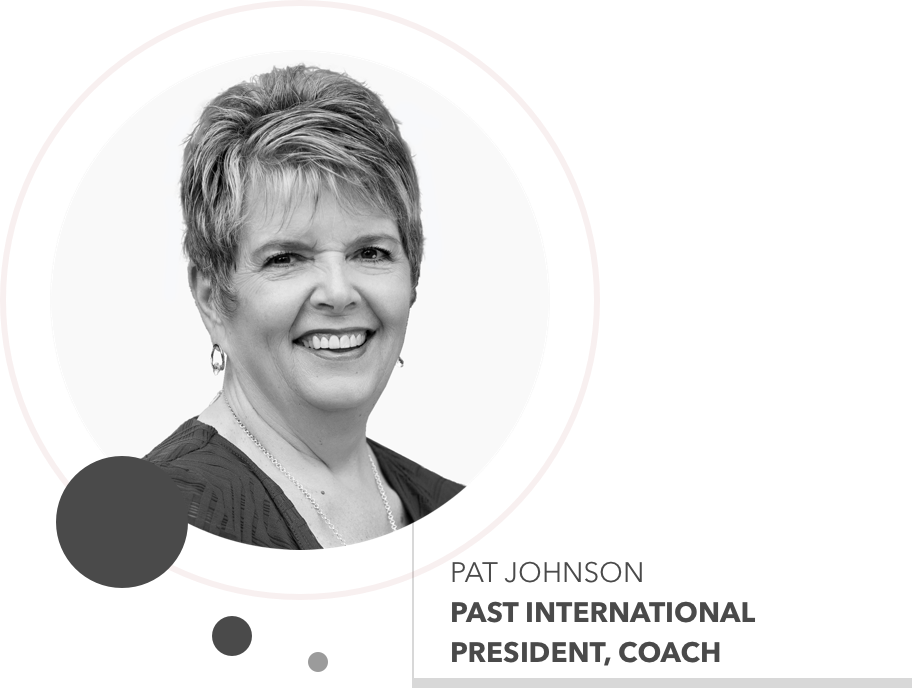 Pat Johnson
Pat Johnson, past international president, is the owner of Pat Johnson & Associates, where she coaches leaders to help them find their greatest versions of their authentic selves. She works to help individuals overcome their self limitations and to aspire to more in life. She is also an affiliate and mentor coach at Accomplishment Coaching.
From 2004 to 2006, Pat was elected and served as International Director on the Board of Directors for Toastmasters International. She continued in Vice President roles until 2010/11, when she served this non-profit educational organization as their International President and Chairman of the Board. She is the only Canadian woman to serve in this prestigious role.
During the past 15 years, Pat has been a keynote speaker and educator in a long list of countries around the world. She was the manager for Learning Masters, who provided expertise for the new Toastmasters Pathways learning experience program. Most recently, she held the role of Host District Convention Chair for the 2017 International Convention in Vancouver, Canada.
Education Session – Building and Sustaining Vibrant Corporate Clubs
Wednesday, 8/22 3:45–4:45 p.m.
Approximately 60 percent of our Toastmasters clubs are in corporate environments – yet many of these clubs struggle. That's because we support them using the techniques and knowledge that has worked for community clubs.
To help these struggling clubs, we must:
Think like a genuine stakeholder within the corporation
Meet their expectations of us as their education program provider
Have expectations of them beyond providing a meeting facility and tuition being paid
Join Pat for an informative discussion that can change your interaction with, and expectations of, your corporate programs.