87th Annual Toastmasters International Convention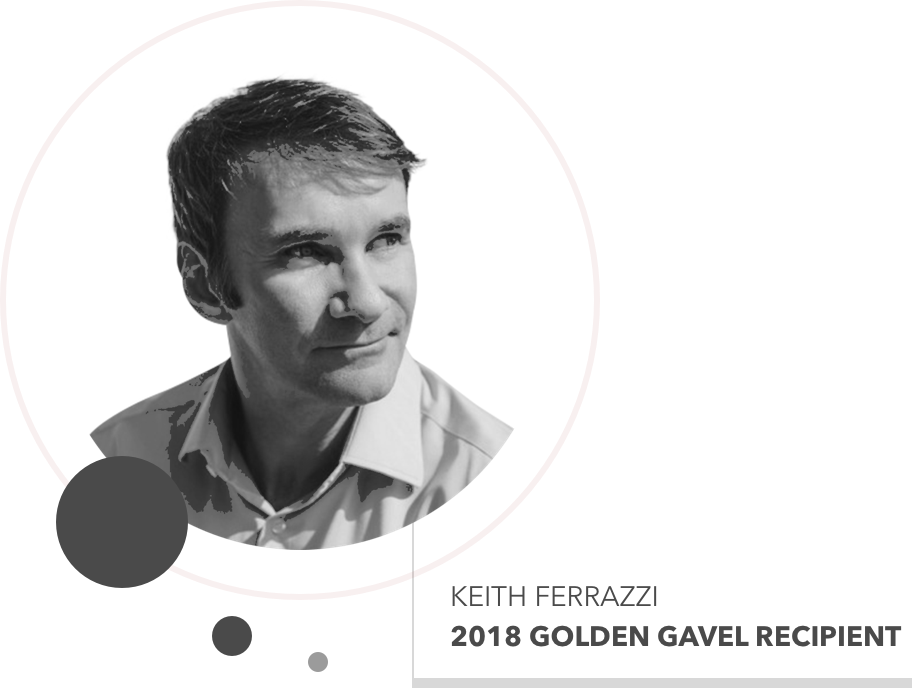 Keith Ferrazzi
Toastmasters' most prestigious award is the Golden Gavel. It has been given annually since 1959 to an individual distinguished in the fields of communication and leadership.
Toastmasters International has named Keith Ferrazzi as its 2018 Golden Gavel recipient for his leadership in the field of networking and relationship-building. The award recognizes Ferrazzi's extensive influence in encouraging individuals and organizations to build trusting, mutually beneficial relationships. Ferrazzi will accept the award in August at the 87th Annual Toastmasters International Convention in Chicago, Illinois, United States.
As chairman and founder of Ferrazzi Greenlight, a research institute focusing on behavioral science and its effects on business, Ferrazzi works to determine how companies can eliminate behaviors that hinder progress and instead adopt those that foster growth. His research on relationships, along with decades of experience as an entrepreneur and chief marketing officer for multinational corporations, helped him develop his influential leadership techniques for "leading without authority." Ferrazzi says connection is the driving force behind all success—personal or professional. Meaningful relationships with others are what inspire people to change, to dedicate themselves and to care. "Once you have a human connection to another person," he says, "you'll do anything to stay connected to that individual, and you don't want to let them down."
Ferrazzi now shares these insights with companies and organizations as a consultant and speaker. Most recently, Ferrazzi helped tech companies Zappos and Groupon build onboarding tools that facilitate improved communication between managers and new employees, increasing job satisfaction and productivity. Open communication is a pillar of his philosophy. "Great relationships are born from generosity and authenticity," he says. "It's not what you can get out of somebody, but what you can give."
Ferrazzi frequently contributes on the topic of cultivating relationships to publications such as Forbes, Fortune and Harvard Business Review. His two books, Never Eat Alone and Who's Got Your Back, were both New York Times best-sellers.
"Inside all of us is greatness," he says, "and we need other people to pull it out."